Ancient Silk Road cities, towering mountain landscapes, nomadic cultures, friendly people and unusual experiences of the Soviet hangover variety. This is Central Asia. The 'Stans. The region has an often misunderstood history, but maybe you'll understand more with a visit — and you'll absolutely be rewarded for doing so.
Central Asia is hard to beat when it comes to unusual, off-path travel. Tourism remains in the early stages across segments of the region so you may not find the fully fleshed out infrastructure you might find in other regions of Asia. But that's part of the charm and appeal, and in exchange, you'll often find some friendly locals to help get you to your next adventure.
To this day, Central Asia remains one of our favourite and most fulfilling travel experiences. Here are a few destinations and experiences that explain why.
Uzbekistan
Get your fill of history and mesmerizing Islamic architecture in Uzbekistan's Silk Road route cities: Khiva, Bukhara and Samarkand. Then, prepare for a change in busy-and-cosmopolitan Tashkent.
1. Bukhara
Bukhara is our favourite of the Silk Road cities, perhaps because it feels as though it's a piece of living history. Many of the city's sites are still in use today and are often integrated into modern-day life. People still live in many of the historic buildings, and vendors and shoppers still strike bargains in the same traditional market areas, much as they might have a thousand years ago. If you've gotten your fill of Silk Road architecture, venture out to the fresh market on the edge of town for one of the friendliest markets in the region.
2. Samarkand
Perhaps the biggest and most impressive of the Silk Road cities. When many people think of the Silk Road, it's the image of the 15th–17th century Registan in Samarkand that often comes to mind — a large square surrounded by three ornately tiled medrassas (Islamic schools), each featuring different designs and tile work. Also worth a visit is Guri Amir, the mausoleum of Tamerlane (or Timur the Lame), one of the most prolific and feared of all Central Asian leaders, whose career came to an end in 1405.
3. Khiva
Uzbekistan's first UNESCO World Heritage site was Itchan Kala, the inner fortress for the city of Khiva. Surrounded by mud walls up to 10m (32 ft) high, it served as the final resting area of caravans before they continued their trade-focused desert crossing into Persia (modern-day Iran). Old town Khiva feels as though you you're strolling through a living museum, as so much of the historic centre has been preserved or restored.
4. Tashkent
If funky Soviet architecture, cosmonaut-themed metro stations and discos are your thing, then Tashkent is worth a visit. After spending time in historic Silk Road cities, the size and cosmopolitan nature of Tashkent serves as a bit of a contrast to all the history you'll have seen. Be sure to ride the metro as every station is designed and constructed with a different theme in mind. The fresh markets here are also full of life.
Kyrgyzstan
With more than 90 percent of the country covered by mountainous terrain, Kyrgyzstan is an outdoor and adventure traveller's dream. Add to that the prevailing traditional nomadic culture and notably warm people and you'll see why this is one of our favourite countries in the world.
5. Song Kul Lake
From the first thaw to the approaching cold of late fall, the area around this high alpine lake, which sits at an altitude of 3,016m (9,895 ft), is filled with shepherds, yurts and animals grazing in high pastures. For us, visiting Song Kul Lake was one of the best ways to understand traditional nomadic life, as we could stay with shepherd families in yurts, ask questions and enjoy taking in a very different way of life. Not to mention, the surrounding landscape —from lakes to mountains, peaks and valleys — features a dramatic and rolling beauty.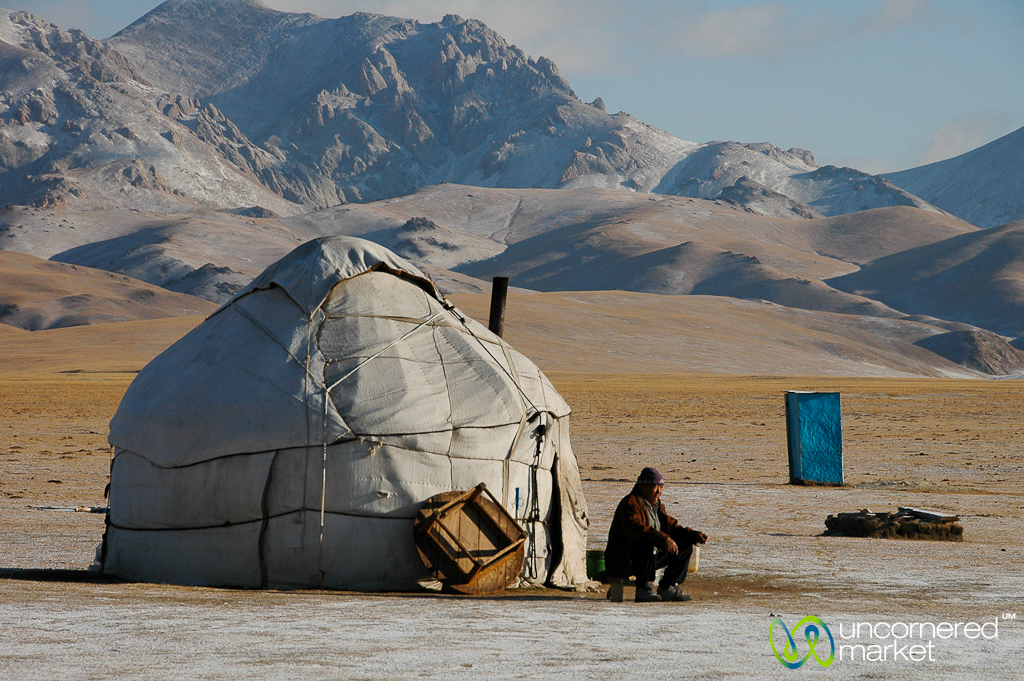 6. Karakol and Issyk-Kul
Karakol, a sleepy town on the eastern fringe of Kyrgyzstan, features a great Sunday animal market where old men in kalpaks (traditional Kyrgyz hats) bargain away for stubborn donkeys, camels and fat-rumped sheep. Lake Issyk-Kul, the second-largest mountain lake in the world (Lake Titicaca in Bolivia is the largest), is close, too. Various sub-ranges of the Tian Shan Mountains surround the area, including both the southern and northern shores of Issyk-Kul. The point? You never have a bad view when you are at Issyk-Kul.
7. Bishkek
Although not quite as big and cosmopolitan as its capital city neighbours in Central Asia, Bishkek illustrates the Kyrgyz way with its laid back feel that often draws visitors in and keeps them longer than they expect. Enjoy Ala Too Square, a great spot for people watching, as are all Soviet style "people's squares" in the region. Head to the Historical Museum (formerly the Lenin Museum) for some impressive displays of Soviet propaganda and art. You can't make some of this stuff up. That's what makes it worth a visit to understand the way the region has changed through much of the 20th century.
Kazakhstan
This country is huge, as in larger than the size of all of Western Europe. Much of that is wide, open steppe with nothing around for hundreds, if not thousands of kilometres. With its mineral resources, Kazakhstan is a bit wealthier and fancier than the other countries in this region, but it still shares a traditional nomadic culture.
8. Tian Shan Mountains
The Tian Shan mountain range runs 1,610km (1,000 mi) along the border areas of Kazakhstan, Kyrgyzstan and China. One of our favourite places in those mountains is Big Almaty Lake. Yes, the colour of the water is truly as blue as it appears in the photo. If you have time, take a hike (literally!) and visit the former Soviet astronomical observatory just up the hill from the lake.
9. Almaty
With skyscrapers, an ice-skating rink inside the mall, modern shopping streets and more, Almaty may surprise with its shine and modernity. Begin your visit at Panfilov Park and enjoy the brightly painted Russian Orthodox church and Soviet war memorials. During the warmer months, keep your eyes out for newlyweds, as it's local tradition for the bride and groom to head to the park with their wedding party after the ceremony.
Tajikistan
As you move from elsewhere in Central Asia into Tajikistan, maybe you'll notice the prevailing culture, language and food shifts slightly. Why? It's Persian, making it culturally more similar to Iran and Afghanistan than the other Turkic-Mongolian 'Stan neighbours. With mountains covering more than 93 percent of the country and 50 percent of that at an altitude of more than 3,000m (9,842 ft) this is another dream place for outdoor and raw adventure lovers.
10. Pamir Mountains
One of the most stunning places we've ever seen in the world is the so-called "Roof of the World," a.k.a. the Pamir Mountains that run from the border between Kyrgyzstan and Tajikistan down along its border with Afghanistan. A trip along the Pamir Highway makes for one of the greatest road trips in the world. The views are mind-bending, the Soviet detritus sometimes makes it feel like another planet and kind Pamiri families along the way bring it right back down to Earth.
11. Dushanbe
This is perhaps the least visited of the Central Asian capitals featured in this list, so you may feel a bit like a rock star while travelling here as you'll get lots of attention. The city isn't full of tons of sights, but it's fun to people watch at Rudaki Park or pick up dried fruits or nuts at the Green Market.