You don't have to be on an Eat, Pray, Love pilgrimage to feel Bali's magical energy. The Island of the Gods boasts dramatic landscapes from volcanoes to rice terraces, beaches, and underwater coral reefs. The cities and hillsides are dotted with temples and shrines at every turn — evidence of the unique Balinese Hindu religion practiced by the majority of people of the island, which incorporates elements of Buddhism and local animism.
Here are five things that grounded me in Bali and sent me home to Canada in better shape than I'd arrived.
1. You'll reconnect with nature
You don't need to try hard to find yourself surrounded by Bali's natural beauty. In fact, even in a bustling city like Ubud, all you need to do is pick the right patio for dinner and you'll often find a refuge from the scooters and motorbikes whizzing down the strip where you can enjoy a meal overlooking rice fields. Just be sure to bring mosquito repellent.
All of the best things in Bali are outside. From listening to the ocean waves crash on the beach, hiking to a secluded waterfall, sampling local coffee at a plantation, or making friends with the local residents of Ubud's Monkey Forest Sanctuary, you can't help but put your smartphone down to appreciate the incredible flora and fauna for awhile.
2. You'll move your body
The best way to experience all that Bali has to offer is to get moving. No visit to Bali is complete without a stop at one of the incredible rice terraces. Lush, green, and gorgeous, you'll be humbled by the manual labour that goes into producing rice while you're dripping sweat simply from taking a walk under the midday sun.
You will appreciate the sunrise on a whole new level if you wake up at 3 a.m. to trek up Mt Batur for daybreak. It's not exactly a walk in the park — volcanic ash is a bit like climbing up a sand dune — but the reward is worth a couple hours of sweating. Not to mention, you'll enjoy the satisfaction of pumping out a serious leg-day workout and hitting your FitBit step goal before breakfast. Eat as much mie goreng today as you want — you've earned it!
In Bali, yoga goes beyond the commercialized form of exercise and overpriced black stretchy pants that some of us have come to know at home. Here, you'll find an abundance of shalas all around the island that welcome both newbies and dedicated yogis alike. Give your first downward-facing dog a shot, try a new style of practice, or stick around for an ecstatic dance session after class. Tip: Yin yoga is a good option to stretch your tired muscles after the volcano hike.
3. You'll slow down
Trust me on this one, even if you're not the type to take it easy on vacation, Bali's heat and humidity will have you considering lounging in the shade by a pool after a morning of bartering in the markets or trekking through rice terraces. Embrace the notion — enjoy a nap, read a book, or, better yet, get to know other travellers and staff at your accommodation.
4. You'll practice self-care
Whether you call it self-care or spoiling yourself rotten, it's so easy to make your wellness a priority in Bali. You can't throw a stone without hitting a spa and treatments like hot stone massages and organic body scrubs that cost a small fraction of what we pay at home. Natural hot springs can be found throughout the volcanic island that will provide you with a couple quiet hours of relaxation. And don't even get me started on the healthy fare — fresh smoothies, green juice, and açaí bowls galore! Daily visits to the juice bar or organic café might be a budget-breaker at home, but comparatively, it's very affordable in Bali where many of the exotic fruits and vegetables you've come to covet grow. Your cells will be buzzing with vitality!
5. You'll feel gratitude
What struck me most about the Balinese people was their incredible gratitude for everything they have. Everywhere you go, there are small handmade banana leaf baskets called canang sari filled with offerings of rice, flowers, candies, incense, and more. You'll step over them on the sidewalk, see them on statues or shrines, on temple steps and in the most seemingly random places like the base of a tree. Three times a day, Balinese women practice this ritual of giving back to their gods what they've received. They dedicate much of their day to assembling and distributing the canang sari. In fact, the average family compound may require 15 every day in various areas of the home and shrines. Smelling the burning incense was enough to remind me to appreciate how fortunate I am to have the opportunity to travel the world and visit such a magical place as Bali.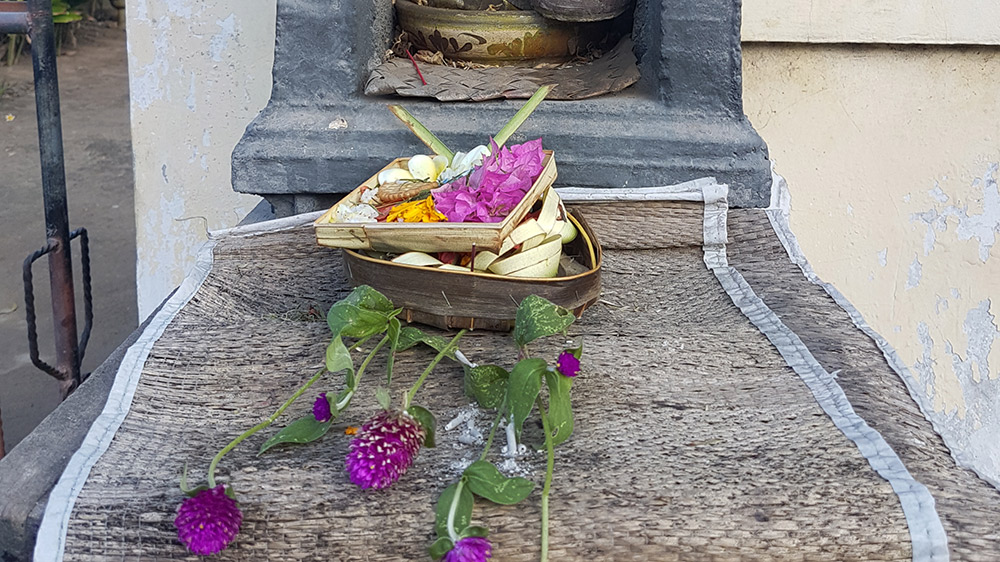 Getting There
G Adventures runs a number of departures in Bali encompassing a wide range of departure dates and activities to cater to different tastes. We're thrilled at the prospect of showing you this big blue planet of ours — check out our small group trips here.