To celebrate Mother's Day, we asked G Adventures staff and blog contributors to share their most memorable and life-changing stories about travelling with Mom. Here's what they had to say.
Adrienne Lee, program and communications manager, Planeterra, Toronto, Canada
"My dad was always the big adventurer in my family. When he passed away seven years ago, I feared that my mother's sense of adventure went with him. They were always each other's best travel companions, and as often and as feasibly possible, they would pick up and fly to Japan, Venezuela, Austria — wherever his finger landed on the map was their next big trip. For a few years, my mother's travel did stop. But when I started working at G Adventures five years ago, my mother's interest in travel was reignited. Last year, she retired, and it was always a dream of hers to see the elusive Tiger's Nest in Bhutan. So we travelled there together. At the time, people asked me if I was worried about her climbing the 10,000-something feet to the monastery. I told them I was more worried about getting my own butt up to the monastery — I knew she'd be fine. And she was. I was happy to check that box off on her bucket list together — and she's now been on more G Adventures trips than I have."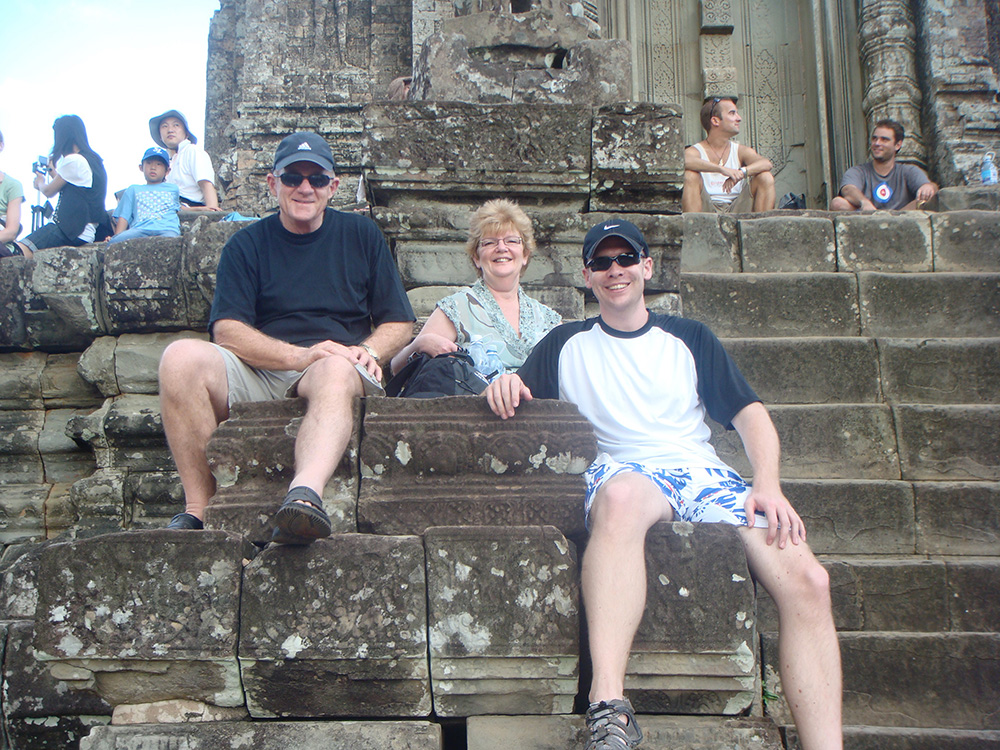 Lyndon File, customer experience manager, Toronto, Canada
"Back in 2009, I knew I had met the woman I was going to marry. The only problem was that my parents lived in New Zealand, and she and I live in Canada, so they had never met in person. So, I booked us all on a G Adventures trip where we could all meet and get to know each other somewhere halfway-ish: Cambodia. Travelling with my mum in beautiful Cambodia was a wonderful experience. But what made it better was that this was the kind of destination that my mum and dad would never have gone to on their own. Seeing Cambodia through her eyes was a real treat. My mum has taught me so much in life, and it was rewarding beyond words to be able to show her and teach her about a new way of travelling, and a destination she would not have otherwise given thought to."
"In 2008, I quit my job as a lawyer to travel, and started my blog for my mum — so she, with her boundless spirit, could follow my adventures from afar. That blog eventually turned into a new career, and she has followed it since. For her 65th birthday, I wanted us to travel together. When I asked her where she wanted to visit, she didn't miss a beat: "the Taj Mahal." We took the Land of the Maharajas trip, winding our way around Northern India. The Taj visit didn't happen until the end, after spending days lost in markets, where we feasted on lassis, street cart dosas, and bubbling vegetable curries. Overwhelmed by India's full-throttle sensory experience, we gave into the chaos and let it carry us along. Interestingly enough, the Taj visit was actually one of the calmest mornings in India. It was a rainy day, and while we were soaked to the bone, we were also one of the few people up at dawn and in line for the Taj Mahal. We paid our entry fees and wandered into the complex, in awe. We found ourselves in a rare moment of solemn, almost holy, silence. The Taj itself, white marble juxtaposed against a cloudy sky, was worth the wait. But the opportunity to see it with my mum, and share that moment with her, was more important than the rest of the trip put together."
Dana Caswell, manager, marketing research and analytics, Toronto, Canada
"Last fall I had the opportunity to take my mom to the Netherlands, mainly to visit where my grandma grew up and connect with our Dutch roots. My grandparents immigrated to Canada in the 1950s, and even though they weren't well off, my grandma made it a priority to bring each of her seven children on a trip to the Netherlands with her when they were young. My grandma, who passed away about 15 years ago, took my mom when she was 19 years old, but my mom had never had the opportunity to go back. I had always dreamed of going with her — and for the first time myself — so for her 60th birthday, I surprised her with a trip. We spent a few days in Amsterdam and then took an hour's train ride to visit the small town of Putten, where all my grandma's siblings still reside. My great aunts and uncles only spoke Dutch, and we do not — but the next generation, my mom's cousins, helped translate their words to English. What an amazing day! Relatives my mom hasn't seen in more than 40 years came to visit, and about 25 of us ended up at a cousin's restaurant to celebrate. The best part was laughing as my 80-year-old great-aunt was hoisted onto the bar for a group photo — because, why not?"
Amanda Dunning, consumer marketing specialist, Toronto, Canada
"I moved to France from Canada when I was 20 years old. It was the first time I had taken a flight by myself, and the first time I had ever lived on my own. I remember saying to my mom the day before I left: "I can't believe I'm doing this to myself." I lived in my tiny apartment in Juan-les-Pins, on the Côte d'Azur, for two months before my mom hopped on a plane to visit. Having had my first taste of freedom, it was a shock to my system to have my mother wanting to know my every move again. We struggled, to say the least. Bickering aside, being able to see her experience the beauty of southern France was a memory I'll never forget. We enjoyed perfume tastings in Grasse, the sunny promenade in Nice, and delicious dinners complete with French wine. I was so lucky to get to experience all of those wonderful memories with her. It reminded me that no matter how independent I am, or how old I get, I will always need my mom!"
"A few years ago, I took a week-long train journey through Switzerland with my mother. The timing for the trip was the one-year anniversary of my stepfather's death, as my mother did not want to be at home for this. For more than seven years, they hadn't been able to travel internationally due to his illness, so this trip would also be my mother's "return" to international travel. She chose Switzerland because she spent eight years there growing up, and so it was a familiar, comforting place. The main goal was to visit her former stomping grounds in Geneva — to see her old school, former apartment building, and the café down the street where she would buy pastries as a study aid. Then, we'd travel the country by train to visit some areas she hadn't yet seen. Although we had travelled quite extensively when I was a child, this was the first time my mother and I travelled together as adults. I did the majority of the planning and organizing, meaning that our 'normal' roles were reversed. I was now the 'responsible' one, and my mother adjusted well to my travel style of figuring most things out as we went along. At the beginning of the trip, she told me that this might be her last trip to Europe. By the end, she was already thinking about other journeys she might want to take elsewhere in the world. The following year, she returned to Europe for an even longer period of time. Perhaps our journey together sparked her second travel bug."
Luke Harris, CEO (chief experience officer), Costa Rica
"Moms are awesome, because they know what we want before we do. When I was 16 years old, I took my first trip outside North America. It wasn't my choice: one morning, two weeks into summer vacation, my Mom woke me up and informed me that we would be going to Hungary with Noemi, a family friend. I said, 'Yes, I am hungry … what did you make?'
At the time, I had never left the U.S. I had no idea where Hungary was or why we were going. All I knew was that my Mom's friend Noemi was a lot older than her, that they liked to go swimming together, and that Noemi was Jewish. As I came to learn over the next few days, Noemi was a Holocaust survivor, and took groups of interested people on trips each summer through Central Europe. These trips included a visit to Auschwitz, where Noemi had been a prisoner during the Second World War. We began the trip by visiting Noemi's childhood home in Budapest, then passed through Slovakia to Poland where Noemi walked our group through the Auschwitz concentration camp and pointed out things that she remembered, like the point where she had been separated from her sister, who she never saw again. Many fellow travellers cried or prayed. I found myself surprised that someone who I had known for years had such a powerful story to tell and that, to that point, I knew nothing about it. I realized there was a lot about the world that I didn't know.
After Auschwitz, we travelled to the Czech Republic and Austria before finally heading home. I don't think I realized the impact the experience of travelling abroad had on me until weeks later when I was on a trip with my high school basketball team and I just started crying. Eventually, I realized what I really wanted to do with my life was to travel. My mom had known all along."
Cynthia Connell, A& R coordinator, Vancouver, Canada
"I grew up with a single mother who was rather nomadic. We often moved from one apartment to another, from city to city, and summers were spent either at my grandmother's cottage in southern Ontario or in the passenger seat of my mother's car as we headed whichever way it pointed when we pulled out of the driveway. Those summer trips took us from one coast of Canada to the other and back again. My very first trip was when I was 18 months old — before airfare was full price for me: my mom took me on a six-week trip around England, France, Scotland, and Wales because she wanted to read me Wordsworth in its proper setting. A love of adventure, nature, and simplicity was instilled in me at an early age. Years later, I travelled to Mexico, — my first trip on my own — and immediately fell in love with the country. That trip inspired other travels around the world. On my fourth trip back to Mexico, I decided I wanted to see what it was like to live there. After a short while living and volunteering in San Cristobal de las Casas, in the southern state of Chiapas, I found myself short on cash. I returned to Canada with a plan to work, save, and make my way back to Mexico within a year. Two months into my grand plan I called my mom, frustrated and impatient in the damp Vancouver winter, and expressed my longing to head south sooner; she told me that if I found a way to visit her in Ontario for Christmas, she'd see what she could do. A month later I was back in Ontario, where my mom handed me $1,000 and a one-way ticket to Mexico. My six-month plan turned into five years, during which time I began working with G Adventures. Thanks to my mom's support and encouragement, I discovered what turned out to be a lifelong passion. Thanks, Mom!"
"When I was seven years old, my sister sprained her ankle jumping off a sand dune while on a family vacation in Victoria, Australia. My mother both scowled and comforted her through the afternoon and was now the one who had to slowly ride her bicycle back as my sister hobbled with the rest of the family home. My mother would ride as slowly as she could, always a few metres ahead of us. The walk was particularly uneventful, but for the constant high-pitched whining of my sister protesting in pain. Suddenly my mother stopped riding. She placed her feet on the ground and spun the bike in the opposite direction to the beach house. She faced us, the colour drained from her face, then stamped on the bicycle pedals as hard as she could. Soon she was flying past me, my father and my sister who could barely walk. My mother did not stop to talk to us, she rode straight by. No explanation. Eventually, as she was distancing our group at speed, she yelled over her shoulder, 'Snake! Snake! There's a bloody snake on the road!' Sure enough, we saw a large red-bellied black snake lying on the road no more than 5m (16 ft) in front of us. It turned a disinterested head our way and we froze in fear before eventually backing away slowly from the scene. My father picked up my sister and we walked briskly away, but my mother was nowhere in sight. She had ridden off around the bend, leaving her family at the snake's mercy. My sister and I love our mother dearly — she is one of the kindest and warmest people in the world — but although this incident played out some 25 years ago, she has still not lived it down. My mother turns a bright red over family dinners whenever the story of the day she left her temporarily incapacitated daughter to confront a snake is told, which is often — and always with physical re-enactments."
---
Getting there
Whether you're planning a trip with one of your parents, with one of your friends, or alone, G Adventures has a trip for you. We offer a wide variety of small group tours around the world — find out where we can take you by clicking here.