Since I returned from Japan, the hardest thing to explain to friends has been my transformative stay at James Turrell's House of Light. It's not easy to convey its beauty and poignant concept quickly, so I always end up asking a simpler question: "Have you seen the music video for Drake's Hotline Bling?"
Though the two technically have nothing to do with each other (and the video's auteur, Director X, denies Turrell's influence entirely), it's the easiest, most efficient way of evoking the hotel's aesthetic; the way the clip's soft, colourful hues slowly gradate into and juxtapose with one another distinctly recall the American light and space artist's best work. And the House of Light, a "meditation house" and hotel in the style of traditional Japanese inns, complete with tatami mats and shōji walls, has to rank amongst Turrell's most immersive and transcendent.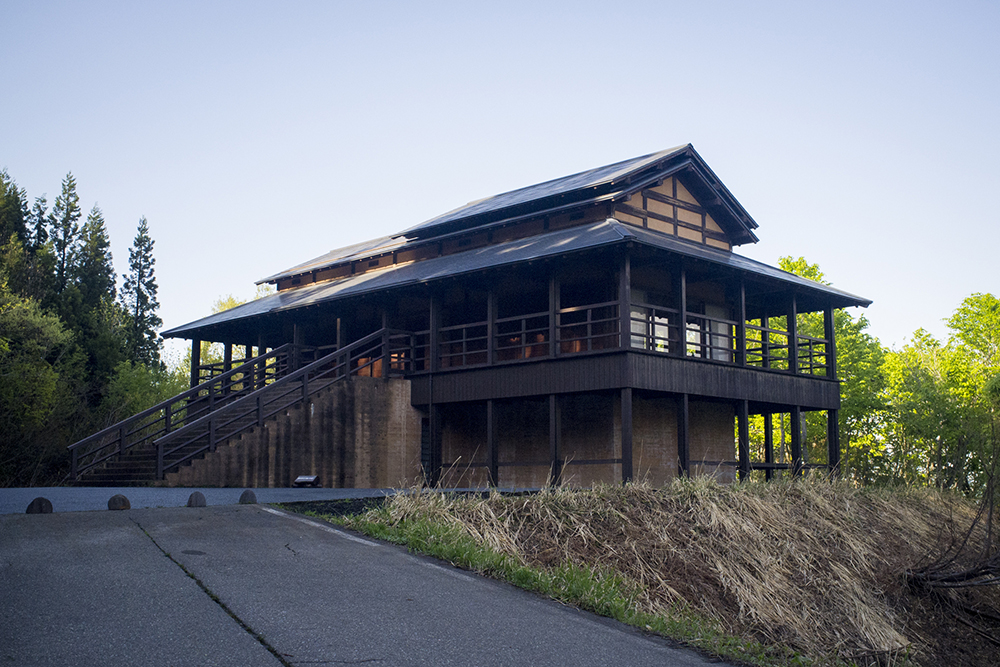 The building itself, set in the remote, picturesque town of Tokamachi, in the country's Niigata Prefecture — about three hours from Tokyo or two hours from Nagano — is stunning. Influenced heavily by Junichiro Tanizaki's book In Praise of Shadows, Turrell set about designing "a space where one can experience living in light, by relating light inside to light outside." Because of snow covering the region in the winter, the house's main floor is raised 2.7m (8.9 ft) off the ground (it's more like a second storey), and most of the outer walls are glass, allowing light to spill in and splay against every surface, illuminating the grand entrance, the kitchen and the hallways. The sliding glass doors of the "Light Bath" in the basement (technically the ground floor) allow sunlight to reflect off the hot water's surface (offering the "experience of forest bathing," according to the hotel's site), but it's at night, when the bath is illuminated by fibre optics, that it's really special (imagine Tron, but like, the spa version).
As Turrell's purpose "was for three families to share the accommodation for a night and exchange their thoughts," there are just three rooms to stay in, meaning only six people usually inhabit the hotel each night (intimate!). Once our gracious hostess left us to our devices (no staff stay the night; like I said, intimate), my partner and I chose to sleep in "The Garden Room," so named because it faces a rock and moss pathway outside the glass doors, leaving "The Cloister," a beautiful shōji-walled room upstairs, for the other couple staying the night. Because there were just four of us, we left the main, "Outside-in" room unoccupied. Though it's technically an available bedroom, it's also the space in which everybody convenes, once at sunset and once again at sunrise, for the House of Light's main event: The awe-inspiring "light program."
At 6:32 (times differ depending on the season), as the sun began to set, having unfurled padded futon mattresses on the room's tatami mats, we laid on our backs and gazed upward as the room's sliding roof automatically began to pull back, revealing a perfect square of sky through a cut-out hole (not a skylight, a literal hole — if it's raining, you have to keep the roof closed). The ceiling surrounding it is lit from below, where it meets the walls, in shades of magenta, azure, lime, lavender, coral, and every other conceivable hue, and they shift from one to the other so gradually, it's hard to remember when the royal blue you were just admiring turned orange. That it all happens around a square of sky slowly turning from daylight to midnight blue deceives and disorients your eye; juxtaposed against the colour of the ceiling, the sky will appear green at points, sometimes grey or even purple, even though it's always technically a shade of blue.
The light program was transcendent and humbling, the best part of our trip to Japan — and given the incredible number of amazing things to do there, that's saying something. We thought our stay couldn't get any more magical. And then it did.
Having just experienced such a magnificent, moving sight with other people, we couldn't help but feel closer to them, and as it wasn't yet even 8 p.m., it felt a shame to move around each other like strangers for the rest of the night. Plus, our Toronto friends who suggested the House of Light to us ended up bonding with their hotel mates, an older, artsy couple from New York; it sounded nice. So, we went to the hotel's only fridge and pulled out one of two bottles of sake the staff left there for purchase, and asked if the Japanese couple staying the night with us wanted to share it.
After showing us how to properly heat sake (it's much better warm), we indulged in one and then both bottles. Kaori, an architect, and Noriaki, a high school teacher, both around our age (30ish), brought snacks and, later, a third bottle of sake they'd bought earlier that day; in a meagre attempt to match their gratitude, I ran to grab the granola bars we'd brought from Toronto to tide us over on our flight.
For hours, we sat around a short table under the open roof and asked each other questions about each others' countries and culture; we discussed customs (in Japan, you always start a night of drinking with beer, then move on to something like sake), karaoke (we all love it, though Kaori and Noriaki do it only in private, never in groups) and emoji (they are designed in Japan, so their individual meanings here in Canada are often different than were originally intended). They knew an impressive amount of English, but we still occasionally hit language barriers; photos from our phones helped illustrate our ideas. Around midnight, red-cheeked and tipsy, we wished each other goodnight, both sides promising to help awaken the other by 4:10 a.m. for the sunrise show.
Before falling asleep, my partner and I discussed, in rapture, how nice it was to connect with our hotel mates, to share ideas and laughter with others after days of travel isolation. Here we were, two pairs of strangers speaking different languages, brought together by an experience that alone was worth the price of admission (around $100 CDN, which is ridiculously affordable). And yet, we were perhaps even more astonished by the connection we'd felt immediately afterward, with people who, now friends, were strangers just hours before. Suddenly, our trip had a new, more human highlight; this, we felt, was what travel was for.
At sunrise, when we gathered, groggily, to watch the light program a second time (this time in reverse), it was in a new context. The lights, slow, warm and ever-changing, were a wordless, music-less symphony that transcended language and fostered real, human connection. In a typical hotel, you might smile curtly as you pass a stranger, or avert your eyes entirely; at Japan's incredible House of Light, amidst the beauty of nature and Turrell's gorgeous design, we felt encouraged and empowered to be sources of light ourselves.
---
Getting there
Ready for a trip to Japan? G Adventures can get you there. Check out our small group tours to Japan here.