There are plenty of beaches that give you the opportunity to stretch out and be all lazy on them. Few, however, offer what Costa Rica does. Here's a place where you can explore your adventurous limits in between stints of beach time lounging. It's a place that has earned a name for its laidback lifestyle: pura vida or "pure life." That alone is a good indicator that a lot of cool stuff happens here.
At the bottom of the Caribbean coast of Costa Rica is one of the most famous places in the celebration of la pura vida: the small town of Puerto Viejo de Talamanca. This intimate community of largely North American expats is exactly what you'd want out of a place where the rainforest meets the Caribbean (with some sweet restaurants too). The main beach is white and powdery, while just north are smaller stretches of volcanic black sand – beautiful to see and at times challenging to walk along on a sunny day.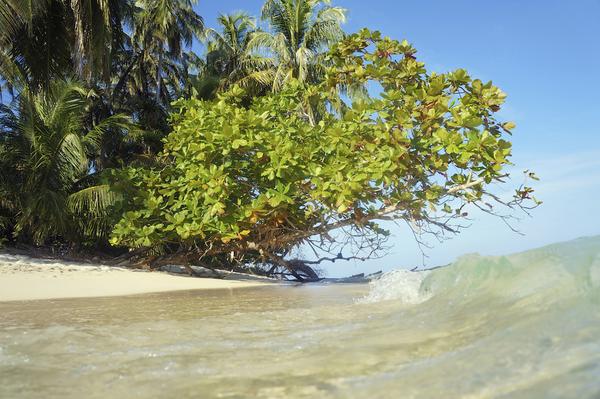 Not far from Puerto Viejo is the 25,000-acre Manzanillo Wildlife Refuge where, if you crane your neck, you will enjoy plenty of capuchin monkeys. Below your feet, you'll see strangely beautiful trails of ants transport leaves along the ground, while giant blue butterflies bigger than your face flutter by. Your camera will be well used here.
Any visit to Costa Rica needs to include a stop at the area around Arenal Volcano, considered one of the most impressive active volcanoes in the world. The town of La Fortuna near the volcano is sweet, but the real appeal here is the opportunity to hike and bike your way through the impossibly green landscapes. The federal government passed a law in 1952 that declared all areas within two kilometres of volcanoes to be national parks and the country does a beautiful job of protecting this land. There's also some serious canyoneering to be done, as well as rappelling and down-climbing, before you slip into the area's hot springs to chill out and relax those muscles.
Monteverde, near the Pacific coast, is another incredible area of the country and home to the celebrated Santa Elena Cloud Reserve. G Adventures offers the Costa Rica adrenaline bundle too (one of our most popular add-ons) which will have you ziplining and swinging through the trees like you were Tarzan. This is jungle life for visitors at its most iconic and it's adventure that's just tame enough for anyone to try. You wanna fly, baby? Here's your chance.
And of course, as if the rest of the country isn't notable enough, Costa Rica is home to Manuel Antonio National Park, a stunning mecca of pristine nature. Its secluded beaches alone are nothing short of incredible (and you'll need some downtime on them after everything you've done in this country). If you're not tired, you can still push it to the limit by hiking, surfing, kayaking, and giving yourself high fives for everything you've undertaken this trip.
You may be looking for a beach vacation to help press your reset button, and a journey through the stunning country of Costa Rica may be more restorative than you could have imagined. Try your adventurous side on for size and take it for a spin.
---
Getting There
G Adventures has lots of tours that'll have you roaming, snorkelling, swimming, beaching, canyoneering, and smiling your grateful-for-life way through Costa Rica. We're excited to introduce you to parts of yourself you never knew. Check out our range of trips to Costa Rica right here.