It's a brilliant Monday afternoon in northern California — the kind of day where wispy clouds appear like brushstrokes across a bright cerulean sky — and I'm standing on the shores of the Pacific Ocean, my parents walking down the beach ahead of me.
When I bring up my camera to take a photo of them, they are the sole figures in the frame; the rest of the shot is filled with only sea, sky, sand, a few seagulls, and the rugged, tawny-coloured slopes that define this stretch of California's coastline.
Here in the solitude and openness of Stinson Beach, it's hard to believe the busy city of San Francisco is but an hour's drive away…
I've based myself in San Francisco for several months this year, so I was delighted when my parents decided to visit for a week, from our home state on the East Coast of the U.S.
California was the first place we ever flew to as a family when I was growing up, and our 10-day drive along Highway 1 from San Diego to San Francisco still ranks as one of our favourite vacations. My parents hadn't returned to San Francisco since, however, so their trip would be quite a full-circle moment — only this time, I would be their guide.
I couldn't wait to re-introduce them to San Francisco — especially to its many cultural districts, such as Chinatown and Little Saigon, where my traveller's heart could feel more at home in such a cosmopolitan setting. But even more, I couldn't wait to head out of the city with my parents. For if there was anything I'd learned about San Francisco during my time there as a resident, it was that the city is an ideal base for day trips.
Like the hub of a wheel, San Francisco sits proudly at the centre of the Bay Area, with possible destinations radiating in every direction; even the Farallon Islands to the west — a National Wildlife Refuge located about 41km (26 mi) offshore — are within reach on a whale watching–tour. Most impressively, more than a dozen national parks lay within driving distance from the city — from the towering redwoods of Muir Woods National Monument, to the ancient rock formations of Pinnacles National Park.
As I hatched a plan for my parents' visit, it seemed the only question was which direction we should head each day.
On our first full day together, we decide to head north, taking Highway 101 over the Golden Gate Bridge to Marin County. This region just north of San Francisco is worth a week of its own to explore — to walk along the beautiful harbour of Sausalito, get lost in Point Reyes National Seashore, and take in the views from the Marin Headlands.
But our destination for the day is Stinson Beach, a 5.5km- (3.5 mi) long expanse of shoreline located just 37km (23 mi) from our hotel in Union Square. While a village of the same name is home to cafés, art galleries, and surf shops, we head straight for the beach, leaving our shoes behind and keeping our eyes peeled for the countless sand dollars that lay in our path. It's a completely different landscape from where our day began.
When at last we begin our return drive to the city, we pause on the ridge overlooking Stinson Beach, for one last look at the inspiring world below.
The next day, we set out of San Francisco again, this time heading in the opposite direction. 48km (30 mi) south — about a 50-minute drive — we arrive at the start of the Slow Coast: an 80km (50 mi) stretch of Highway 1 between the beach town of Half Moon Bay and the city of Santa Cruz.
The Slow Coast was founded in 2011 by marine biologist and author Wallace J. Nichols and his wife, Dana, when they moved their Airstream trailer to the town of Davenport, opened a shop, and began to sell locally-made jewelry, art, and food products. Since then, eight more Slow Coast pop-up locations have been opened, forming an altogether unique way to spend a day and soak up life along the Pacific.
Some locations are in small towns like Davenport and Pescadero, where lunch at the homey Pescadero Country Store is best followed by a visit to the nearby Pigeon Point Lighthouse. But other Slow Coast stops are set up right along Highway 1, such as Pie Ranch — where the delectable pies for sale in their shop are just the tip of the iceberg of what this 14-acre working farm (which is shaped like a slice of pie, no less) produces.
If our day at Stinson Beach offered us a change in landscape, winding our way down the Slow Coast brings a refreshing change in pace — from the bustling clip of a big city, to the softer rhythm of small towns and sweeping coastal views.
At the end of my parents' visit, it's time for one last jaunt to the north — this time to Sonoma County. Like its neighbour Napa, Sonoma is part of California's wine country, though it's an even larger producer and home to more than 250 wineries. Best of all, it's only 64km (40 mi) from downtown San Francisco, or just over an hour's drive away.
My dad is at the wheel, and I direct him to my favourite vineyard in the region — Larson Family Winery, which I've visited several times before with friends. Although the winery has a large indoor tasting room, we opt for an outdoor tasting on Larson's open, sunny patio, which holds picnic tables, a bocce court, and cornhole boards, and offers a perfect panorama of Sonoma's verdant vines and rolling golden hills.
And it's there, with a glass of my favourite sparkling rosé finally in hand, that I raise a toast to my parents — in honour of their full-circle return to San Francisco, and to the many discoveries our week around the region has held.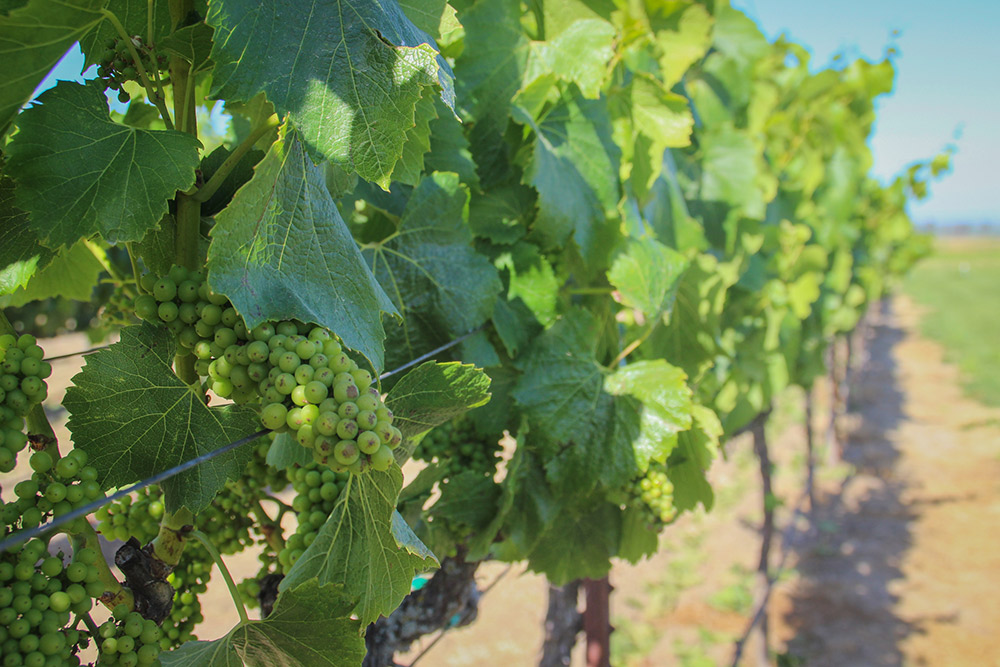 Getting There
G Adventures runs a number of departures in the United States encompassing a wide range of departure dates and activities to cater to different tastes. We're thrilled at the prospect of showing you this big blue planet of ours — check out our small group trips here.