For a long time, Cuban food didn't exactly have a good reputation. Beans and rice was considered a typical meal, and there was little more than that. Since the revolution in 1959, the state has had strict control over the country's food supply and the establishment of private restaurants. That meant that the general public only had access to simple ingredients like chicken, beans and rice.
In recent years though, there has been a shift in Cuban food landscape. Thanks to Raul Castro's economic reform program, a new wave of private restaurants, or paladares, has swept the country, especially so in its capital, Havana.
At one time, Paladares were only allowed to be run by families out of their own homes. These days, they have evolved to become proper restaurants with multiple rooms that are staffed with professional wait staff and sommeliers. With easier access to previously hard-to-find ingredients like carrots and parsley, local chefs are now able to cook more freely and be more ambitious with their menus.
These paladares can range from simple mom-and-pop operations that serve up good ol' comfort food to sophisticated and stylish establishments dishing Cuban fare fused with international flavours. Food quality has risen to new heights and there's no better time for a dip into the Cuban culinary world.
Cuban fare with a modern spin
On my recent trip to Cuba with G Adventures, I made it my mission to try out some Cuban fare at the best paladares in the country. The paladar frenzy is at its peak here in the capital city, so there's no better place to begin than in Havana.
My first stop was San Cristóbal, an eclectic and atmospheric paladar on the bottom floor of an early 20th-century mansion located in Centro Habana, a residential area with crumbling buildings and men playing dominoes in the streets.
Walking inside is like being transported to another world. Antique clocks jostle for space with vintage record covers and animal skins, while Catholic and Santeria altars are backdropped by bullfighting posters. It felt like I had stepped right onto the set of an Audrey Hepburn movie.
Sitting next to a group of European expats with cigars and rum in hand, I savoured my dish of picadillo (minced beef with olives and spices) and the Cuban national dish, ropa vieja, a tangy mélange of shredded beef and tomato sauce.
Both dishes are staples of Cuban cuisine, but here at San Cristóbal, they're given a modern spin with crispy yuca chips as a side dish and a sprinkling of fresh basil-and-avocado garnish. Its owner and head chef, Carlos Cristóbal Márquez Valdés, is the brainchild behind the menu that's heavily influenced by African and Spanish flavours.
International influence on classic dishes
My next stop was Paladar Decameron, a fixture in the paladar scene that's located in the leafy residential district of Vedado. Having earned a solid reputation, this paladar has been around since the 1990s and recently underwent a facelift. The decor still oozes old-world charm with a collection of old musical instruments, antique clocks, sculptures and paintings.
The octopus starter I had, pulpo templado con escabeche de papa, was deliciously peppered with some spices to remind me that I was in the Caribbean, while the solomillo al horno (oven-baked sirloin) gave subtle hints of Cuba's Spanish influence. With all that came moros y cristianos (black beans and rice), the quintessential dish of Cuba that still remains a classic on every menu.
Havana's best
To end my food quest with a bang, I chose the wildly famous La Guarida as my last stop. As the film set for the famous Cuban movie Fresa y Chocolate, La Guarida hasn't just earned a lofty reputation from being a movie location, its food is also up there with Havana's best.
This paladar can confuse many a traveller with its location on the top floor of a dilapidated 20th-century building. It takes some curiosity (and some hints from the locals) for hungry explorers to wander into what looks like a construction site, up the creaky stairs past the empty first and second floors before finding this secret spot.
I showed up without making any reservations and was actually lucky enough to get a table; it was packed even at noon when I got there. Spread out over three rather cramped rooms with a low ceiling, La Guarida felt more like a private home than a world-renowned restaurant. In fact, it was actually the home of the current owners who grew up in the building. And its bar man was born and raised in the building, and spent 14 years living next to the owners.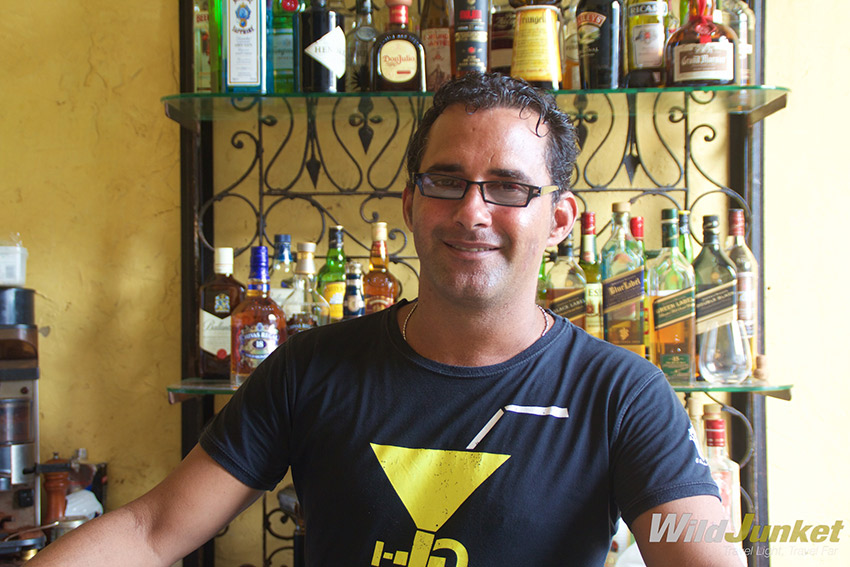 The main dining area had an old-world ambiance with old furniture, brass artifacts and aged chandeliers. Photos framed the walls, alongside black-and-white posters of Old Havana. But once outside the dining area, I was surprised to find a glass-windowed show kitchen with brand spanking new appliances and professional equipment.
Just as I hoped, my last meal in Havana was my best. The savoury tuna tartare coupled with ridiculously fresh seafood ceviche, was topped with a crispy pork belly (easily my favourite dish in the world) served with heaps of boniato (sweet potato) chips. As stuffed as I was, I couldn't leave without trying their famous fresa y chocolate (strawberry and chocolate) dessert, the namesake of the movie that brought this place to fame.
This quest for the best paladares in Havana gave me a peek into Cuba's food revolution. Going to dinner in Havana has become an experience on its own. Best of all, you'll be sure to find more than just beans and rice on the menu.
Information: San Cristóbal Address: San Rafael entre Campanario & Lealtad Tel: +53 7 867 9109 Paladar Decameron Address: Linea 753 entre Paseo y 2, Vedado Tel: +53 7 8322444 La Guarida Address: Concordia No 418 entre Gervasio & Escobar Tel: +53 7 866 9047
Getting There
G Adventures runs a number of departures in Cuba encompassing a wide range of departure dates and activities to cater for different tastes. We're thrilled at the prospect of showing you this big blue planet of ours — check out our small group trips here.