Prior to my setting off for Australia, people were often surprised to hear that I'd travelled to more than 90 countries and six continents, yet I'd never travelled to the Great Southern Land.
Why was this?
Distance — that it's so far away — is one explanation. The real reason: I was overwhelmed by the place. Overwhelmed by its sheer size, the destinations, the options — the outback, Aboriginal cultures, cities, beaches, coral reefs, wineries, to mention a few. It felt as if I'd need a few years to grasp Australia, and so I deferred my visit.
Then, I came to terms with the reality that while I couldn't do it all, I could still experience a lot in a modest amount of time.
So it was with the excitement of visiting my final continent and fulfilling a childhood dream that we embarked on our Explore Australia adventure, the inaugural National Geographic Journeys with G Adventures tour in the country. In less than two weeks, we dug deep into Australia's natural history and wildlife, began to burrow beneath the surface of its complex Aboriginal cultures and present-day challenges, dove the underwater wonderland of the Great Barrier Reef, experienced the vast expanse of the outback, and took in the country's two biggest cities, Melbourne and Sydney.
Here are some of the highlights from our trip.
1. Learning about Australia's deadly (and crazy) animals
On every list of deadly or venomous animals in the world, Australia's native species always end up on top — whether it's jellyfish, snakes, snails, mammals or some combination of them all. (If you don't believe us, listen to this humorous song.) On the one hand, it's fascinating. On the other hand, it's slightly terrifying to know that each time you see a snake on bush walk, it's probably poisonous. And it's hard to take it easy in that water as a box jellyfish – the world's most dangerous animal – just might be lurking there before you.
Of course, there are plenty of ways to be careful. However, it does add a dose of excitement to otherwise ordinary activities.
To put all of this into perspective and learn the why and how behind Australia's venomous animals, we spent the afternoon at James Cook University research aquarium with Professor Jamie Seymour. In addition to being a National Geographic grantee, and perhaps the world's top expert in venomous animals, Seymour's passion for science, research and continual learning is infectious.
We were so enthralled by his lecture and hands-on tour of his research aquarium that although we'd been scheduled for a one-hour tour, our group had to peel itself away after three.
2. Understanding Janbanbarra Jirrbal Aboriginal culture at Café Chloe
When I learned about Aboriginal people very superficially at school in the United States, it was presented to students as if it there existed one Aboriginal group, language and culture. During our visit to Café Chloe in Tully, a new G Adventures for Good project, we learned otherwise.
Aboriginal culture features its own internal diversity. In Australia, there are an estimated 500+ different Aboriginal groups, each with its own distinct language and culture. Recent DNA studies confirm that these Aboriginal people are estimated to have left Africa 64,000–75,000 years ago; they represent the oldest continuous living culture in the world.
Mindboggling.
Recent history since the arrival of Europeans in Australia in the 1700s has not been particularly kind to the Aboriginal people. Stories are full of tales of forced deportations, institutionalized discrimination and murder. For example, Australian law considered Aboriginal people as "flora and fauna" as recently as 1967. Only after a constitutional amendment were they recognized as humans with appropriate rights. By this point, however, most of their land had already been taken by force, turning their nature-based traditional way of life upside-down.
This historical backdrop helped us understand the challenges that Aboriginal people still face in Australia today in terms of social discrimination, economic exclusion and resultant poverty.
This is why job training and empowerment projects like Café Chloe can make such a difference for a community like the Jirrbal peoples in the town of Tully, Queensland. A project like this encourages local Aboriginal people to recognize and use the strengths of their culture — their traditional stories and art, their emphasis on their relationship to nature and to people — and to use those strengths to enlighten visitors. The café and project as a whole also creates jobs and economic opportunities for youth where previously few existed.
3. Experiencing the oldest living rainforest on Earth
Daintree Rainforest, at 135 million years old, is considered the oldest living rainforest in the world. (In comparison, the Amazon Rainforest in Brazil is estimated at only 10 million years old). This means the Daintree is flush with flora and fauna found nowhere else on Earth.
The Kuku Yalanji Aboriginal people have made the Daintree Rainforest their home for the last 4,000 years, living entirely from its plants, its wildlife and the fish that run in its rivers. They consider themselves caretakers of this rainforest, never using or taking more than they need. For example, if wood was needed to carve a boomerang or shield, it was cut from the tree in such a way so as to not kill it, so that the tree could recuperate and grow back quickly. Their relationship with nature is one of harmony with and respect for everything around them — something we can all learn from.
To walk through the oldest rainforest in the world with an Aboriginal guide (i.e., from the oldest continual living culture in the world) is an experience fitting the ancient history and wisdom at the root of our existence and ongoing survival on this planet.
4. Following the Anangu creation stories at Uluru (Ayers Rock)
My expectations for this portion of the trip were high. At the root of my fascination with Australia: the National Geographic Documentaries about Uluru that I'd watched as a six-year-old girl.
The imposing physical presence of Uluru — its massive structure dominating an otherwise flat, desert landscape — was even more impressive and surreal in person than any photo or film could ever convey. However, what struck me most was the direct connection between Anangu creation stories and the contours and details of Uluru and its surrounding landscape.
A characteristic common in all Aboriginal groups, whether in the rainforest or desert, is the application of stories as a means of reconciling one's physical surroundings: the oral tradition of passing on lessons and knowledge from one generation to the next. These stories were not just for entertainment, but were a way for people to understand how to live off the land, which in harsh, extreme, environments like the desert outback, could literally mean life or death. Stories taught people where to find water, how to hunt, which plants and animals were dangerous, and about the delicate balance required between nature and humans so both could exist in harmony.
As our guide related a handful of Anangu creation stories connected to lizards, snakes and other animals, she pointed out the marks on the rocks around us, the physical manifestations of these stories. What looked before like one big, red rock now had stories to provide context and sense to its contours, lines and markings.
5. Exploring the underwater world at the Great Barrier Reef
At 2,300km (1429 mi) long, the Great Barrier Reef off the eastern coast of Australia is the largest living organism on Earth. It's impossible to imagine and fully appreciate its vastness and complexity when you're above water. However, put your head underwater by snorkelling or scuba diving and a whole other world begins to emerge. The underwater world, particularly one as rich and colourful as this, feels akin to another planet — one scattered with various forms and shapes and brushed with the surreal colours of coral and fish.
Perhaps you've seen some of these creatures before in documentaries or videos. Hold that thought. Getting amongst it all is an entirely different experience, as you get to see it all alive in motion before you. In fact, it can be hard to keep your snorkel or regulator in your mouth when you're smiling and ogling in wonder at everything around you.
After experiencing the Great Barrier Reef, we found ourselves reflecting often on our experience, entertaining the question, idea and implication: "What would our most colourful world above-ground look like once it was subjected to being underwater for millions of years?"
6. Going urban: Sydney and Melbourne
When it comes to lists of "Best Cities in the World," it's not surprising that both of Australia's biggest, Sydney and Melbourne, often rank near the top. These cities offer oodles of green space, easy access to beaches, diverse neighbourhoods, enviable food scenes, endless options for good coffee and an inimitable Australia-style laid-back feel.
It's easy to start dreaming about what it would be like to live in either.
In Sydney, you can't miss visiting the Sydney Opera House and walking through the nearby Botanical Gardens and along the harbour waterfront on the way. Once you've covered that, make your way to Bondi Beach and do the Bondi-Coogee Coastal walk and be blown away by the blend of coastal scenery and beach life. If you're looking for a longer, bushwalk-style meander, take the Spit Bridge to Manly Beach walk. All three experiences offer a terrific way to take in Sydney, even with a limited amount of time.
In Melbourne, begin with the downtown and focus your route on the laneways, the side streets and alleys and discover street art (Hosier Lane, Union Lane), plenty to eat (Centre Place, The Causeway) and well-brewed coffee in between. For something local and further afield, spend a few hours checking out Fitzroy and Collingwood and appreciate similar themes of street art, plenty of cafés and coffee.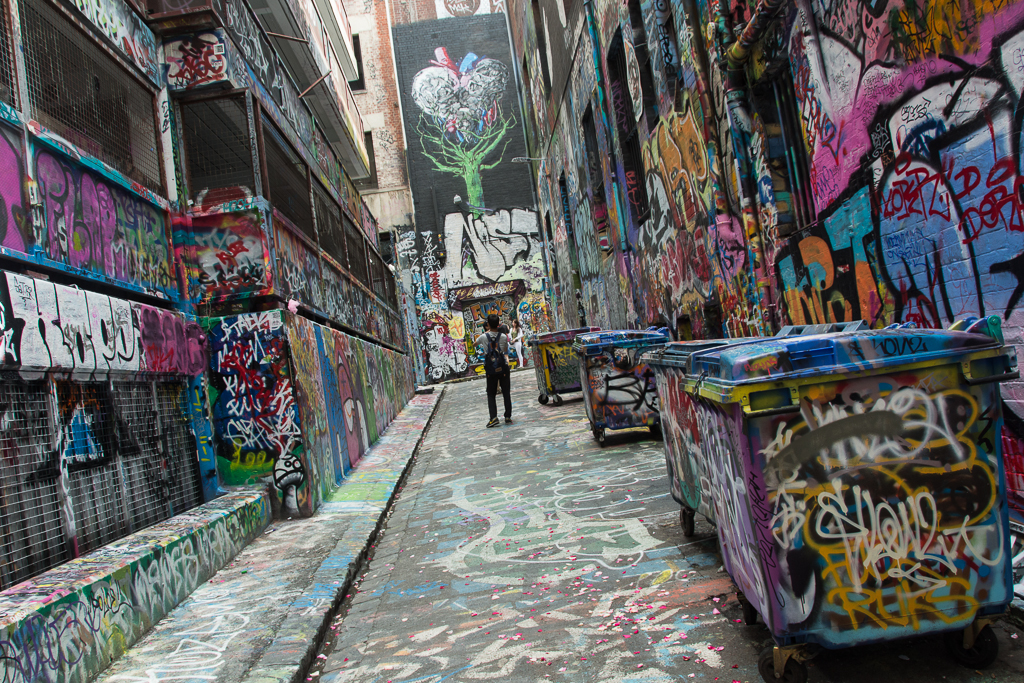 For a worthwhile day trip, pick up a city bicycle from one of the many bike share stands, head south to Port Melbourne, snack on outstanding fish and chips, poke around St. Kilda and if you are especially energetic, continue a bit south to Brighton to enjoy the colourful beach huts. And, don't forget to take a day trip to visit the Great Ocean Road and see the 12 Apostles. Even if you've seen endless photos of these famous limestone stacks, it's so worth the effort to go and take them in yourself.
Getting There
National Geographic Journeys with G Adventures are a collection of unique tours designed to take you deeper into the cultures and habitats of the places we explore. They offer more inclusions, greater hands-on exploration, interactions with local experts, and the freedom to roam, all within the structure and security of travelling in a small group. Explore Argentina today!