Sprawling rainforests, perfect surf, and sunsets over volcanoes — get ready for an unbelievable punch of adventure when you're travelling on the Roamies: Epic Costa Rica: Craters, Rainforest and Hanging-10 tour. Setting out from the capital city of San Jose, you'll stay in incredible hostels, meet fun people, and experience nature at its most beautiful. My group has countless stories to tell after our trip in November: capuchin monkeys joined us for breakfast in Monteverde, we spotted a sloth in the trees along the Penas Blancas river in La Fortuna, we hiked through the rainforest to Rio Celeste Waterfall in Volcán Tenorio National Park, and surfed the waves at Tamarindo Beach.
Here are just some of my personal highlights:
1: Visiting Mi Cafecito coffee farm in Alajuela
Set at the foot of the Poás Volcano in the Alajuela province of Costa Rica, Mi Cafecito was originally created in 2009 by a local co-operative to help support local coffee producers. Unfortunately, there weren't enough visitors to sustain the business and were at the point of shutting down when G Adventures' non-profit partner, Planeterra, worked with them to develop a sustainable enterprise.
Now, Mi Cafecito continues to support over 200 small farmers that produce organic coffee from the four regions of San Carlos, Sarapiqui, Heredia, and Alajuela. On our visit we enjoyed a typical Costa Rican lunch of locally caught tilapia followed by a tour of the grounds and a great cup of coffee.
---
2: Crossing the famous hanging bridges at Selvatura
On Day 5, you'll get to hang out in the jungle canopy of Monteverde, which is nestled in the Cordillera de Tilarán mountain range. The treetop walkways let you experience the cloud forest from a height so you can catch a glimpse of a capuchin monkey or even a sloth, if you're lucky. The suspended paths are just over 3km / 1.9mi in total with hanging bridges connecting parts of the forest, including one bridge that's over 170m / 560ft long.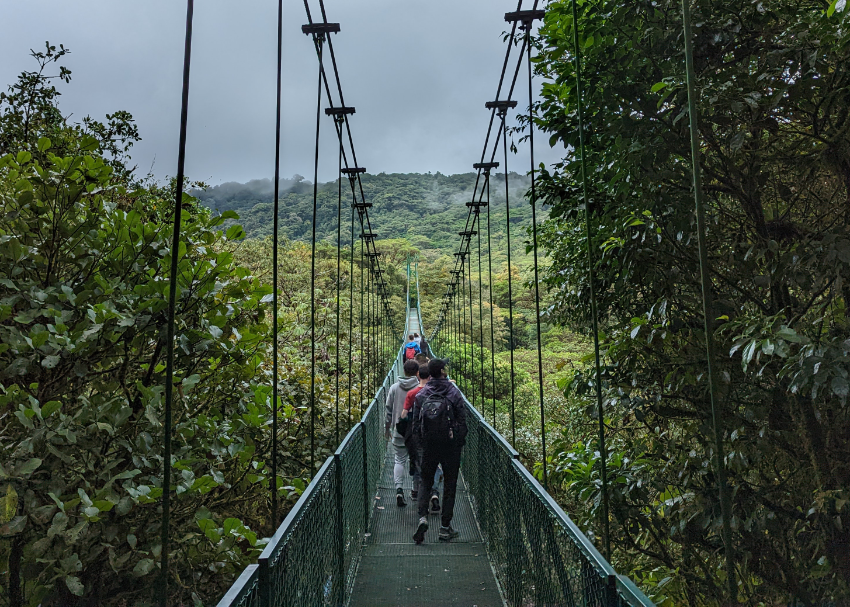 ---
3: Ziplining through the Monteverde cloud forest
In addition to the hanging bridges, a trip to the evergreen area of Monteverde isn't complete without the thrill of ziplining through the mist. The 100% Aventura Adventure Park has a total of 10 ziplines including the longest in all of Costa Rica, a hammock bridge, one rappel, and a mega Tarzan swing. On two of the ziplines you can get hitched up 'Superman' style to feel like you're flying through the cloud forest.
There's also an option to do the Tarzan swing at the end. Ignore your impulse to back out of it because it's one of the most exhilarating experiences. While rigged up, you need to bravely step off a 45 foot drop and free fall before being jolted back into the air. A great way to get over a fear of heights, trust me!
---
4: Listening to jungle sounds at Rio Celeste waterfall
This was such a great day for our group. We got caught in the rain walking through the jungle but as our Chief Experience Officer Rago said: 'Some people get wet, but others feel the rain'. The vibrant blue water under the waterfall is so unique and a perfect place to grab photos together. A little further down the trail you'll find Laguna Azul which is exceptionally blue during the dry season. Add a short walk to that and you can find water boiling at a natural hot spring!
---
5: Trying traditional Costa Rican Casado in Nosara
Nosara is a laid-back beach town on the Nicoya Peninsula. Playa Guiones is ideal for surfing and it's known as a yoga hub with plenty of places to take a class in the village. There's a wide variety of restaurants, bars, and cafes in Nosara but Rosi's Soda Tica was my favourite place to grab a plate of Casado. Consisting of rice with black beans, a small salad, and a piece of fish, chicken, or beef — it's a beloved staple in the country and very easy on your pocketbook. Fill your belly and then head for the sunset vibes on the beach!
---
6: Staying at the Selina in Tamarindo
Selina hostels are found across South and Central America but this one on the Tamarindo beachfront had so much more to offer. In addition to the guaranteed clean bunks, plenty of sockets for chargers, great wi-fi and on-site tour operator, they took a more holistic approach with morning yoga classes and sunset beach walks. The staff were particularly friendly and the activities on offer were different from what you'd expect.
Our last night as a Roamies group started with the Selina cacao ceremony, where cacao is used in a ritualistic way to connect with yourself. After the ceremony, we sat down to a three-course vegetarian meal by a campfire with Selina beers accompanying each course. This was probably one of the most unique hostel experiences I've had to date and will stay with me as my adventures continue.
---
Ready to soar through the cloud forests and gaze at brilliantly blue waterfall pools like Claire on her Epic Costa Rica: Craters, Rainforests & Hanging-10 journey? Our Roamies by Hostelworld & G Adventures trips are just the ticket. And the price (especially for younger travellers on a budget) is just right too!