I have a decent sense of direction but the main souk of Fes, Morocco, had me turned around in no time. Tight pathways, high walls and awnings blocking out the sky all contributed to a loss of my internal compass and high reliance on my guide, Mohamed. My GPS was useless here as the close walls afford little access to the sky. It doesn't help that this particular souk seemingly failed to contain even one straight path.
A souk is an open-air market typically found in Middle Eastern and North African countries and many have existed for centuries. The souk in Fes, the second largest city in Morocco and once its capital, is a maze of shops for every household need you can imagine (and even some you can't). I was amazed to find freshly butchered meat right next to an elaborate lamp shop just down from a rug merchant. Across the way were cages of live chickens and tables piled high with fresh vegetables and fruits.
Most souks are roughly divided into sections concentrating on one type of good or another. Interspersed among the stalls are entrances to schools, mosques and restaurants. Even if you have no desire to shop, as is often the case with me, Fes' souk is a feast for the senses not to be missed.
First, there is the visual. Morocco is a country that brings colour to life in a land made mostly of green trees and tan sands. The household wares and weavings in the souk seem to hold every colour imaginable. The fresh fruit and vegetables do their part with a brightness and variety that make any traveller's mouth water.
Since we are dwelling on those food stands, next up: taste. Have a seat in the many restaurants that dot the souk for a quick bite of kabobs or bisteeya (a delicious triple-layer pastry filled with almonds, chicken and a lemon-onion sauce). Stop by the spice stalls to see the huge variety used in everyday Moroccan cooking. Sample the local mint tea, handed to you as you enter just about any business where they want you to sit a while and hopefully part with some of your travelling funds.
And the smells! The aromas shift from one stall to the next. From the spice stalls to the tea shops that contain more than 100 different tea mixes to cages of chickens — the olfactory story of a souk never ends. Not only do the foods give off a scent, but many merchants burn incense to clear the air (especially when next door to the butcher). The rug shops have their own heady mix of wool and dyes and the kerosene sometimes used to keep sewing needles clean.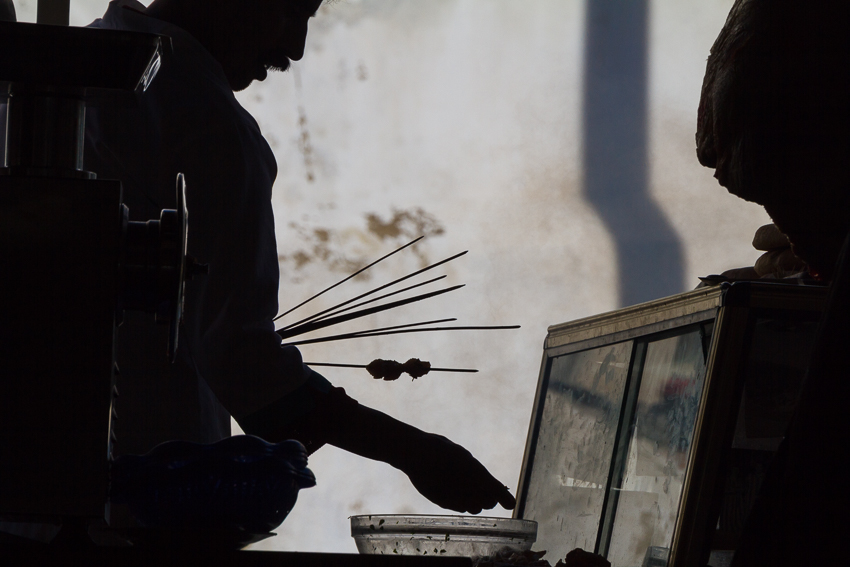 Reach down and touch one of the rugs. If it's an everyday, inexpensive mat you'll feel the rough threads, scratchy and unrefined. But then reach for one of the "special" products the merchant keeps in the back. It's like grazing your hand over a cloud as the tender fibres meet your fingers. Or, what about the slippery slime of a bin full of snails? Ready for an afternoon snack? Speaking of touch, my feet never quite grew accustomed to the centuries-worn cobblestones underfoot, which have been broken, repaired and broken again.
Now, close your eyes as you stand in the middle of it all to experience this last sense. Morocco's dialect of Arabic is shouted above the din as merchants try to sway passersby to part with their dirhams. A knife is being sharpened over there and a wobbly cart thunders over those well-worn stones. The modern world is here as well with flat panel TVs blaring out the news of the day and unique cellphone ringtones that beg to be answered.
At first, visiting the main souk in Fes can be jarring as your senses acclimate to the new surroundings. There is so much variety and activity here that it's sometimes best to wait in one spot as you adjust and take time to take it all in.
But once you feel the warmth, liveliness and rhythm of the open-air market, you will want to walk around for hours, or even days, and return time and again to soak in all the extraordinary variety and pageantry this special place holds for its visitors.
Getting There
G Adventures runs a number of departures in Morocco encompassing a wide range of departure dates and activities to cater for different tastes. We're thrilled at the prospect of showing you this big blue planet of ours — check out our small group trips here.