When you think of Morocco, it's likely sprawling deserts and bustling medinas that come to mind. But just 60 kilometres (40 miles) south of Marrakech, lies a towering range of peaks just waiting to be hiked by hearty adventurers. At 13,665 feet (4,165 metres), Mount Toubkal is the highest summit in North Africa and, with a little patience and determination, anyone in good shape can reach the views at the top. Beyond the satisfaction of summiting, you'll meet traditional Amazigh people in their villages, stop for mint tea and home-cooked meals, and sleep in rustic mountain refuges. Sound wonderful? It is and we've got ten dreamy photos to prove it. Let's climb!
1: Leave Marrakech and meet your pretty pack mules
It may be hard to leave the chaotic joy of Marrakech behind, but under the leadership of your qualified mountain guide, you'll soon be greeted by alpine views and Morocco's Amazigh communities in the Atlas Mountains. In Imi Oughlad, you'll meet your mules and muleteers who will haul everything but your daypack up the hill for you. You may not see them for long stretches so keeping your water, camera, jacket, and whatever you need handy is key.
---
2: Admire unexpectedly lush green valleys on the trek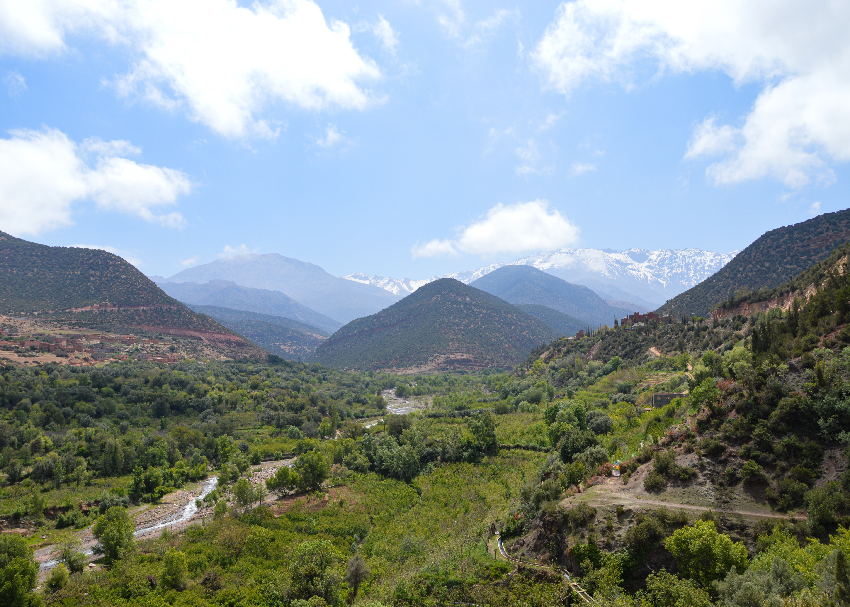 In contrast to the barren rock and baked clay homes, you'll be awestruck by the verdant loveliness and terraced green fields surrounding hillside villages like Asni and Imlil. You'll pass juniper and pine forests, roaring waterfalls, pilgrimage hamlets, and rushing streams.
---
3: Pause to capture lasting memories
We mentioned keeping your camera handy for good reason, as every turn opens up a fresh memory to make and photo opportunity. From the colourful textiles on the pack mules to the sheer massiveness of the surrounding mountains, you'll want to savour every moment. Plus, it's a good excuse to catch your breath.
---
4: Refresh by waterfalls and remote orange juice stands
Making sure to fill up with a hearty breakfast at each mountain gîte is important, but there's lots of ways to replenish your energy en route. A quenching glass of fresh-squeezed OJ is pretty easy to come by and you can sit by the mist of waterfalls at several stops.
---
5: Explore traditional villages cut into the hillsides
Twisting roads, cherry, apple and walnut trees, buildings baked into the mountainsides — there is so much beauty to behold in small Amazigh settlements like Imlil. Throughout your journey, you'll stop in lightly-populated villages and have plenty of opportunities to meet and chat with the local people.
---
6: Stop for Amazigh hospitality and Moroccan mint tea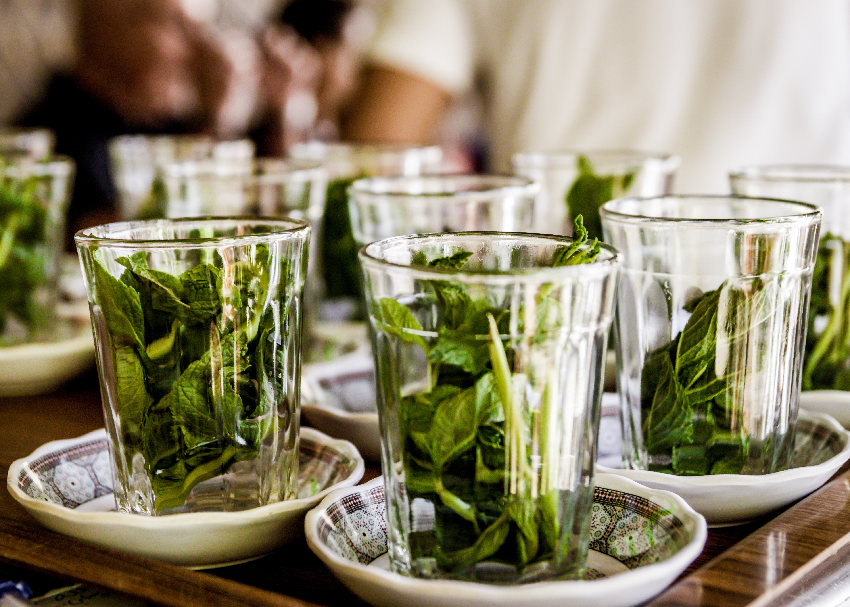 As most of your stays are at simple family-run guesthouses, you're in for true connection and hearty traditional home-cooked meals. From aromatic slow-cooked meat and veg cooked in tajine to endless glasses of mint tea, the renowned warmth of your hosts is with you every step of the way.
---
7: Bed down at your mountain refuge base camp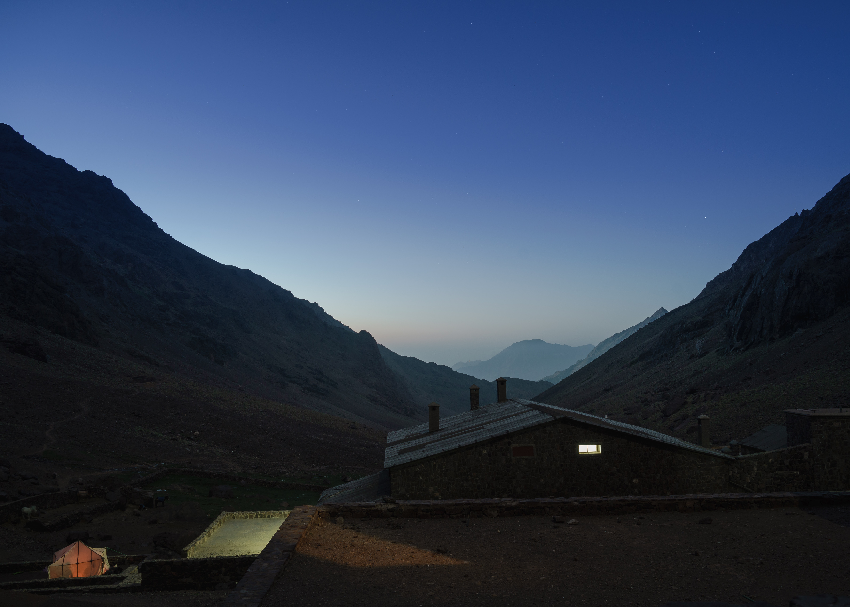 After climbing the Mizane valley and passing the Sidi Chamharouch pilgrimage hamlet (note: visiting the shrine itself is reserved for Muslims), you'll zigzag steadily upward to reach your base camp home for two nights at an altitude of 3,207 m / 10,522 ft. Enjoy sleeping under the stars in two-person tents near the Toubkal mountain refuges and dream of making your ascent in the morning.
---
8: Wake early and make your way to the summit
While the hike up Mount Toubkal is non-technical and doesn't require any gear, it's still a challenging trek over scree fields and boulders. It's completely do-able by anyone in good physical health but the altitude always makes it feel harder. With the encouragement of your Chief Experience Officer and plenty of water, rest, and time — you'll reach the summit and see why it's such a rewarding endeavour.
---
9: Tap that summit marker to make it official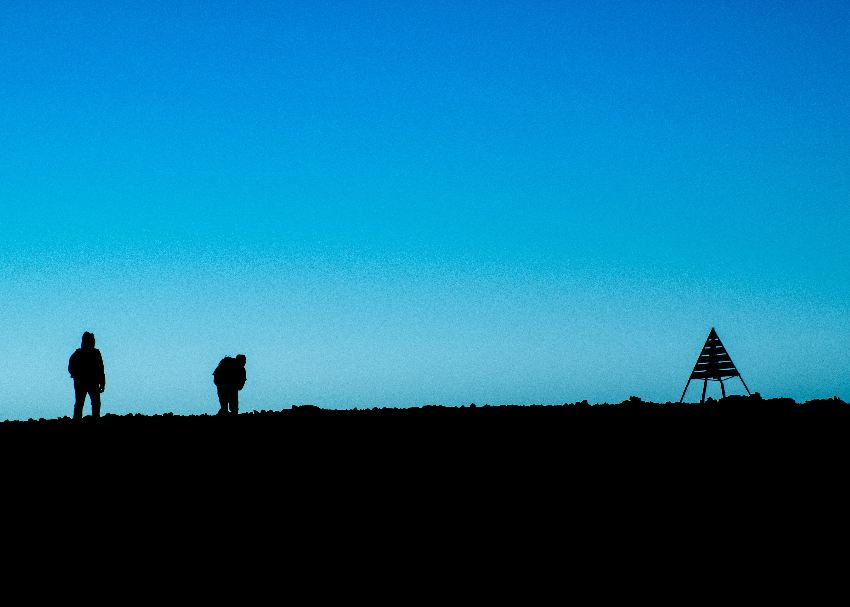 Not only do you get to stand almost 14,000 feet above sea level, but you can capture the moment forever with a picture of yourself at the summit marker. You'll have pulled off a climb that's inspired mountaineers for centuries and seen a side of Morocco that most people miss. We love that for you!
---
10: Make the descent and celebrate your climbing crew
What goes up must come down and at some point you'll have to make your way back to base camp for the night. In the morning, you'll continue the 4 - 5 hour descent by foot all the way to Imlil and be back in Marrakech for free time by the afternoon. Will you look for spicy souvenirs at the Djemaa el Fna Market, ease those sore muscles at a traditional hammam, or just go to sleep forever in your riad for the night? Did we mention there's still time to go on a hot air balloon ride over Marrakech the next morning? It's an option. Maybe just sleep on it.
Want to see more? Check out a recent Mt Toubkal climb on Instagram, thanks to our CEO and mountaineer, Jaouad Aichouche.
---
Getting there
Ready to tackle Mount Toubkal and its mighty summit? We've got just the tour for you and a way to stretch your time in Marrakech: