Canada joins a half dozen others on our handpicked list of destinations to explore in 2017 — selected by the experts from G Adventures! From the awe-inspiring landscapes of Montenegro to the world's happiest kingdom, check out our collection of places to explore here.
---
The drive from Seattle in the US to Canada's Banff National Park takes you through nearly 1,000 km (close to 600 miles) of some of the most spectacular and dramatic terrain in North America. This drive follows the beautiful northwest coast through the old-growth forests of British Columbia and into the rugged, soaring Canadian Rockies. Making the journey overland from Seattle to Banff is one of my favourite overland adventures in North America. The following are highlights from when I took this incredible road trip.
Seattle
Beginning the trip in Seattle, we packed the car ready to trade one set of mountains for another. Seattle, dubbed the Emerald City, is located among the stunning backdrop of Mt Rainier. With a topographic prominence of 4,027m (13,211 ft), which is greater than the famed K2, Mt Rainier dominates Seattle's skyline. Surrounded by Puget Sound, old-growth forests and one of the last temperate rainforests left on the planet, it is a big city located in the heart of some of the United States' most beautiful landscapes. It is an exciting destination for both outdoor enthusiasts and coffee connoisseurs.
Whistler
Renowned for both its winter and summer adventure activities in breathtaking Garibaldi Provincial Park, Whistler is a worthwhile detour on the drive to Banff. Travellers can take a longer loop from Vancouver along Highway 99 through Whistler and Lillooet, reconnecting with Highway 1 near Kamloops. With a long list of winter and summer adventures including skiing, snowboarding, dog sledding, snowshoeing, ice climbing, ziplining, mountain biking, hiking, white water rafting, rock climbing, kayaking, ATV tours, horseback riding, bungee jumping, mountaineering, and much more, Whistler has an adventure or two for every traveller no matter what time of year.
Yoho National Park
Yoho is a Cree expression of awe and wonder, and Yoho National Park lives up to its name. This national park is known for its impressive waterfalls and dramatic glaciated peaks. The roaring Kicking Horse River begins in Yoho National Park at the Wapta and Waputik Icefield.
Lake Louise
Known for its rich emerald colour originating from glacial runoff, Lake Louise is a beautiful place to take a canoe ride or a mountain hike. Overlooking the lake, the Fairmont Chateau Lake Louise is one of Canada's grand railways hotels. Stop in to enjoy a cup of tea while enjoying the ambiance from a bygone era.
Banff National Park
Glacier-carved valleys, soaring mountains, high alpine lakes, towering waterfalls, abundant wildlife, and plenty of adventure opportunities – Banff National Park is an unforgettable national park to explore. A short drive from Banff, Icefields Parkway runs along the backbone of the Continental Divide. This beautiful stretch of highway is lined with towering peaks and glaciers that give the stretch of road its name. As a final destination or the start of any trip, Banff National Park is an area that etches itself in travellers' minds.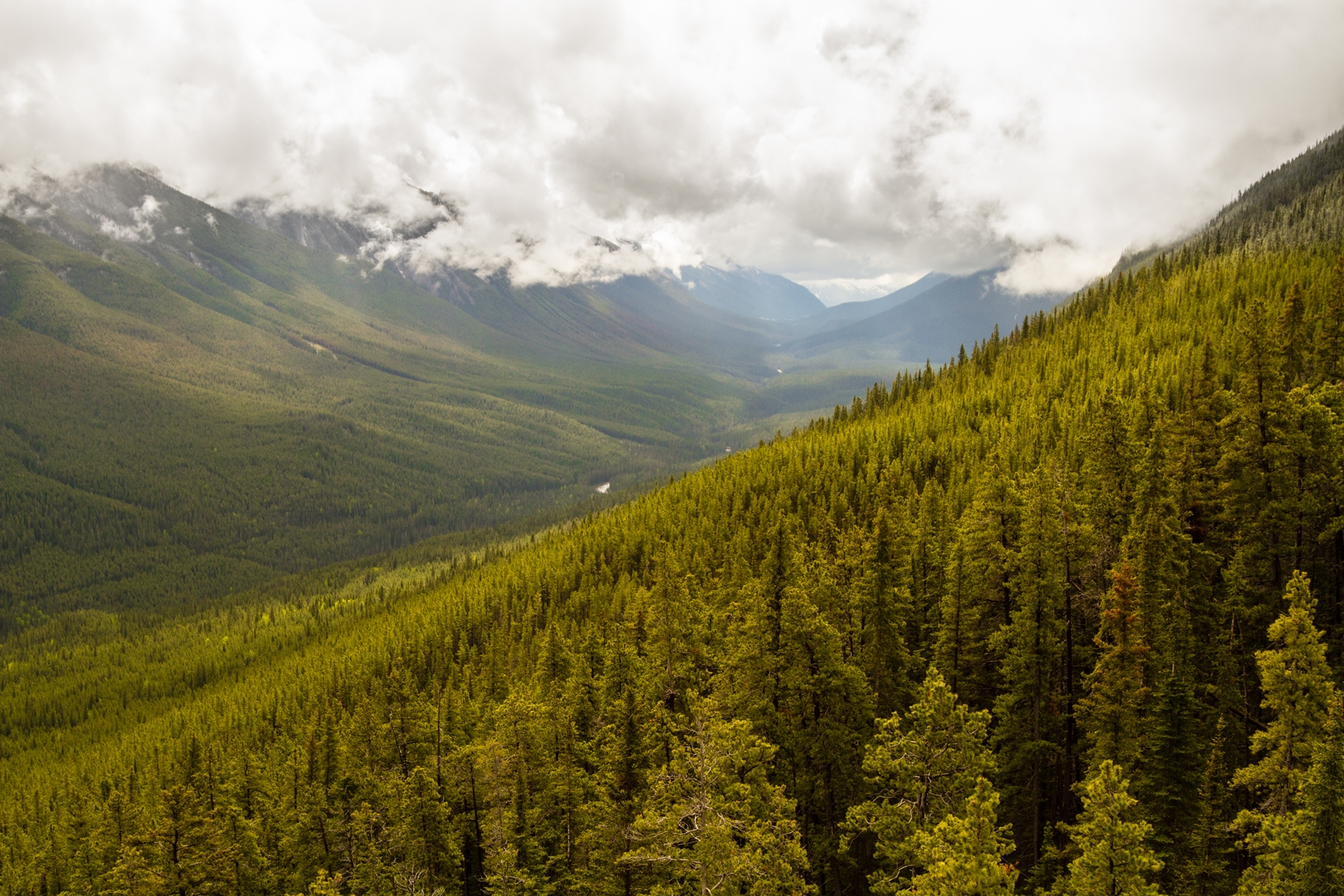 ---
Getting There
Interested in combining the stunning, dramatic landscapes of both western Canada and the United States? Check out one of G Adventures' many overland trips throughout these stunning regions, and then start planning.