The entire world is doing its best to stay safe, so we decided to bring the world to you. Explore famous locations across our planet on a guided virtual walking tour, led by one of our CEOs (Chief Experience Officers).
Next stop: the open water!
Join James, a G Adventures CEO, as he takes you on a virtual sailing voyage through Greece. Come aboard and learn about the region's incredible wildlife, its fascinating history, storied culture, and so much more. Read below to learn a little about James before clicking the video below.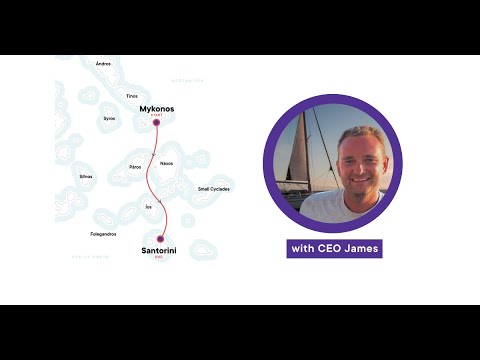 What's your name, your hometown, and where do you lead tours?
James: My name is James Moller, and I'm from London, UK. I lead tours through the Cyclades and Saronics in Greece!
How long have you been a CEO for G Adventures?
James: For three years now.
What is the one must-try local dish/drink?
James: The one must try dish from Greece is a crusty spinach pie! It's sort of a breakfast dish but definitely amazing.
Tell us one "secret," not-to-be-missed experience on your tour, and why it's so special.
James: My secret spot is Matina's Restaurant in Naxos. It's in the small picturesque mountainside village of Koronos. It's off the beaten track and provides an authentic Greek experience not often found in areas with lots of tourists. They farm all their own food and even make their own yoghurt and olive oil.
After travelling with you, what three words would you want your travellers to use to describe your city/region/country?
James: The three words I'd use to describe my region are "paradise on Earth".
What books/novels would you recommend to travellers who want to escape to your city/region/country via literature?
James: "The Odyssey" by Homer is a classic that embraces the spirit of Greece. I would also recommend "Swallows and Amazons" by Arthur Ransome, although technically a children's book and not actually set in Greece, it leaves the reader yearning for adventures on the sea.
What is YOUR favourite place to travel to (not including your region)?
James: My favourite place to travel is Australia, it is unfathomably vast and wild.
Thanks, James!