There's an entire world under the surface of the sea, and one of the best ways to see it is through the lens of a snorkelling mask. Here are some of our favourite underwater creatures to look for and where you can find them (and many others!) on our tours.
Clownfish
Where: Southern Thailand
If you've seen Finding Nemo, you're already familiar with charismatic clownfish. These bright orange swimmers are small, omnivorous fish that live in colonies. In their coral reef homes in places like Ko Phi Phi, they form symbiotic relationships with sea anemones who let them live among their tentacles. Anemones generally don't sting their tiny roommates but clownfish have a thick protective mucous layer in case they do. In return for safe lodging, clownfish feed on algae and bacteria to keep the anemones clean. Did you know that unlike our friend Nemo, clownfish aren't always bright orange? Some are black, yellow or even muted shades of pink. Fun!
---
Dusky dolphin
Where: New Zealand
Known as one of the best places in the world to see wild dolphins, the coastal town of Kaikoura is located on New Zealand's South Island. The dusky is very common here, especially in the summer months from October to April. As highly social creatures, they live in pods that can range from 100 dolphins to over 1,000. These large families help keep them safe from other predators like sharks and killer whales. Dusky are playful creatures and frequently flip and somersault over the waves which makes them especially fun to watch.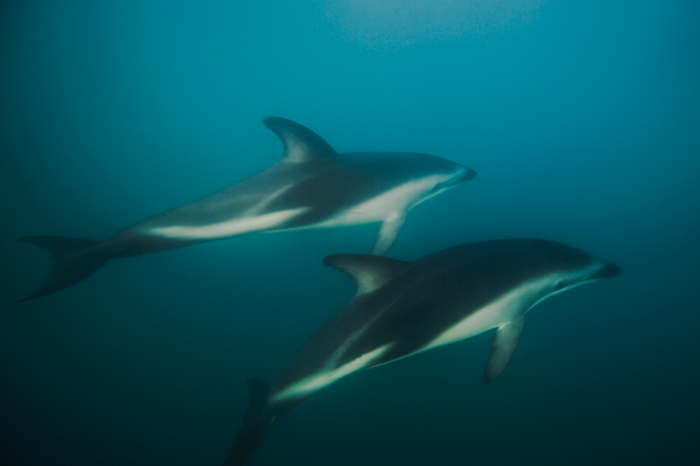 ---
Nurse shark
Where: Belize
Thanks to the enduring impression left by Jaws, swimming with sharks sounds terrifying to many. The fact is that most of these large fish aren't nearly as fearsome as portrayed on screen. In the waters off Caye Caulker in Belize, you can happily swim and snorkel with nurse sharks. These slow-moving smoothies cruise the ocean floor, where they feed on small fish, shrimp, and squid. Although they're generally docile, they still have a mouth full of serrated teeth. As with all marine life, keeping your hands to yourself is a good rule of thumb and often the law.
---
Sea lion
Where: Galápagos Islands
On land and sea, these flippered friends are really fun to watch. While sea lions can be seen in many places throughout the world, Galápagos sea lions are a special treat. They have no evolutionary fear of humans and are comfortable being with people on and off the beach. Super playful and curious, they'll swim right alongside you in crystal clear waters. They're so at home here that you'll even see them hauled out and snoozing on benches in town.
---
Manta ray
Where: Australia
Manta rays are so captivating that they're on Queenland's Great Eight list of must-see marine animals in the region. (In case you're curious, the other seven are clownfish, giant clams, maori wrasse, potato cod, sharks, turtles and whales.) Depending on the time of year and location, snorkellers have a good chance of swimming with these gentle giants. They glide through the water with seemingly little effort — sometimes at very high speeds — and occasionally leap out and fall back into the waves with a loud slap. Unlike sting rays, mantas don't have a sharp barb at the end of their tails. Together with their toothless mouths this makes them very safe snorkelling companions.
---
Octopus
Where: New Zealand
Spotting an octopus while snorkelling off the coast of New Zealand is a wildlife-lover's dream. However, these fascinating sea animals are much more difficult to spot than their fishy friends. Octopus are shy and reserved creatures, and often hide in nooks and coral crannies to keep safe from predators and other threats. Keep your eyes peeled and dive in!