Not one to shy away from a big adventure, our Manager of Marketing Automation, Ben Smith, pulled inspiration from our Best of South Korea itinerary to explore this East Asian gem with his partner. His trip took him from volcanic Jeju Island to the bustling streets of Busan to the heavily militarized border with North Korea. As the country continues to come into its own as a top travel destination, you might want to take notes for a Gangnam-styled adventure of your very own.
1: Feel the lava on Jeju Island
Best as a before or after excursion, we hopped a quick flight from Seoul to land on a tiny island packed with natural wonders like volcanic craters and lava tubes. To carb load for the many walking trails, we popped into Dongmun Market in Jeju which is a great place to grab snacks and local dishes like ramyeon, mandu, or tteokbokki.
---
2: Tuff it out at Seongsan Ilchulbong
Designated as a Unesco World Heritage Site, we took a day trip to the eastern side of the island to tackle the steep steps up to Seongsan Ilchulbong lookout. It's a 5000-year-old dormant tuff cone volcano shaped like a punchbowl. Also known as Sunrise Peak, many visitors time the 30 minute climb to watch the sun come up over Jeju Island.
Primed for more inclines, we spent the next day hiking the crater-filled heights of Mount Hallasan. We could only go so far with snowy weather at the summit so make sure you prepare for the time of year with your shoes and gear.
---
3: Taste the rainbow (trout) in Busan
Moving on to the lively seaport of Busan, we took in a kaleidoscope of colour at the Gamcheon Culture Village and the heady scent of fresh fish at Jagalchi Market. Quirky and vibrant, Gamcheon is a former mountainside slum transformed into an arts district. It's chaotic and fun and filled with cafes, galleries, and shops. Plus, more steps to climb!
---
4: Sense relief at Seokbulsa Temple
Anything is more enjoyable if you can take a cable car to get there so we hopped on the Geumgang Park Ropeway up the mountain. From there we followed the trail signs for a hike that eventually leads to a temple entrance set into a sandstone cliff. Etched into the cliff sides are row after row of gigantic Buddhas and temple guardians — it's a tranquil off-the-beaten-path spot and well worth the trip.
---
5: Hit the beach at Haeundae
Maybe spring isn't the best season for sunning yourself on the most famous stretch of sand in Busan, but the rain didn't slow us down. Surrounded by highrises, this urban beach area is perfect for cozying up in a cafe and imagining how the golden sand would feel on your toes in summer.
---
6: Stroll past Gyeongju's royal burial mounds
From the rounded resting places of ancient royalty (known as tumuli) to an abundance of well-preserved temples, Gyeongju is a city that happily lives in the past. There are no tall buildings, the vibe is serene, and there are more pagodas, palace ruins, and archaeological wonders here than any other town in South Korea.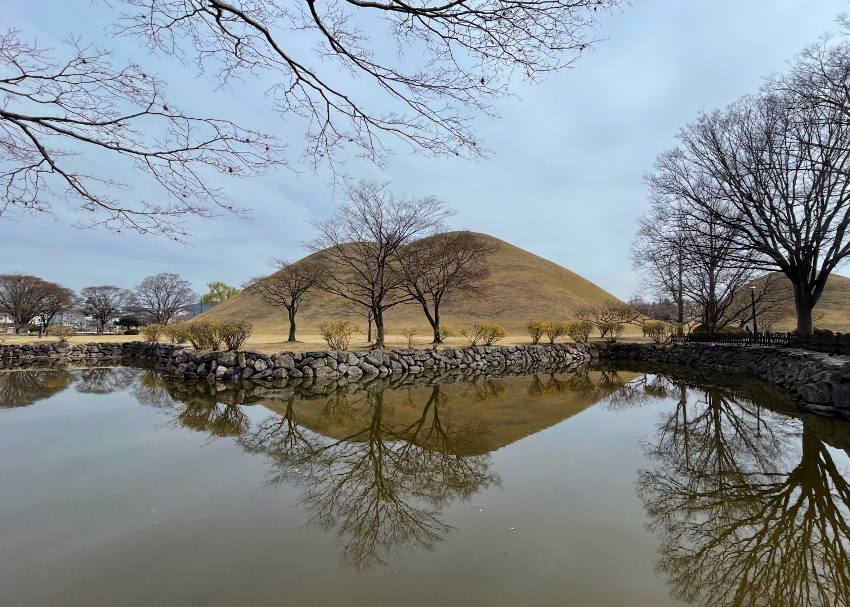 ---
7: Stand inside the Demilitarized Zone
As strange as it sounds, the heavily-armed buffer zone between South Korea and North Korea is both ready for war and a major tourist attraction. By entering the DMZ, we got to learn about their tense history and peek at one of the least-travelled countries in the world.
---
8: Narrow in on Bukchon Hanok Village
Nestled in the heart of South Korea's capital city, we wandered the alleyways between traditional wooden houses known as hanok. There are about 900 houses made of all natural materials squeezed into this picturesque village with two major palaces within walking distance. Etiquette tip: the homes are occupied so remember to be quiet.
---
9: Parade around Gyeongbokgung palace
Even with five days to fill, we barely scratched the surface of things to see and do in Seoul. One place that couldn't be skipped is the largest of the five main palaces built by the Joseon Dynasty. Gyeongbokgung has been reconstructed several times but continues to shine in its red and jade splendour. Don't miss the colourful changing of the guard ceremony!
---
10: Say goodbye in Gangnam Style
Even though the K-pop craze only grew bigger since Psy unleashed his earworm-y tune to a global audience, he still holds a cherished place in its history. To pay tribute, we visited the iconic set of golden horsey-riding hands outside of COEX shopping centre. As an added bonus, the song starts automatically when you stand underneath it.
---
Getting there
Ready to set your sights on all the wonders of South Korea? We make it easy for you with this epic small group trip: