One brisk Monday morning last year on Norway's Lofoten Islands, I sat at the long, wooden dining table in my hostel, listening to the wind sweep over the waves of the harbour outside, and sifted through a medley of small pieces of paper spread out on the table before me. It was the day after Easter, and I had just spent the weekend celebrating the holiday with new and old friends from around the world.
Among the bits of paper I had saved from the weekend was a wrapper from a bright-yellow candle that featured the Norwegian Easter greeting God påske (Happy Easter), which I bought at a local supermarket. I had also saved the top of a box of Russian tea, which my new friend from France, Alex, had brought with him to Lofoten, after riding the Trans-Siberian Railway. And there were still more slips of paper bearing hand-written notes or email addresses from fellow travellers.
It felt like for every new memory the weekend had held, I now had a little slip of paper to show for it. But I also knew that if I didn't do anything with this memorabilia, it would all undoubtedly end up tucked between the pages of a book — or worse yet, crushed at the bottom of my backpack. At last, armed with a glue stick and pair of scissors, I decided to make my first collage out of the memorabilia.
I've always been an avid collector of the kind of travel memorabilia that comes in the form of the many tiny pieces of paper most travellers accumulate during a journey: bus tickets, boarding passes, business cards from favourite bars and restaurants, labels from favourite bottles of beer or wine, even things as small as an empty sugar packet from a café.
But creating the collage in Norway last spring was the first time I attempted to do something with all of that memorabilia. It made me realize that there is perhaps no more fitting metaphor for how our memory works on a trip than a collage.
When we arrive in a new place, our minds are a blank slate on which we slowly layer new experiences and discoveries. No one forms exactly the same impression of a place, or leaves with exactly the same set of memories.
Similarly, when I start a collage about a new city or country in my journal, I always start with a blank page. As I sort through each piece of memorabilia I've collected, I create a souvenir that reflects my personal experience in that place in a tangible, visual way. I hope the following three ideas for your travel journal or scrapbook will help you capture more creative memories on your next trip, too.
1. Memorabilia collages
My first Easter collage in Norway was only the beginning. I continued creating more collages throughout 2016, as I travelled from Madrid and Paris to Buenos Aires and Montevideo. I grew to love my new ritual of pausing at the end of each journey, pulling together memorabilia I'd collected, and pasting it piece by piece into my travel journal.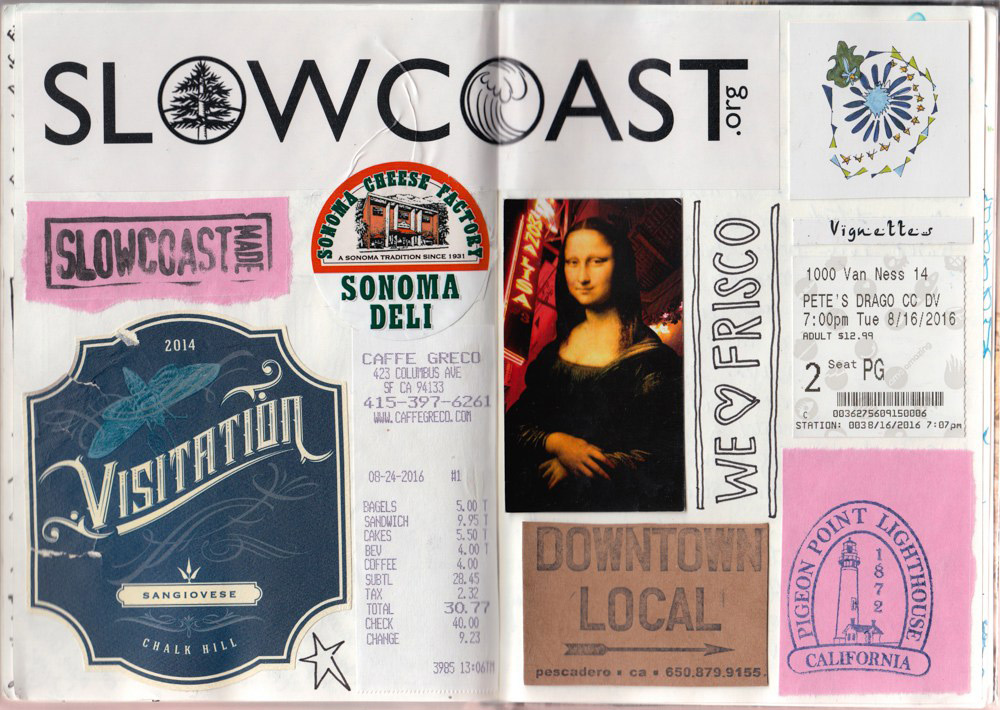 Because I happen to be a rather left-brained artist, my collages often have an ordered look to them, with each piece of memorabilia fitting into the next like a puzzle. You could take a different approach if you enjoy the look of overlapped bus tickets and maps. But no matter the final results of your collage, I hope you'll enjoy the process of putting it together, and the chance for reflection it always affords me at the end of a trip.
2. Day-markers
While I usually create collages at the end of a trip, last year I also developed a method for documenting journeys in my travel journal while they're still happening.
I paste the memorabilia — whether it's a postcard from a museum, or two ticket stubs from my first time seeing Uruguay's national soccer team play a match, which happened last year — in the middle of a page in my journal, write the date above it and a short note below it, and lastly, draw a simple border around the page. I love the ease of these mini-collages, which I've come to call "day-markers," as they help me mark each day of a trip the same way bookmarks mark a journey through a novel.
They only take a couple of minutes to create at the end of a busy day of travelling, and they document the moments we most want to remember, right as they're unfolding.
3. City map collages
This is something I've only recently started doing. When I moved to Montevideo, Uruguay, last September, I loved getting to know the city and discovering its many character-filled restaurants, bars, and cafés.
But I also discovered that it was far easier to try out new places than it was to remember them all. It was already my habit to ask for a restaurant's business card upon leaving, which gave me an idea. I cut out all the logos from each business card I'd collected, then took a standard map of Montevideo from a tourist office, pasted it across two pages of my travel journal, and glued down each restaurant's logo besides its location on the map.
You could create a similar map collage for each city you visit on a trip, or even make one to keep track of new discoveries in your hometown. For me, the beautiful thing about collages is that they never turn out the same way twice; they evolve as our own experience in a place grows, and the results are always as unique as each journey itself.
Travel scrapbooks are not only a chance for us to share our stories with friends and family, but also a chance to relive our experiences, too. I've loved sharing some of my favourite travel journal pages with you here — and now we'd love to see yours! Got one to share? Upload a photo of it in the comments below, and we'll add it to this post soon with a collection of creative travel memories from G Adventures' readers.
---
Getting There
G Adventures runs a number of departures encompassing a wide range of departure dates and activities to cater to different tastes. We're thrilled at the prospect of showing you this big blue planet of ours — check out our small group trips here.