Thinking of lacing up your hiking boots to tackle this world-famous circuit? Much like the International Mountain Leader guiding your journey, we're here to help lead the way and give you valuable insight. Quaint mountain refuges! Epic cable car rides! Massive alpine peaks! So many natural highs await on our Trekking Mont Blanc tour and we've got the lowdown on each day. Of course, alpine conditions change and your leader is prepped to switch things up along the way but what follows is our typical itinerary and hike time estimates. Allons-y!
Day 1 — But first, fondue
Your journey around the highest peak in Western Europe begins and ends in the world capital for outdoor activities. Chamonix is the hub for adrenaline junkies in summer and winter with mountaineering, rock climbing, rafting, skiing, snowboarding and paragliding — just to name a few. Naturally, you're here to conquer the world-famous hiking route and need to fuel up for the adventure. Lucky for you, the welcome evening is your first chance to indulge in gooey cheese-based Alpine specialties like fondue, raclette, and tartiflette. Even better, you can wash it all down with a local vin de Savoie. Bon appétit!
Day 2 — Step one starts with elevated fun
Hike details: Les Houches to Les Contamines-Montjoie
8h 30m | 24 km / 15 mi | 900m - 2952ft ascent, 1300m - 4265ft descent
They say a journey of a thousand miles (okay, 106 miles / 170 kilometres) begins with a single step. Yours kicks off with a cable car boost up to Bellevue and the start of your first leg to Les Contamines-Montjoie. Along the way you'll hike past the icefalls of Bionnassay Glacier and (if weather permits) the rolling slopes of the Col de Tricot mountain pass. Sweeping views open up at every turn, birds of prey soar overhead and maybe you'll even spot a majestic ibex or chamois? After your descent into the valley you'll follow an old Roman ridge and original bridge to reach your first mountain refuge.
Day 3 — Prepare to push yourself a bunch
Hike details: Les Contamines-Montjoie to Les Chapieux
7hrs |18 km / 11 mi | 1300m - 4265ft ascent, 900m - 2952ft descent
Now that you're limbered up, it's time for a part of the Tour that even experienced hikers find challenging but rewarding in equal measure. It's a day full of steep uphill and downhill routes on rough terrain but you'll bond with your group over the sheer exhilaration of crossing the Col de Bonhomme. Take in well-earned views of the Vallee des Chapieux from the Croix de Bonhomme refuge for lunch before descending to a remote shepherding hamlet. Enjoy a hearty meal in Les Chapieux, sip home-made génépy liqueur and call it a good night!
Day 4 & 5 — Wake up in France, go to sleep in Italy
Hike details: Les Chapieux to Courmayeur
5hrs | 23 km / 14 mi | 750m - 2460ft ascent, 800m - 2625ft descent
Today your hiking companions (in addition to your group) are likely grazing cattle and sheep in open pastures. Oh, and marmots! Look for the large groundhogs (or listen for their high-pitched whistles) as you march up to the snowfields of Col de la Seigne. Stop to straddle two countries at once on the French-Italian border and pass glacial lakes as you descend into pastoral Val Veny. After a 45-minute descent you'll reach Rifugio Elisabetta, a rest stop nestled next to a large glacier. Once you reach the tiny village of La Visaille, you'll transport to Courmayeur for your first night's stay in the Italian Alps.
The rest of the day and all of Day 5 is up to you! We suggest resting your bones but starfishing in bed isn't your only option. You can opt for a massage and thermal bath at the Spa Centre of Pré St Didier. Or, you can opt to zoom 3,500 metres (11,000 feet) up to Pointe Hellbronner on the Skyway Monte Bianco. This high-tech cable car gently rotates 360° as you glide over the Mont Blanc massif. You can even see the Matterhorn on a clear day!
Day 6 — Pick those hiking poles back up
Hike details: Courmayeur to Val Ferret
5hrs |14 km / 8.6 mi | 850m - 2789ft ascent, 700m - 2297ft descent
Now that you've rested and happily carb-loaded on pasta and wine, the Tour continues with a steep climb through pine forest up to Rifugio Bertone. Your reward is pulling up a lounger to take in some of the best possible views of the Mont Blanc massif. Next you'll hike along the Mont de la Saxe to take the balcony path facing the striking Grandes Jorasses. You'll stop for a picnic lunch with a view of this imposing collection of granite summits before walking to your home for the night at Rifugio Bonatti.
Day 7 — Wake up in Italy, go to sleep in Switzerland
Hike details: Val Ferret to La Fouly
6hrs | 20 km / 12 mi | 900m - 2953ft ascent, 1400m - 4593ft descent
After a shot of real espresso and breakfast, you'll lace up your now well-worn-in boots for a steep climb across the Grand Col Ferret. From this high mountain pass, you'll descend to take your first steps in Switzerland. Look out on alpine pastures and dairy cows at Alpage de la Peule and admire the deep green forests hugging the foothills. Your downhill jaunt ends in the Swiss mountain village of La Fouly for a locally-sourced meal and time to relax.
Day 8 — Mooooo-ve on to the Bovine Way
Hike details: La Fouly to Trient
5hrs (16 km / 10 mi) | 750m - 2460ft ascent, 950m - 3117ft descent
Hop on a bus for a short ride to the postcard-pretty village of Champex (aka Little Canada) where you'll follow an old trail to flower-filled cow pastures. Need more cowbell? You'll probably hear plenty of delightful clanging as you meander past alpine lakes, traditional wooden chalets and dense forest. The journey takes you up and over the Col de la Forclaz to descend into Trient, a town featuring two glaciers and an iconic pink church.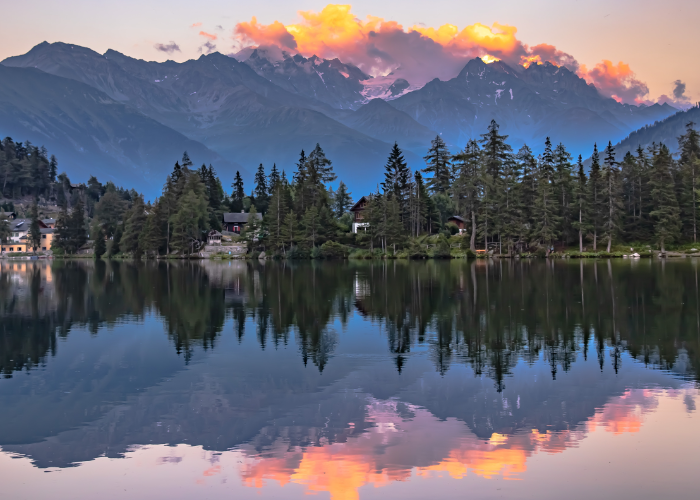 Day 9 & 10 — Headed right back where you started from
Hike details: Trient to Chamonix
5hrs | 14 km / 8.6 mi | 900m - 2952ft ascent, 750m - 2460ft descent
Special message to your feet: this is your final hike to complete the full Tour du Mont Blanc circuit! Wave a fond farewell to Switzerland as you head through the forest to the open slopes of Col de Balme that drops you back into France. Feel free to start giving yourself, your group and your International Mountain Leader a few hearty pats on the back as you descend to Montroc in the Chamonix Valley. Whether you're a seasoned trekker or relatively new to it, completing the Tour is worth celebrating. And remember: there's fondue!
To make the most of your festive final evening and next morning, we highly recommend not booking your flight home before noon. It takes three hours to get to Geneva Airport and your belly full of fromage and wine will appreciate a leisurely pace. Santé!
---
Getting There
You don't need to be a mountaineer to tackle the Tour du Mont Blanc but being in good physical shape is a must. We've got our 10-day full circuit Trekking Mont Blanc tour or our 8-day Mont Blanc Explorer that lets you sample French and Italian trails. Check them out:
Trekking Mont Blanc
Mont Blanc Explorer — Plus
Mont Blanc Explorer