Bali, one of Indonesia's central islands, has its own unique style of architecture, Hinduism, art, music, rituals, and spirituality. You can see this in the estimated 20,000 Balinese Hindu temples, or puras, found throughout the island. Although many of these temples date back hundreds of years, they still play an important role in the lives and spiritual practice of Balinese people today.
Almost every Balinese person belongs to a specific pura because of his or her descent, residence and family affiliation. This means that visiting a Balinese temple today isn't only about admiring its beautiful architecture, but also about appreciating a living history where the traditions and rituals you see today often go back hundreds, if not thousands, of years.
Here's more on what makes Balinese Hinduism and its temple structures unique, plus five recommended temples to see and experience around the island:
Balinese Hinduism
The majority of Indonesians are Muslim, but residents of Bali mostly practice Hinduism today. The roots of Hinduism in Indonesia date back to the 5th century BC. But over time, the country's residents began converting to Buddhism and, later, to Islam; the island of Bali, however, remained predominantly Hindu. Balinese Hinduism is a unique when compared to Indian Hinduism, however, since it has incorporated some aspects of Buddhism along the way.
Balinese Hinduism divides the cosmos into three layers. At the highest level is heaven (suarga), where the gods are. Next is the world of man, or buwah. Below this is hell, or bhur, where the demons live and where the spirits of people who committed misdeeds on Earth are punished. This division is mirrored in the human body (head, body and feet) and echoed in the small Balinese shrines you typically find outside homes and buildings.
These three layers are also represented in the canang sari morning offering and ritual that you still see every day in Bali on the streets, in family gardens and temples. These handmade offerings made from a woven basket topped with a combination of flowers, treats, money, and other symbolic items are seen as a way to maintain balance between suarga and bhur, so that there may be peace in buwah.
Temple Anniversaries and Festivals
The Balinese Hindu calendar, pawukon, is 210 days long, as is based on lunar cycles and rice crops. This means that each pura celebrates its anniversary with festivities once every 210 days. In addition, there are many religious days and festivals throughout the year.
Be sure to check the calendar of the main festivals in Bali — which you can find here — to see if any overlap with your visit:
How to dress respectfully for a Balinese Temple
It's important to remember that Balinese temples are holy places. So, travellers should dress respectfully and appropriately with modest clothing, and no shorts or short skirts. The upper body — or at a minimum the shoulders — should also be covered. In addition, a sarong with a sash around your waist is usually required. Most temples will rent these for a small fee. Shoes should also be removed before entering any temple.
Five Balinese Temples to Explore
1. Besakih Pura
Known as "mother temple," Besakih is considered the most holy and important of Balinese Puras. Set on the slopes of Mount Agung, this large complex features more than 20 different temples and shrines. The largest and most important temple within the complex, and the one that most travellers visit, is Pura Penataran Agung. Although it is believed that its origins date back over 2,000 years to a pre-Hindu era in Bali, its status as a prominent Hindu temple dates to the 13th century.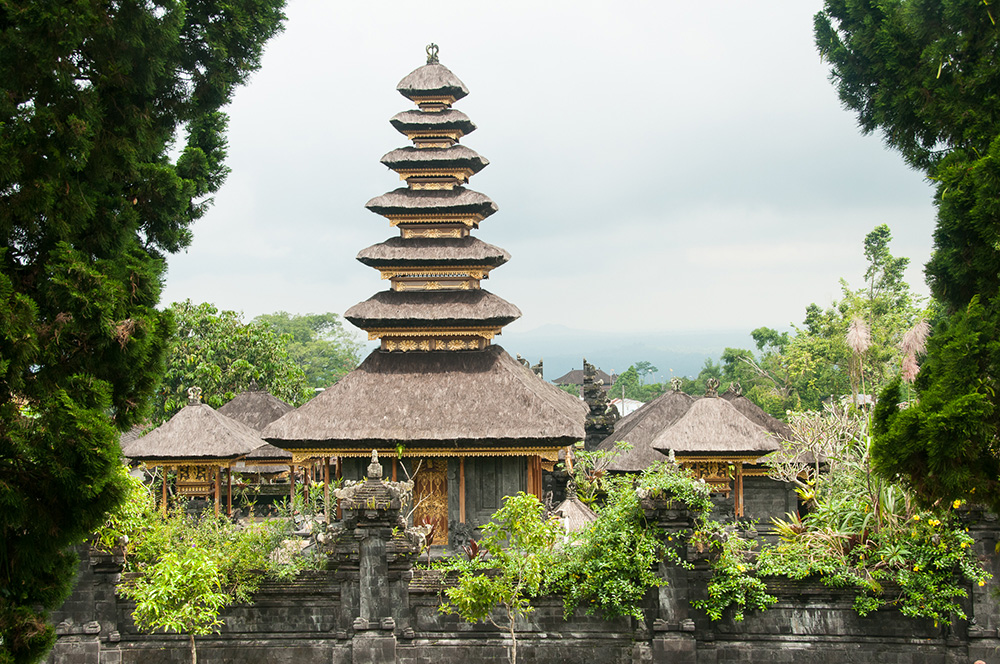 As the grounds of Besakih Pura are vast and the different temples are many, it's easy to feel overwhelmed here. Consider exploring the main Pura Penataran Agung temple, along with one or two of the smaller ones. Then step back to take it all in as a whole. Since each shrine has its own anniversary, the temple recognizes some 70 celebrations per year. Because the temple is often requested for funerals and other family events due to its prominence, it's likely that you will encounter a procession or celebration or procession during your visit. If you can, try to plan your visit in the early morning or late afternoon to avoid the crowds.
2. Tanah Lot
If you've ever seen a photo in a magazine or on a website of a Balinese temple, it's probably Tanah Lot. Since it's set on a small rocky islet just off the southwestern coast and features picturesque waves crashing against its base, it's easy to see why this is Bali's most photographed and most iconic temple.
Known as "Land in the Sea", Tanah Lot is one of the sea temples built along the Balinese coast in the 16th century. Each one of the temples was just visible to the next, forming a sort of holy chain of spiritual protection around the island. These temples honor the gods of the sea; the sea snakes that live in the caves underneath Tanah Lot are believed to be the temple's guardian protectors.
Unsurprisingly, this temple and the surrounding area can become quite busy with tourists, local visitors, and souvenir vendors. Sunset provides a great opportunity for that perfect postcard — or Instagram — shot, but you may have a lot of company to contend with. If you time your visit around low tide you'll be able to walk over to the islet to get a closer look at the actual temple. In any case, non-Balinese are not allowed inside the temple's sacred areas. The holy day of Kuningan and the temple's anniversary (five days later) are especially good times to visit and witness a local religious festival.
3. Pura Taman Saraswati
If you keep your eyes open when you walk the streets and back alleys of Ubud, you'll find gates and entrances to temples almost everywhere you go. One of the most beautiful of these in central Ubud is Pura Taman Saraswati, a water temple featuring classical Balinese architecture and a series of bas reliefs that honor Saraswati, the goddess of knowledge and the arts. The temple courtyard features several ponds filled with pink lotus flowers, making it a little oasis of calm and stillness away from the bustling streets and shops outside.
This temple also hosts traditional Kecak Dance and Theatre on Wednesday and Saturday evenings from 7:30. Kecak uses human voices from a group of over 100 men as rhythm and accompanying "music" for to help tell a story from Ramayana, the Hindu epic. The fire dance inspires and reminds us of the resilience of the human body. Highly recommended.
4. Pura Lempuyang
Lempuyang Temple, located on the eastern part of the island, resembles Besakih Pura and is also one of Bali's oldest and most revered temples. The main temple structure stands at an elevation of 1,175 meters on the peak of Mount Lempuyang; it takes around two hours — and 1,700 steps — to climb up to the top. Locals believe that you shouldn't complain or speak negatively on your way up as your heavy heart will keep you from ever reaching the top.
Along the way, you'll pass by several other temples. First among them is the Dragon Temple, which stands out because of its massive gates — known as the Gates of Heaven — which separate the outer world from that of the inner temple world. Those who persevere and make it to the top will be rewarded with a welcome of crowd-free calmness and serenity, as well as stunning views of Mount Agung in the distance.
5. Pura Ulan Danu Bratan
This water temple is located 1,200 meters above sea level on the western shore of Lake Bratan in a mountainous area of central Bali. The current temple structure dates to 1633 when it was rebuilt by King of Mengwi in a style which merged Hindu and Buddhist architectural approaches. It was built to honor Danu, the Balinese goddess of water, lakes and rivers. There are several other puras on the compound dedicated to Shiva, Vishnu, and other deities.
What makes this temple quite unique — and remarkably picturesque: during high tide it looks as if the temple is floating on water. It's also often misty and foggy, too, lending the temple a sense of apparition out of thin air.
(https://www.gadventures.com/blog/time-lapse-tuesday-water-temple-in-bali/)
---
Getting there
Ready to visit the temples of Bali? G Adventures can get you there. Check out our small group tours to Bali here.