The entire world is doing its best to stay safe, so we decided to bring the world to you. Explore famous locations across our planet on a guided virtual walking tour, led by one of our CEOs (Chief Experience Officers).
Next stop: Costa Rica!
Join Adri, a G Adventures CEO, as she takes you through this biologically diverse paradise as you uncover its vibrant culture and cuisine, fascinating wildlife, spectacular landscapes, and lots, lots more. Read on to learn a little about Adri before clicking the video below.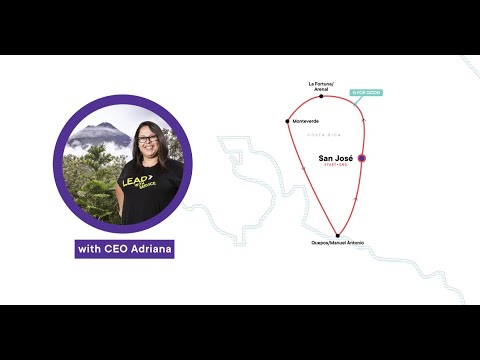 What's your name, your hometown, and where do you lead tours?
Adri: My name is Adri Chaves, and I am from San Ramon, Alajuela! I lead tours in Costa Rica mostly, but I have also had the opportunity to lead tours through Central America too.
How long have you been a CEO for G Adventures?
Adri: Luckily for me, I've been with G Adventures since October 2012! Eight amazing years!
What is the one must-try local dish/drink?
Adri: In Costa Rica, we have lots of incredible local food — but I know what you're thinking: "it is only rice and beans" … Well yes! But there is more! My favorite is our traditional Olla de Carne, which is a delicious beef soup with all our local vegetables: water squash, yucca, plantain (green), sweet potatoes, corn, ayote, and more.
And for drinks, one of my favourites is our local agua dulce or sweet water. It is molasses of the sugar cane dissolved in hot water and milk (if you prefer, which I love) and it's also an alternative beverage for those who don't drink coffee!
Tell us one "secret," not-to-be-missed experience on your tour, and why it's so special.
Adri: I could mention quite a few, but please don't miss the local hot river we call El Choyin, it is a unique natural hot spring experience.
After travelling with you, what words would you want your travellers to use to describe your city/region/country?
Adri: Pura vida!
What books/novels would you recommend to travellers who want to escape to your city/region/country via literature?
Adri: I would recommend "The History of Costa Rica" by Iván Molina Jiménez; "The Birds of Costa Rica: A Field Guide" by Richard Garrigues; and "Monkeys Are Made Of Chocolate: Exotic and Unseen Costa Rica" by Jack Ewing.
What is YOUR favourite place to travel to (not including your region)?
Adri: Anywhere! I can even go to my nearest trails to get the joy of travelling. But I am also looking forward to exploring South America.
Thanks, Adri!