The entire world is doing its best to stay safe, so we decided to bring the world to you. Explore famous locations across our planet on a guided virtual walking tour, led by one of our CEOs (Chief Experience Officers).
Next stop: Everest Base Camp!
Join Suman, a G Adventures CEO, as he takes you through beautiful forests, Sherpa villages, glacial moraines, and spectacular foothills on your way to this famous starting line underneath the world's tallest mountain. Read on to learn a little about Suman before clicking the video below.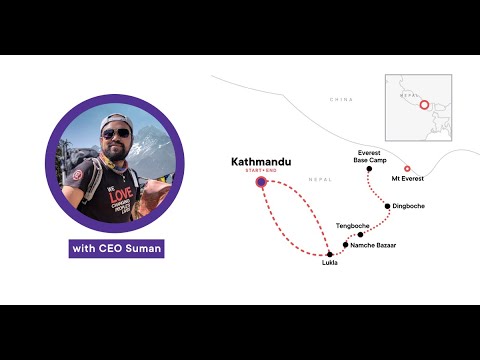 What's your name, your hometown, and where do you lead tours?
My name Suman Khatri, and my hometown is Bhaktapur, Nepal! I've been leading tours and treks all over Nepal for 15 years.
How long have you been a CEO for G Adventures?
It's been eight years that I've been working as a CEO!
What is the one must-try local dish/drink?
When you are in Nepal you must try dal bhat and raksi (a homemade liquor).
Tell us one "secret," not-to-be-missed experience on your tour, and why it's so special.
It depends on the tour! If we're trekking over EBC then it's Thyangboche. It's a pretty famous place to see the sunrise and sunset. Everyone takes in the view from the monastery, but I always take my group towards the helipad — there you will get a stunning 360° view of the mountains, including Everest. I think this is the most peaceful, blessed place that I have ever been.
After travelling with you, what three words would you want your travellers to use to describe your city/region/country?
I think "Himalayas", "culture", and "people".
"Himalayas" because Nepal's geography is so unique — within 125 km distance, it rises from 60 m. to the top of the world, 8848 m.
"Culture" because Nepal is home to 126 ethnic groups with 123 different languages. It is the most peaceful multicultural country with amazing ethnic unity, lots of freedom, and respect for one another. Very diverse, but remarkable unity and perfect religious harmony.
"People" because I think the most beautiful thing about Nepal is Nepalese people and their honesty, loyalty, and smiles. Nepali people know how to live peacefully having nothing.
What books/novels would you recommend to travellers who want to escape to your city/region/country via literature?
There are lots of books about Nepal which I really like, so it's very hard to pick one, so I would love to recommend a few! " House of Snow", "Into Thin Air", "Tiger for Breakfast". But my all-time favourite book is "While the Gods Were Sleeping" by Elizabeth Enslin. It's a fascinating love story with deep insights into Nepal. Through this book, she shows how she adjusted to a completely new life, learning a new culture, language, and the society after her marriage in Nepal.
What is YOUR favourite place to travel to (not including your region)?
My favourite place after my hometown is Pokhara, it's a little paradise. This lake city has a great combination of nature, and the Pokhara valley is at an elevation of 800 m. — from there you can see the 8000 m. mountains: Annapurna, Dhaulagiri, & Manaslu. It's the most beautiful place in Nepal.
Thanks, Suman!