You love naan, right? Of course you do. In most Indian restaurants I've eaten in outside of India, there's usually a variety of naan and sometimes roti available. And they're delicious! But in India, there's a wide variety of different types of delicious breads to choose from, which vary from region to region. So move over, naan: you've got some really delicious, mouth-watering competition. Look for any of these six breads the next time you're in India (or when at an Indian restaurant close to home), and eat to your stomach's content.
1. Kulcha
Kulcha is a kind of variation of naan. The mildly leavened flatbread is primarily a Punjabi Dish. Made from maida flour, Kulcha is cooked in a tandoori oven. It's typically brushed with ghee, and sometimes other seasonings. Lots of variations exist, such as stuffed kulchas, which commonly include paneer, onions, and potatoes. The city of Amritsar is famous for its kulchas, which are stuffed with potatoes, spices, and other stuff that puts a smile on your face for the rest of the day.
2. Parotta
Parotta is a layered flatbread. It's a staple commonly found throughout South India, particularly in Kerala and Tamil Nadu. It's soft, delicate, sometimes flaky, and always great when dipped into your curry. It's made by kneading flour, sometimes egg, ghee, and water. The mix is then beaten into thin layers, which are then spiralled into a ball, and then flattened. Many variations exist. Try it for breakfast.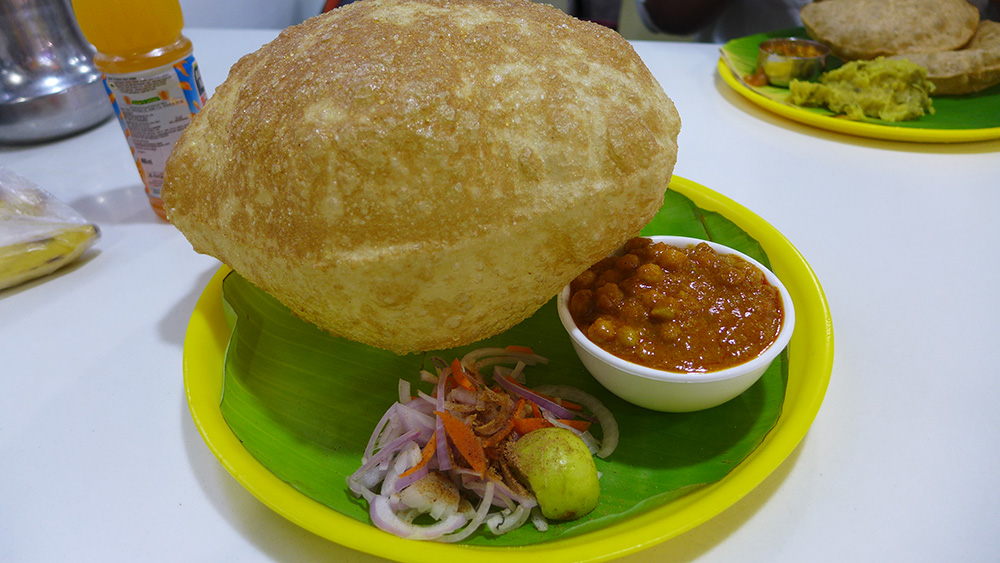 3. Bhatoora
This bread sometimes looks like an inflated football. It's a fluffy, deep-fried, leavened bread, commonly made from all-purpose flour, yogourt, sugar, salt, and baking powder. It's a joy to watch street vendors throw flat pieces of bhatoora in large woks filled with oil, and witness as the bhatoora quickly cooks, inflating into puffy balls filled with hot steam. The bread is commonly served as part of the chickpea curry dish, chole bhature. Poori, a puffy, golden-coloured bread is very similar to bhatoora, though usually smaller.
4. Tandoori Roti
Roti is the most popular of all Indian breads — it's a true staple — and the starting point of many a meal. It's made from wheat flour, and resembles a tortilla. Tandoori roti is cooked in the clay tandoori oven, but roti is most commonly made at home on the stovetop. Roti brilliantly pairs with pretty much anything. If you're eating a thali, sometimes the server will slap one roti after another on your plate. Roti is also known as chapati; the two names are used interchangeably.
5. Stuffed Paratha
Paratha can be plain or stuffed; do yourself a favour and go with stuffed. It is yet another delicious flatbread found throughout India, most commonly in the north. Parathas are made by cooking the dough on a tava (flat Indian pan), and later shallow frying it. The most common stuffed version is aloo paratha — paratha stuffed with potato — but you can find many unique alternatives. Since parathas are layered and stuffed, they are often thicker and heavier than other breads. One of the best places to eat them? Head to Gali Paranthe Wali, a legendary street in Delhi that specializes in making parathas.
6. Idli
Idli is a type of savoury rice cake, commonly eaten for breakfast and lunch in South India. The "cakes" are made by steaming a batter of fermented black lentils and rice. It's a South Indian staple and you'll see it at basically every restaurant. In fact, many eateries specialize in idli and everyone at the restaurant will be eating the exact same thing. Idli is served with sambar, a spicy lentil-based vegetable stew. Pour the sambar over the idli, and wait as the cakes soak up the sambar. It's difficult to describe just how good it is.