February 8 marked the Lunar New Year, the beginning of a different astrological time for those adhering to the lunar calendar. Millions of people around the world celebrated the holiday, with colourful parades, family feasts and different traditions, depending on the country.
Last year was the year of the sheep – or goat, depending on the place you celebrate in – and the current year is that of the monkey, a title that not only informs cultural sentiments for the coming year, but also characteristics of people born within it. The Chinese astrology system works on a 12-year cycle, so the prior monkey year was 2004. What does this mean for people born under that sign? Monkey-born people are said to be "lively, quick-witted, curious, innovative and mischievous," and persevere even during difficult times.
Regardless of personality or astrological sign, Lunar New Year is a time for food. And one of the most traditional dishes for a family to make is dumplings.
A little background about the dumpling
Use of the word dumpling refers to a wide variety of dishes, sweet and savoury, made with wheat, rice or other flours, and corresponding to a more specific name in the local language from where those dishes came. Our use of dumpling in English is a very unsophisticated one, as we have casually lumped together all sorts of different tastes and cultural traditions into a single word.
In her 2015 book Dumplings, A Global History, Barbara Gallani notes: "Dumplings have always coexisted as versions of an unpretentious, filling peasant food, making small amounts of meat stretch far enough to feed families and communities, or as elaborate, refined parcels of dough, wrapped around delicate fillings and served for special occasions."
With such a broad use, where did the dumpling originate? With manti in central Asia, wontons in China and ravioli in Italy, it has truly spanned the globe. Gallanti theorizes that money-saving cooks around the world created the dumpling independently. Indeed, it does not seem too far fetched that someone making dough would eventually think to house some meat or cheese or other food within it. As with the other pieces in this series, the dumpling spread around the world, even within its own pockets of culture, can be attributed to thriving trade of goods and spices.
Lunar New Year
Unlike Western New Year, which focuses on making self-improvement resolutions to keep to during the coming months, Lunar New Year is a holiday that remains mindful of the past while resolutely preparing for the next year — and hoping for good fortune, luck and prosperity to shine on business and personal life.
During my time in Saigon during Tet, the Vietnamese New Year holiday, I watched the city in frenzy; its residents frantically trying to pay off debts, clean their houses, lawns and surrounding areas, and ensure that the new year started without an eye still to the past.
Lunar New Year traditions differ among countries, but include giving children red envelopes filled with money, burning incense and joss money (or ghost money) for ancestors. In China, they eat dumplings known as jiaozi, moon-shaped wheat dumplings similar to Japanese gyoza or the momo of Nepal.
The jiaozi dumpling in China
When many of us think of Lunar New Year, we think of the jiaozi. While there are many of other Chinese and non-Chinese dishes that would qualify as dumplings, it is jiaozi that are served during the family-filled festivities of a new lunar calendar, and the etymology of the name is a very interesting one.
According to the anthropology department of the University of Southern California, the history of the jiaozi dates back to the Northern Song Dynasty (960–1279AD) in China, where merchants distributed one of the first paper money currencies, which was called "jiao zi." The term began being used as a general term for money, which was then shaped like shoes of gold or silver (known as yuan bao).
When dumplings were cooked for the New Year, they were made to look like the money, and eating them was a metaphor for the good fortune people hoped for in the coming year. By "eating money," the desire was that prosperity would follow. Per the University of Southern California, the term jiaozi has multiple meanings, one of which is "midnight or the end and the beginning of time," which is why it was often made before midnight of the prior lunar year.
There is, of course, no absolute consensus about the origins of the dumpling. Per Q. Edward Wong's book, Chopsticks: A Cultural and Culinary History, the earliest example of dumplings were found in a grave dating back to the 4th century BCE, despite legend attributing them to a Han pharmacologist named Zhang Zhongjing. Regardless, Wong agrees with the source above that it wasn't until the Song Dynasty that the Chinese term jiaozi entered into the modern language lexicon. Prior to that, the term huntun was used, which referred to small crescent-shaped balls of dough.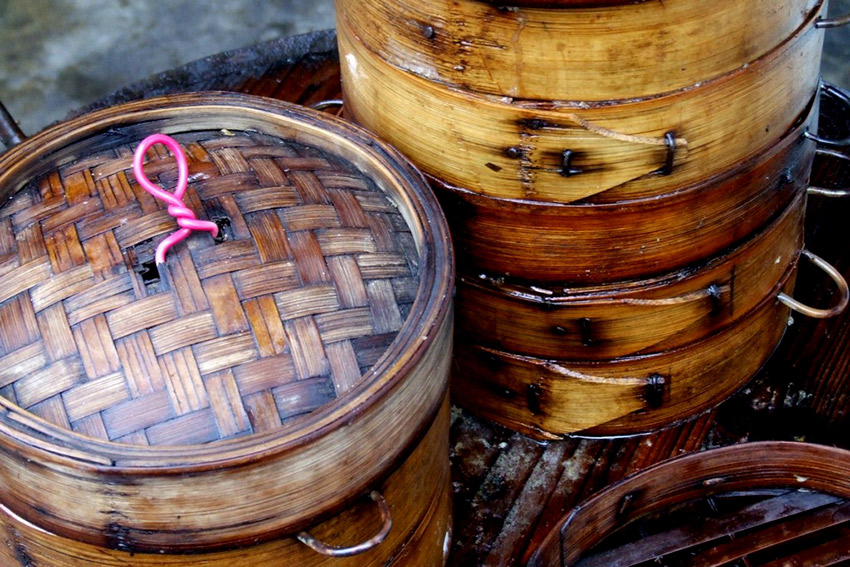 Regardless of origins, the results are undeniably delicious. For Chinese New Year, some families even slip in a coin for good luck, welcoming the new astrological sign and coming year with a literal and figurative yearning for good fortune.
If you're interested in making some dumplings of your own, The Telegraph has a recipe here. And if you're celiac like me, don't worry — here's a gluten-free version just for you.
Header image by Alpha.
Getting There
G Adventures runs a number of departures encompassing a wide range of departure dates and activities to cater to different tastes. We're thrilled at the prospect of showing you this big blue planet of ours — check out our small group trips here.