"Prague never lets you go. That dear little mother has claws."
So wrote Franz Kafka, one of the Czech Republic's most well-known writers. It's true — there really is something exceptional about Prague, something at once fairytale and lived-in; a place that casts a spell upon you, while wrapping you close to its well-worn heart. It is a city of beauty that has earned its beauty and that has a true depth of soul to go along with it. You could spend a lifetime trying to reach the endless fathoms of that soul.
Kafka is only one of many famed literary icons to hail from the Czech Republic. Like its art and history, Prague's literary culture is long and storied. Here are a few highlights that will take you on a journey from the 19th century to present-day, along with tips on where you can experience their literary magic for yourself.
Jan Neruda (1834–1891)
Called the "Charles Dickens of Prague," Neruda wrote one of the quintessential works documenting 19th century life in the city, Prague Tales. This masterpiece depicting the mundane and muddled lives of ordinary residents of Prague had a profound influence on the generations of Czech writers to come after Neruda.
A wonderful way to explore Neruda's world is to simply stroll around the Mala Strana (meaning "lesser quarter") neighbourhood of Prague. You can walk along the street of his birth, Nerudova (he lived at lived at No. 47 in the House of Two Suns), as well as the street named after him. His grave can be found in the Vyšehrad cemetery.
Franz Kafka (1883–1924)
The Prague of Kafka, the city in which he was born, is dark and tortured. He had a strained relationship with his overbearing father, and died of tuberculosis in a sanatorium in 1924. Few of Kafka's magnificent works, which explored themes of surrealism, existential anxiety and monolithic socio-bureaucratic powers foreshadowing the Communist era, were published during his lifetime. His unfinished works were published after death. Such titles as The Trial and Amerika garnered his largest praise.
The Franz Kafka Museum preserves his literary legacy in two sections. The Existential section immerses visitors into the Kafkaesque world and shows how the city of Prague shaped him as a man and writer. The Imaginary Topography section reminds us how Kaftka rarely identified landmarks in his writing, choosing instead to be purposely vague in his descriptions. This section explores the idea that a place can transcend its reality and carry a meaning reaching far beyond its structured walls.
You can also visit Kafka's grave in the New Jewish Cemetery in Žižkov, one of Prague's working-class neighbourhoods. Both the old and new cemeteries and entire Jewish quarter, called Josefov, are worth a day of exploring. They provide a fascinating glimpse into the torrid history of Jewish Prague from the 13th century through Nazi occupation, along with an excellent museum and the oldest still-existing synagogue in Europe.
Václav Havel (1936-2011)
Shortlisted numerous times for the Nobel Peace Prize, Havel was one of the towering figures of the second half of the 20th century in Prague. He became president of the former Czechoslovakia only months after being released from prison and lead his people against a totalitarian regime in 1989's Velvet Revolution; then later was president of the Czech Republic after the creation of separate Czech and Slovak states.
Havel was known as the "Philosopher King" for his political essays and work as an absurdist playwright. You can walk in Havel's footsteps at the Lucerna Palace, built by his father during Prague's newly liberated, post-Habsburg Jazz Age of the 1920s. While Lucerna is still being renovated to its former grandeur, the Lucerna Music Bar near historic Wenceslas Square is a great place to hear live jazz. The palace is also home to several cafes and a vintage cinema that shows first-run films.
For a more presidential look at Havel, check out the President's Office at Prague Castle. It was from the office's baroque balcony that Havel delivered his stirring inauguration speech in December 1989. And don't miss the Václav Havel library, which features the life and works of this most important man in recent Czech history.
Milan Kundera (1929– )
His philosophical insight and exploration into the way in which politics intruded into everyday personal life in Communist Prague is unequalled. Kundera's postmodern masterpiece, The Unbearable Lightness of Being, is responsible for many people's awareness and understanding of Soviet Czechoslovakia around the world. The book, published in 1984, was banned by the Communist regime along with his other works until the Velvet Revolution of 1989.
Many of the settings from the novel make for the perfect exploration of Prague. From the lovely and often-photographed Charles Bridge, Old Town Hall and Gothic Tyn Church, to the peaceful waters of the Vltava River and Petrin Hill, both the beauty and spirit of Prague come alive in his writing.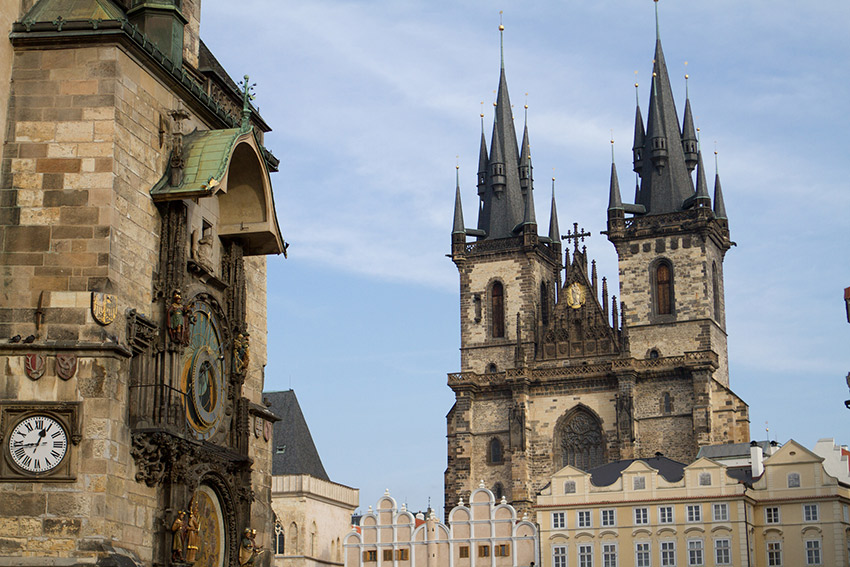 Kundera went into exile in France in 1975, becoming a French citizen who today lives incognito and rarely makes any public appearances. Although Prague as a city has chosen not to dwell on its Communist era, you can get an in-depth look at the history and effects of the Soviet Era of the Czech Republic at the Museum of Communism. The collection depicts scenes of surveillance and harassment in a permanently looping video, with an extensive display of artifacts and images.
For those who love literature, and the human experience it contains, Prague is truly a magical place to explore.
Getting There
G Adventures runs a number of departures in the Czech Republic encompassing a wide range of departure dates and activities to cater to different tastes. We're thrilled at the prospect of showing you this big blue planet of ours — check out our small group trips here.