A twisting branch of lightning shatters above the jungle canopy illuminating the horizon for a brief instant like a nightclub strobe light. Your feet sink into the shallow mud of Sarapiqui Rainforest. A vibrantly coloured frog sits lazily on an enormous fern leaf and the call of a howler monkey comes unseen from a treetop not far away. The rain runs down your smiling face. You reach into your hiking pack searching for a rain coat and pull out a leather-bound book on eastern philosophy, a pair of denim short shorts, a portable hair straightener, a collection of incense sticks and a magnetic chess set; but nothing that will stop you from looking like to just stepped out of a shower fully clothed as the monsoon rain falls.
Costa Rica is one of the most biologically diverse countries in the world — home to menacing active volcanoes, wildlife seen nowhere else in the world, pristine beaches and near untouched rainforests. It is a country that can provide memories for a lifetime, but pack incorrectly and you could end up feeling very wet. Or hot. Or cold.
So what should you pack for a country where you could be sunning yourself watching the surf break off the shore of Tamarindo Beach one day and hiking through rain-soaked jungle the next? To help, here's my essential pack list for Costa Rica:
Clothing is not optional
Costa Rica is a small country, but its varying landscape and climate mean you have to pack for every eventuality. Given the contrasting conditions between beach life and needing to be properly equipped for the jungle, it is important to ensure that light, flexible clothing options are taken. A couple of pairs of shorts, some swimming gear, shirts (or T-shirts) and a long pair of trousers for the evenings should see you properly covered for most beach, or urban conditions. However, it is vital that a couple of pairs of hiking pants or loose/comfortable track pants are taken for moving through the jungle, along with several pairs of good socks. Your feet can get quite wet if walking through the rain, or crossing a stream, so it is crucial that several pairs of hiking socks are also packed so that you always have a dry pair available in the morning.
Of course a good pair of socks are nothing without the right footwear in the first place. Comfortable walking shoes are not just suggested for Costa Rica but a must. Just make sure you break them in before your trip, unless you want your first time walking through the jungle to also be the day you shed several layers of skin off your heel.
Life admin doesn't stop while you're on the road
One of the beautiful things about travel is the idea that you say goodbye to the hassles of everyday life as soon as you lock your front door and head to the airport. While this may be true of no longer having to answer Gary in finance's email questioning your last round of monthly expenses, you can't entirely overlook all day-to-day administrative items when travelling… like money. For any trip to Costa Rica you need to take along credit and debit cards, but also enough USD cash to sustain yourself for several days, as there may be times when withdrawing cash or paying for goods electronically is simply not an option. You're also not going to get very far without your passport, airline tickets, entry visa and vaccinations certificates, So not only do you need to remember to pack these essentials, but you should also take photocopies in case you ever get separated from these items.
Prepare for any eventuality
While Costa Rica has many of the comforts of home — especially in the major tourists centres — it's important to remember that it is still a developing country, so you should be prepared in case things do go wrong. A good first-aid kit is essential, along with extra copies of any prescription medication you may be taking, and I would also advise that you ensure you have a healthy supply of anti-diarrhea medication for any upset stomachs as well. Hand sanitizers and antibacterial wipes can help limit your exposure to harmful bacteria — although make sure that any toiletries you do bring are biodegradable or properly disposed of as you will be visiting some fragile ecosystems.
It goes without saying that travel insurance is critical for Costa Rica and make sure you are covered for evacuation insurance as well. Those helicopter rides if you go into shock from sleep-eating a poisonous frog are not cheap! (Likelihood of consuming poisonous frog: slim.)
Something to make the memories last
A diary, or notebook, and digital camera are often some of the first things packed by any traveller for good reason. They capture moments of fleeting beauty and the truth from your experience. However, given that the only constant with travel is never really knowing what will happen next, I would advise travellers to either bring multiple spare (charged) battery packs for their cameras, or even look at equipment that could take standard batteries — just in case you are shooting a lot of film and don't have easy access to a power outlet. The same goes for packing extra memory cards as well. You can never have too many.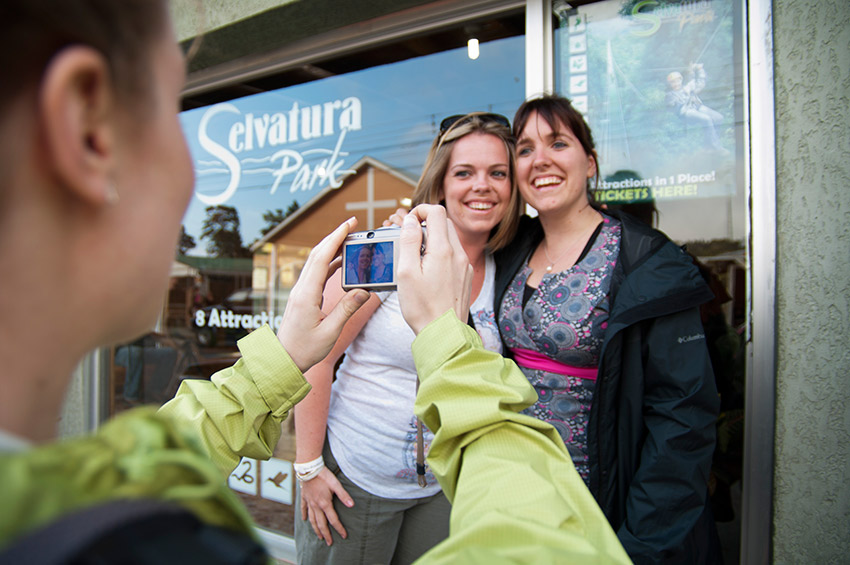 Even MacGyver wouldn't go without…
While you're not likely to have to escape from the clutches of an '80s supervillain with a perm and his leather-panted army with only a rubber stress ball and a stale orange at your disposal; MacGyver's resourcefulness should not be overlooked when packing for Costa Rica, as there will be some days when access to electricity simply is not an option. For these times, it is important you pack a headlamp (for trails and reading in dim light at Sarapiqui Rainforest) a flashlight and an alarm clock with plenty of batteries. Tropical-strength insect repellent and a large water bottle are also recommended, along with a Spanish phrasebook for communicating with the locals.
Be weather ready
It can rain in Costa Rica, quite a lot. To be prepared for the times when the weather is not being kind, it pays not only have sunblock, a hat and sunglasses in your backpack; but more so to have at hand a waterproof jacket, a fleece top and, very importantly, a rain-proof cover (or some form of rain protection) for your pack itself. Even a few hours of exposure to the rain in Costa Rica can leave your backpack soaked and its contents with a distinctly mouldy aroma.
Costa Rica is one of my favourite places on the planet. It has it all. Nature, wildlife, beaches, friendly people and some of the most enjoyable hikes I've ever been on. But packing for a country with such varied landscapes and climates is not without its challenges, so think carefully about what you are putting into your pack (and what you are not) before you get there.
Getting There
G Adventures runs a number of departures in Costa Rica encompassing a wide range of departure dates and activities to cater for different tastes. We're thrilled at the prospect of showing you this big blue planet of ours — check out our small group trips here.