All photos by Christian Gustavsson.
Tell many Australians that you're travelling to Sydney and they might balk. But hey, so it goes: big city dwellers the world over always suffer a bit of stigma from those in more rural regions, right? And to a Scandinavian outsider like myself, Sydneysiders seem spoilt for choice when it comes to pretty much everything worthwhile: an easy, breezy life lead in a harbour city with striking architecture surrounded by mind-blowingly beautiful landscapes, sprinkled with beaches, street art, unique shopping, culture, and pretty much year-round sunshine — lots to envy, in other words, if city living is your style.
In my experience, one of the best ways to get to know Sydney is to head for its outdoor beer gardens, waterfront beach clubs, and sky-high rooftop bars. The views are varied yet constantly stunning and you'll have a good shot at meeting some of Sydney's truly lovely locals.
These are seven of my personal favourites.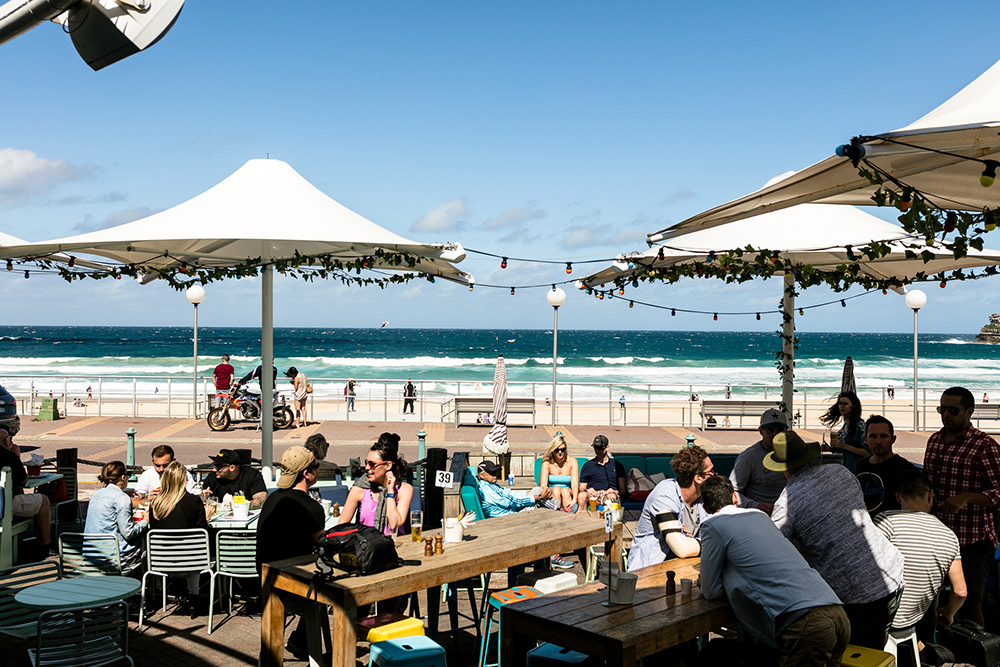 Bucket List
If you know even a little about Sydney, you almost definitely know of Bondi Beach. And even though this beach tends to get really, really crowded in the hottest summer months, it's truly a must-do — and it's not nearly as touristy as one might believe. Here, part of the iconic Bondi Surf Pavilion has been taken over by the hassle-free and low-key Bucket List. There's no fuss: just leave your sandy flip-flops by the door and let your wet hair down in one of its venues: the Fish Bowl, the Blue Room, the Fireplace, or Uncle Barefoot's Garden Terrace, where you can munch away on perfect beach bites like burgers and fish tacos. The cocktail list is full of the usual suspects, but I recommend bar specialties such as the passion fruit mojito, charmingly called the "Paid to Surf." thebucketlistbondi.com
Watson Bay Beach Club
A few years ago more than $2-million AUD was spent on a multi-level makeover of the Watson Bay Beach Club, turning it into what is now dubbed "Sydney's most Instagrammable restaurant." Even though I'm in favour of the ever-growing list of eateries that have started banning food photography (eat it, don't just look at it!), this is cuisine that's both really tasty and truly beautiful. The atmosphere is wonderful as well: peaceful, friendly, and very beachy-chic — it feels like you've gone on a gourmet picnic. If you're planning to pop in for a meal, don't forget your swimming gear: tiny, nearby Watson Bay is gorgeous, with a white sandy beach and crystal clear waters providing ample opportunities to take a dip, or explore more of the region on a SUP board. watsonsbayhotel.com.au
Café del Mar Terrace
First of all, the best — as in most scenic — way to reach the sophisticated Café del Mar by Cockle Bay Wharf is by water taxi. (Or even better, in a private boat, if you're lucky enough to have local friends with one.) The sunlit day lounge features comfortable furniture in assorted nautical designs, and it's a great place to unwind while throwing back a leisurely drink (or three). All of this is served up with panoramic views of the gorgeous Darling Harbour. cafedelmar.com.au
The Glenmore Rooftop
One thing I tend to do in any city I visit is to scope out a rooftop bar as early on as possible. Not only because I'm a big fan of craft cocktails, but also because it tends to give you unparalleled views of the urban area you're in without the time-consuming queuing that touristy vista points tend to involve. In Sydney, the rooftop bar of the Glenmore Hotel in the historical Rocks District serves precisely this purpose. For a sky-high venue, it's truly down-to-earth and intimate, with a 180-degree view of Sydney Harbour that's absolutely perfect for sunsets — and best enjoyed with a delicious drink in hand. theglenmore.com.au
Golden Sheaf Hotel
One thing you quickly learn travelling around Australia is that the word "hotel" doesn't always mean accommodation: it's a common word used to refer to unpretentious drinking dens; kind of the Aussie equivalent to British pubs. So, don't get confused by the fact that the heritage-style Golden Sheaf Hotel offers not a single bed to spend the night in. Another local drinking lesson: even if a place says it has a beer garden, no one will frown upon cocktail sipping. At the Sheaf, you can watch a game of rugby, listen to jazz in the newly opened Garden Bar, relax comfortably on the Terrace Bar, or celebrate a festive occasion with your companions in the canopy of the massive Morton Bay fig tree that grows in the Beer Garden — even if the occasion is simply the fact that you've made it here. thesheaf.com.au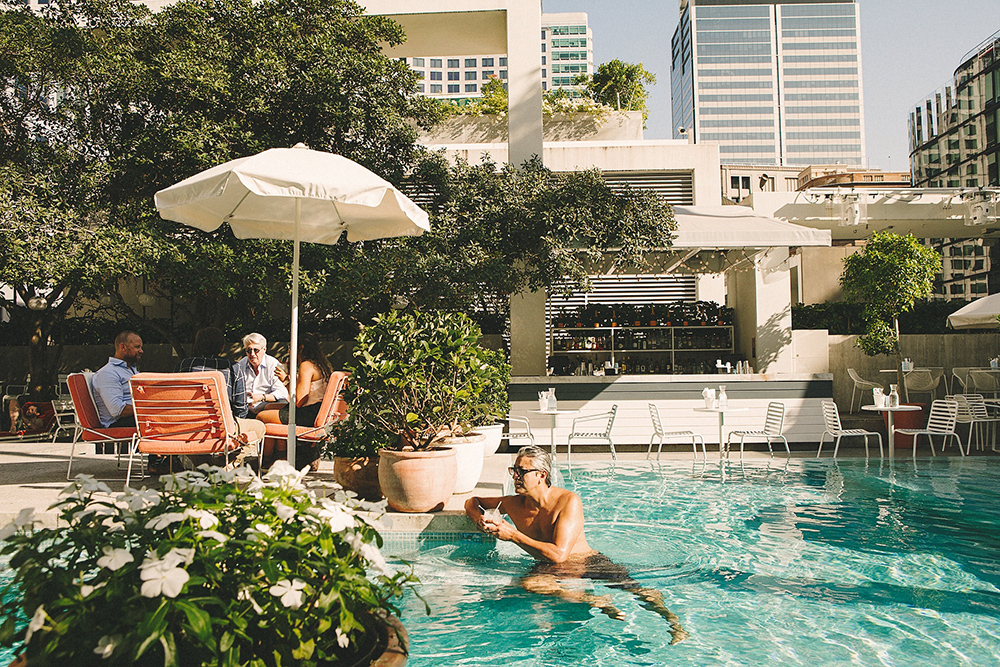 The Ivy
The Ivy describes itself as "a sophisticated urban playground for adults." A bit pretentious, sure, but luckily the atmosphere is anything but. This amazing venue covers a massive space arranged around a central courtyard with a number of individual areas, ensuring there's a little something for each and every taste. A DJed enclave? Check! A grill restaurant? Check! A pool club? Check! A tapas bistro? Check! A lounge space? Check! On and on it goes — and on and on time flies once you've entered. The Ivy is open seven days a week, but if you're looking for a party, a Saturday evening at the area called Pacha — which features burlesque performances — is your best bet. merivale.com.au
The Winery
Surry Hills is the Williamsburg of Sydney; an area located in the inner south that's lined with warehouse-turned-gallery spaces, hip bars, one-of-a-kind boutiques, fashionable coffee roasters, and stylish pubs. With lots of competition, the quirky Winery still manages to stand out, keeping all the swish without losing any of its sass. This is perhaps because it so seamlessly combines a humble setting — an urban garden oasis — with an extremely carefully selected wine list featuring hundreds of options. The Winery doesn't take itself too seriously, but the grapes are grave matters. Hence, the food menu boasts such easy eats as fish and chips, sausage ragù, and barbecued chicken, while the wine menu has many bottles priced up to 1,300 AUD. Don't worry, though, there's plenty of wine by the glass for a tenner, too. thewinderyurryhills.com.au
---
Getting there
Ready to kick up your feet in Sydney? We can get you there. Check out our small group tours to Australia here.