Japan is a country where you can explore all five senses. Though much of it comes unexpectedly, it's always something to welcome with open arms. The Tsukiji Fish Market is no exception; from the ringing bells of the tuna auction to the sight of the carts whisking Styrofoam boxes of fresh seafood from dock to stall, the distinct smells of mackerel, to the taste of the freshest sushi you'll ever taste. This is a story of my experience at the famed fish market and how I ended up there twice. It's also an invitation to be sure to visit it before it closes it's doors at this location in November 2016.
Everything went according to plan until it didn't
They say the cure for jetlag in Japan is Tsukiji. The day after arriving in Tokyo, I hatched the brilliant plan to outsmart my body's biological clock by napping only three hours before a very early wake-up, so I set the alarm clock for 3:45 a.m.
The sun was just starting to stretch upward as the black of night was yawning into a dark blue. Luckily, the market was only a 15-minute walk from the hotel. When my travelling companion and I made it to the main north gate by 4:30 a.m., we kept looking around for a line but saw none. A bit puzzled, we poked our heads around the office area and made eye contact with one of the guards. He didn't know how to speak any English but he walked us over to a sign that said all reservations for the tuna auction viewing were gone. Our hearts sank.
Not wanting to waste any time, we made the best of the situation and went over to line up at one of the famed sushi restaurants of the market — Daiwa Sushi (大和寿司). Apparently we weren't the only ones with this idea because there were at least 20 other people that beat us to the punch. When we finally got seated at 6 a.m., all of our morning grogginess instantly lifted thanks to the most wonderful sushi experience I've ever had. The morning was salvaged.
Second time's a charm
Fast forward to one of our last days in Japan; determined to see the tuna auction at Tsukiji Fish Market, we decided to make one final attempt. I did not want to make the same mistake again, so instead of waking up at 3:45 a.m., we toughed it out and woke up at 3 a.m.
Knowing our way around this time, we hauled over to the east entrance of the market and made it there by 4 a.m., and were surprised to see the amount of people already queued up. At this point, there was still no guarantee that we were going to be able to get into one of the two tuna auction time slots. The suspense began to crescendo as the guards started handing out their limited number yellow pamphlets. But they came around to us we gave a big sigh of relief as they handed us our Willy Wonka-like "golden tickets." We were finally going to see the auction!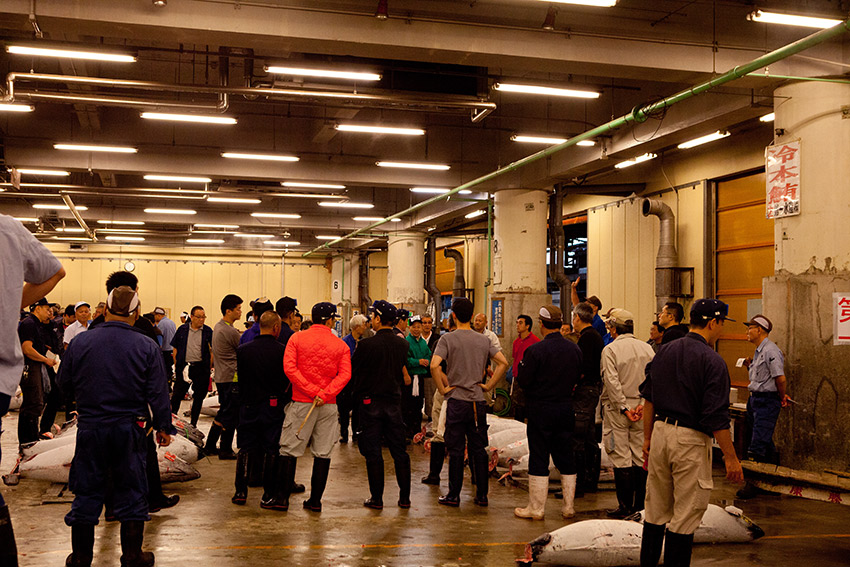 The experience of the auction offered a lot to take in. We were packed in like sardines in a blocked-off aisle of the warehouse. Out of nowhere a bell started to ring. We saw the bidders stand at attention as the auctioneer started yelling out things at the crowd and energetically pointing toward those making discreet hand signals signifying a bid; some would brush their hands against their ears and others would touch their arm. Before we knew it, the auctioneer made a quick bow and with that, the auction was over and thousands of dollars worth of tuna had been purchased before our eyes.
And with that our Tsukiji Fish Market adventures were complete. I'm not sure if I'll be able to get to witness the decades-old traditions at the tuna auction again and I am certainly ruined for all other sushi experience since I've had the most authentic and mouthwatering sushi in Japan.
Two separate visits to Tsukiji weren't quite what I had planned, but that's what happens when you underestimate the dedication of inspired travellers. For Tsukiji's tuna auction, early is never early enough. Lesson learned; it will not be forgotten.
Getting There
G Adventures runs a number of departures in Japan encompassing a wide range of departure dates and activities to cater to different tastes. We're thrilled at the prospect of showing you this big blue planet of ours — check out our small group trips here.