On October 15 we sat down with world-renowned ethologist and environmentalist Dr. Jane Goodall for our second Retravel Live: Wildlife Deserve A Wild Life. It was an uplifting, inspiring discussion about our world's wildlife, and the role travel needs to play to ensure these beautiful creatures live the life they deserve.
Read on to learn some of the key learnings from the conversation and some fun fast facts about Dr. Goodall. You'll find the full recording of the event below as well. Spoiler alert - it may or may not include Dr. Goodall doing an incredible chimpanzee impression.
1. Responsible tourism is good for animal conservation.
Dr. Goodall believes that when we travel and observe wildlife correctly, we're helping animal conservation in three important ways.
"One, it takes foreign exchange in, so the central government is happy. Two, it helps to pay the staff and the rangers who can actually protect the animals. Three, there's no question that the people who go on these tours come back with a passion for helping conservation … So responsible tourism is something that's necessary and important." — Dr. Goodall
2. Too many people are getting way too close to wildlife.
According to Dr. Goodall, the natural tendencies of many wild animals are being disrupted by the never-ending stream of tourists that insist on getting too close.
"If there's too many people all the time, [the animals] they're getting thin because they are not able to hunt properly. So in each case you just have to find out about the way the animal behaves, the effect on the animal … Sometimes you're fighting the government of a country that doesn't want to listen to you. "Well If I make so much money out of 12 tourists, I'll make double the money out of 24." — Dr. Goodall
3. Poaching has gone up during the pandemic.
While the lack of tourism during the pandemic has had some positive effects on wildlife, Dr. Goodall believes a couple of key factors have led to an increase in poaching.
"Well, certainly in some places, the lack of tourism indeed has led to increased poaching, in two ways. One, the government or the national parks haven't got the revenue coming in from tourism to actually pay the rangers who are there to look after the animals. And so, the international cartels can come swooping in and kill an elephant or a rhino with very little opposition ... But the other problem is local people were being paid by tourism: as guides, or in hotels and lodges. And they're not being paid anymore. And so they're going into the parks and poaching animals, just simply to keep alive, to eat." — Dr. Goodall
4. Travel can help stop cruel animal traditions.
In some cultures around the world, causing harm to animals is part of celebrated traditions. Dr. Goodall believes travel and travellers have the power to put an end to such practices.
"Those things have to change and tourism can play a major role by saying: "Well, if you continue to treat them that way, then we're not going to come and you won't get our dollars …" — Dr. Goodall
5. Dr. Goodall hasn't taken a vacation since 1960.
We asked Dr. Goodall five fast and fun questions to learn a little more about her. Here's what she had to say.
What's your favourite movie? "The Lord of the Rings! Or a new one, which is My Octopus Teacher, it's absolutely unbelievable. One of the best movies ever."
What music do you listen to? "I like listening to classical music. Beethoven, Mozart."
What three people, dead or alive, would you like to have dinner with? "I'd like to have dinner with Mahatma Gandhi. I'd like to have dinner with the living Pope. And I'd like to have dinner with my grandfather, who sounded amazing but was dead before I was born."
Where is your favourite place to go on vacation? Since 1960, I haven't actually had a vacation!
Who inspired you? When I grew up, it was war time and there was no TV invented. So my heroes were in books: Dr. Doolittle, Tarzan. But a huge mentor was my mother, and she's always here behind me. But my greatest teacher of all time, who really helped me stand up to the professors at Cambridge who told me I couldn't talk about animals having personality, minds or emotions — the teacher who enabled me to have the courage to stand up against them … is my dog Rusty. And if you share your life in a meaningful way with a dog, a cat, a guinea pig, a rabbit, a horse, a pig, a rat, you know that we are not the only beings with personalities, minds, and emotions.
Want more? Watch the whole event now!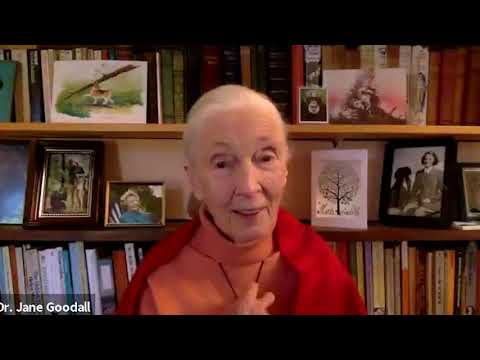 To learn more about G Adventures' Jane Goodall Collection of wildlife-focused tours, please visit: https://www.gadventures.com/jane-goodall/. To learn more about Jane Goodall and the work of the Institute, please visit https://janegoodall.ca.
Our journey to change travel, and the world, is just getting started! Visit RetravelLive.com to sign up to receive updates about our upcoming events.
Photo copyright: JGI Canada/Michael Neugebauer