Note: Visa requirements for every country are different, and visa policies are subject to change at any given time. The information in this post is intended to provide an overview of the visa application process for Central Asian countries as of August 2016, however, you should check on what the current visa requirements are for your nationality for each country in Central Asia before your visit.
The countries of Central Asia, often referred to as the "Stans," are some of the last travel frontiers in the world. These countries are little known, and until recently, were difficult to visit. During my recent trip to Central Asia with G Adventures, I had the pleasure of visiting Kazakhstan, Kyrgyzstan, Tajikistan, and Uzbekistan. In each country, we saw few to no other travellers, and in each country we found a unique environment.
As fascinating as the trip was, it was one of the more difficult trips to prepare for. This was almost entirely due to the fact that each country varies in its visa policy, and that you have to submit a visa application for each respective country.
This article is intended to provide an overview of the visa process for Kazakhstan, Kyrgyzstan, Tajikistan, and Uzbekistan for nationals of the United States, Canada the United Kingdom and TK. Because each of these Central Asian countries are independent, they set entry policies for the other 192 countries on Earth. Providing a complete account of the visa requirements for every country is beyond the scope of this post.
Also note that the visa policies discussed in this post only deal with tourist visas, and not visas for business, education, or missionary work.
Kazakhstan
Kazakhstan took the lead in liberalizing its visa requirements in 2014. The country created a pilot program that unilaterally provided visa-free entry for what is now 19 countries that have high levels of investment in Kazakhstan.
Nationals of the following countries can now enter Kazakhstan and stay for 15 days without a visa:
Australia, Belgium, Finland, France, Germany, Hungary, Italy, Japan, Malaysia, Monaco, Netherlands, Norway, Singapore, Spain, Sweden, Switzerland, United Arab Emirates, United Kingdom, United States.
And if you're a national of the following, you can enter Kazakhstan, and stay for 30 days without a visa. They are:
Argentina, Armenia, Azerbaijan, Belarus, Georgia, Hong Kong, Mongolia, Kyrgyzstan, Moldova, Russia, Serbia, South Korea, Tajikistan, Turkey, Ukraine, Uzbekistan.
It should be noted that many developed countries are not included on this list. They include Ireland, Canada, Denmark, and New Zealand, among others. Passport holders from these nations much apply for a tourist visa at a Kazakhstan embassy or consulate.
Technically, the visa waiver program is still a pilot program and could be revoked at any time. Please check with the Kazakhstan embassy in your country to get details.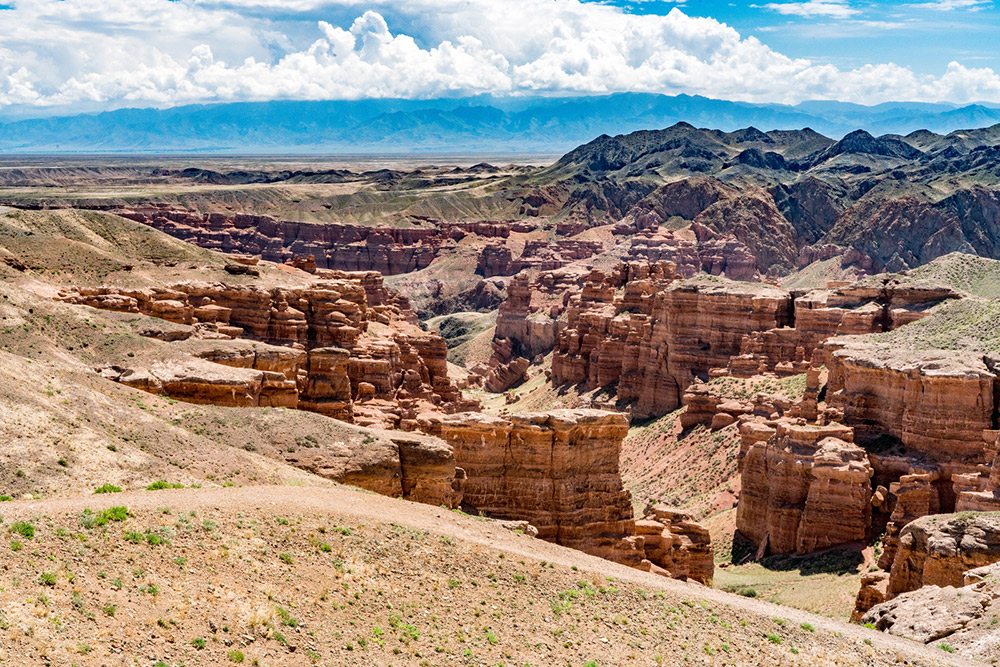 Kyrgyzstan
The most liberal visa requirements in Central Asia are Kyrgyzstan's. Since 2012, they have granted visa-free travel to nationals of the greatest number of countries. Depending on where your passport is from, you can stay in Kyrgyzstan quite a long time.
Nationals of the following countries can stay in Kyrgyzstan indefinitely without a visa:
United States, All EU and EFTA countries (except Bulgaria, Cyprus, Romania), Australia, Bahrain, Bosnia and Herzegovina, Brunei, Canada, Kuwait, Monaco, New Zealand, Qatar, Saudi Arabia, Singapore, South Korea, United Arab Emirates, United States, Uzbekistan, Vatican City.
Nationals of the following can apply for a 30-day visa on arrival:
Albania, Andorra, Argentina, Brazil, Bulgaria, Chile, Cyprus, Indonesia, Israel, Macedonia, Mexico, Montenegro, Oman, Philippines, Romania, San Marino, Serbia, South Africa, Thailand, Venezuela.
On our trip, we crossed the border by land from Kazakhstan to Kyrgyzstan and had no problem. If you are going to be entering Kyrgyzstan by land and have a passport from the list of countries available to secure a visa on arrival, you may wish to get your visa beforehand, as the border crossings are often in the middle of nowhere and lack the same resources that are available at the Bishkek airport.
Tajikistan
When I applied for my visa to Tajikistan in May 2016, it was a complicated process. However, as of June 1, 2016, Tajikistan has made changes that have greatly eased the process of applying for a visa.
The number of countries whose nationals can arrive in Tajikistan without a visa is very limited. All of them are former Soviet republics.
Nationals of the following countries can travel without a visa:
Azerbaijan (90 days), Armenia, Belarus, Georgia, Kazakhstan, Kyrgyzstan, Moldova, Russia, Ukraine (90 days).
However, nationals from a greater number of countries can get a 45-day visa on arrival at the Dushanbe airport.
Nationals of the following can get a 45-day visa:
European Union, Algeria, Andorra, Argentina, Australia, Bahrain, Brazil, Brunei, Canada, Chile, China, Cuba, Egypt, Hong Kong, Iceland, Indonesia, Iran, Israel, Japan, Jordan, Kuwait, Lebanon, Libya, Liechtenstein, Macao, Malaysia, Mexico, Monaco, Mongolia, Morocco, New Zealand, Norway, Oman, Philippines, Qatar, Saudi Arabia, Senegal, Singapore, South Africa, South Korea, Switzerland, Syria, Taiwan, Thailand, Tunisia, Turkey, Turkmenistan, United Arab Emirates, United States, Vatican City, Venezuela, Vietnam, Yemen.
The e-visa program (launched on June 1, 2016) applies to most of the above countries. For USD $50.00, you can obtain single or multiple-entry visas online. This is recommended over getting your visa on arrival, as it will significantly speed up your time in the airport. Also, if there should be a problem with your visa, it is better to know before you leave on your trip, than when you arrive.
Visit http://evisa.tj/ to apply online for a Tajikistan visa.
Uzbekistan
With the recent changes to the Tajikistan visa policy, Uzbekistan now holds the distinction of being the most difficult country in the region to enter.
The only countries whose nationals can enter Uzbekistan without a visa are former Soviet republics.
Nationals of the following countries can travel without a visa:
Armenia, Azerbaijan, Belarus, Georgia, Kazakhstan, Kyrgyzstan, Moldova, Russia, Ukraine.
Everyone else has to apply for a visa prior to arriving in Uzbekistan.
Everyone on our trip had a different experience applying for their Uzbekistan visa. Your experience may differ based on the embassy or consulate you submit your paperwork to. Expect to provide the following:
• One passport photo.
• A letter of invitation. This normally comes from the tour operator you will be travelling with.
• Inbound and outbound flight information.
• An itinerary for your tour.
• A list of the hotels you will be staying at.
Despite the requirement, I managed to get my visa without a letter of invitation. I simply provided my flight information and my itinerary and that was sufficient. Other people, however, who applied at different embassies had to provide the letter of invitation. It is better to be safe than sorry, so contact your operator for the letter.
If you are on a trip visiting all four of the above countries, I would take care of your Uzbekistan visa first, as it requires the most attention.
Turkmenistan
What about Turkmenistan?
Turkmenistan is the other "Stan" that is a former Soviet Republic. It is the most closed of all the countries in the region, which is why it gets the least amount of tourism.
All nationalities must obtain a visa before travelling to Turkmenistan. There are no exceptions. Moreover, the approval process can often be fickle with visas being rejected for no reason given.
Timing
The actual processing time for most visas is two to three days once it has been submitted. Depending on how many visas you need to get, you will want to start the application process no later than two months before your trip starts. Plan for delays so you're sure to have your passport in your hands at least a week before you leave on your trip.
If you are not on a tour and are visiting the region on your own, it is possible to get visas in the capital cities of the various countries.
If you do not live in a capital city with embassies, you might wish to use a visa processing service. You will pay a fee on top of the cost of the visa, but it will only require sending your passport once, and you won't have to deal with running around to each embassy. Also, they usually have staff who are familiar with the people and processes at various embassies, so they can often cut through the red tape.
Getting There
G Adventures runs a number of departures in Central Asia encompassing a wide range of departure dates and activities to cater to different tastes. We're thrilled at the prospect of showing you this big blue planet of ours — check out our small group trips here.