Trekking to see the endangered wild mountain gorillas in Volcanoes National Park in Rwanda is an adventure that is high on many a traveller's list. And with strict enforcements of only eight groups allowed into the mountains each day, a visit to see these magnificent creatures isn't as easy as one, two, three. It can be a gruelling hike through the forest, but once you set your sight on the gorillas, all your exhaustion melts away and you're left with an incredible and unforgettable experience.
Here is a chronicle of my journey –– through the forest and to the mountain gorillas in Rwanda:
First thing in the morning we meet with our guides for the day, Mr. D and Patience, who tell us about the Agashya group (or family) of wild mountain gorillas that we would be seeing later that day.
At the beginning of the trek you have the option of hiring a porter to carry your things and to help you up and down the volcano. Getting a porter is highly recommended. I don't think I could have done the trek without mine.
The trek begins through farmers' fields with a gorgeous view of the volcano we would be trekking up, Mount Sabyinyo.
After 2.5 hours of hiking straight up at an elevation of 2,743m (9,000 ft), we finally reach the Agashya group, a family of 20 gorillas. In a nearby clearing, we can barely just see the top of the head of the silverback (adult male) of the group as well as a few females and baby gorillas enjoying a snack of bamboo.
A baby gorilla bites into a stalk of bamboo.
A 2.5-year-old baby gorilla puts on a show for our visit.
One of the larger females in the group hides amongst the bamboo on the side of the volcano.
The large silverback walks past one of the baby gorillas as he moves on to find more bamboo to eat.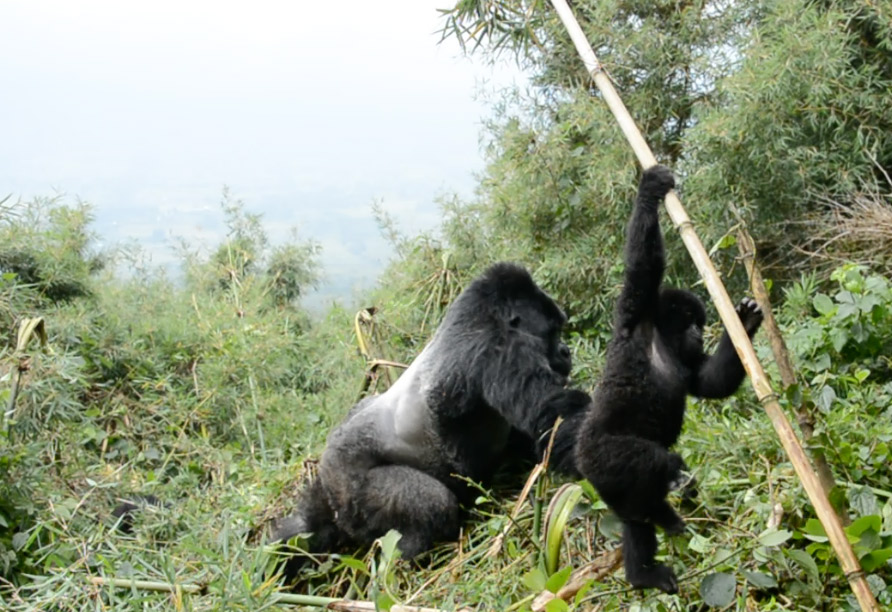 Proof. My gorilla-trekking certificate!
Getting There
G Adventures runs a number of departures in Rwanda encompassing a wide range of departure dates and activities to cater to different tastes. We're thrilled at the prospect of showing you this big blue planet of ours — check out our small group trips here.