Nicaragua is a favorite of adventure travellers visiting Central America with its un-relenting natural beauty and old-fashioned charm. It's a low-key, slow-moving Latin American culture, inexpensive to travel and live in, and is often referred to as "the Costa Rica of 30 years ago."
Nicaragua is easy to travel within and is home to rich festivals and exciting outdoor adventures. Go exploring in colonial towns such as Leon and Granada, "ash boarding" down the side of a live volcano or scuba diving along its shores. In Nicaragua you can still travel under the radar and have great experiences.
One of my favourite places in the country was Ometepe Island, a small island (or rather set of connected volcanic sister islands) in the middle of Lake Nicaragua. From Granada, you can take a 90-minute bus ride and then a 90-minute ferry to visit the rustic, charming and completely low-key island.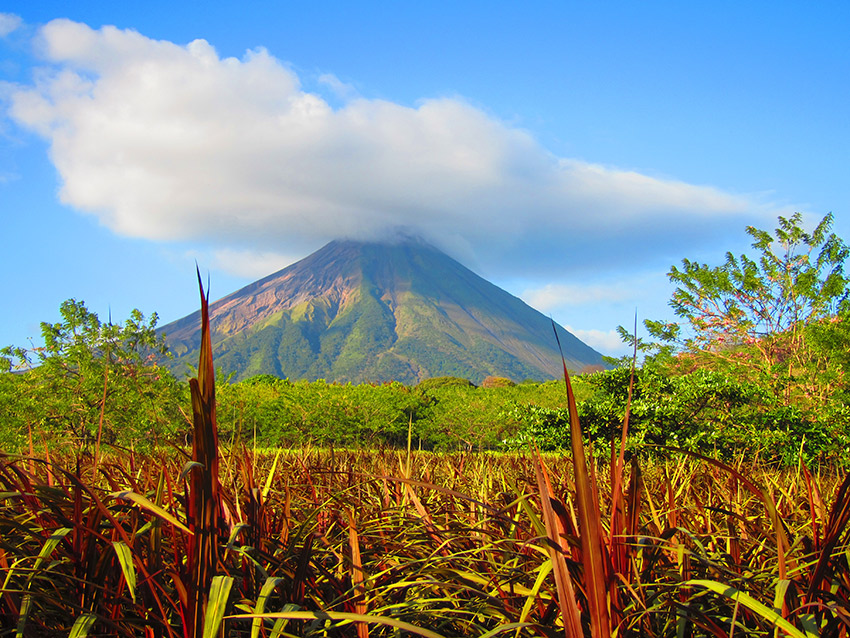 Ometepe is made up of two pre-Columbian volcanoes, Concepción and Maderas, around which everything revolves. The name Ometepe, in fact, means "two hills" in Nahuatl, the original indigenous language. Only about half of the islands (or less) have paved roads; once you get around to the far side of each volcano, the going is extremely bumpy, slow and difficult. Transportation can be a challenge — the bus system is slow and unreliable and car services can be expensive — so having this arranged ahead of time as part of a tour, or renting a motorcycle, is really the way to go.
Ometepe is beautiful, authentic, full of adventure and utterly devoid of tourist pretensions. It will charm you with its hiking, kayaking along the bird-filled estuaries, coffee co-op plantations and natural reserves filled with monkeys and other wildlife. Most of the island is largely rural and agricultural, and the people are warm and welcoming. Staying at a family-run finca (small working farm) or at a homestay is really the way to get the local flavour of this unique place.
I loved my four days on Ometepe Island, where every day brought a new adventure. Some of my favorite experiences on Ometepe included:
• A visit to Finca Magdalena, a 24-family coffee co-operative that stretches 350 hectares up the slopes of Maderas Volcano. The agricultural co-op produces amazing organic coffee, yes, but also milk, corn, plantains, beans, rice and vegetables. You can have a coffee tasting before setting off on many of their easy walking trails.
• Hiking around the foothills or up to the top of Maderas Volcano is fascinating. Not only do you get to see the native wildlife and rainforest, but also many ancient petroglyphs. There is a nice lookout point from which you can see the other volcano, Concepción, and Lake Nicaragua. Past this point, the hike gets steeper and more difficult; during rainy season (May to October) it is very muddy and can become impassable further up.
• Taking a dip in the natural springs of Ojo de Agua is quite delightful, especially after a morning of hiking. It is a natural reserve with numerous pools of clear, clean water and connecting trails. There is an on-site restaurant with simple, tasty local dishes as well.
• Rio Istian makes for some incredible kayaking through mangroves where plentiful bird sightings are all but guaranteed. The waters are peaceful; we hired a guide and did not see anyone else on our entire three-hour excursion.
• Charco Verde Reserve is filled with howler monkeys. Dozens of them. They live right above your head as you pass through the reserve's forest trails, eating and grooming, playing and even mating. They are not shy.
Getting There
G Adventures runs a number of departures in Nicaragua encompassing a wide range of departure dates and activities to cater for different tastes. We're thrilled at the prospect of showing you this big blue planet of ours — check out our small group trips here.