Portugal is a country of contradiction. On one hand, it's the older, mellower cousin of Spain. On the other hand, it lays claim to some of history's most notable conquests, be it Vasco da Gama's sea route to India, or Magellan's discovery of Tierra del Fuego. Its storied past proves there's more to Portugal than a weekend break in Lisbon or genteel sojourn by the coast.
Take the Algarve for example. Yes, there's sun, sea, and slothfulness, but there's also wondrous nature and adventure. This southern region of Portugal boasts myriad landscapes, from customary sand dunes, cliffs, and lagoons on the coast, to flowering orchards in the Barrocal and scrub forest in the uplands.
Trails in the region pass through protected nature reserves home to endemic plants and wildlife. In fact, nearly 40 percent of the Algarve's total area has conservation status, enabling excellent hiking across its five different areas: the Vicentine Coast, the South Coast, the Barrocal, the Serra, and the Guadiana. Here's a taste of what's on offer.
1. Ponta da Piedade
Region: Lagos, South Coast
Distance: 6km (4 mi) round trip
Average duration: 2h
Best for: Dramatic coastline views
Three kilometres south of Lagos lies Ponta da Piedade, a dramatic promontory that features spectacular views of caves, grottoes, and sea arches sculpted from sandstone cliffs over thousands of years.
The coastal trail meanders past picturesque beaches, including Praia dos Estudantes, Praia do Pinhão, and Praia Dona Ana. The beaches are often busy, but the surrounding rock formations provide plenty of reason to pause.
Ponta da Piedade itself is said to be the most beautiful natural feature of the Algarve coastline. Time-weathered cliffs contort in stark contrast to the placid sea below. A total of 182 steps offer access to the water as well as a different perspective of the surrounding landscape.
Hungry hikers should stop for some freshly grilled fish at Praia do Camilo before heading back to Lagos.
How to get there: From Lagos, follow the road for Praia Dona Ana right to the end.
2. Castelejo Environmental Trail
Region: Vila do Bispo, Vicente Coast
Distance: 3.5km (2 mi) circular trail
Average duration: 1h 30m
Best for: Flora and fauna
This gentle hike winds its way through Vicentine Coast Natural Park, crossing pine forest and shrubby vegetation punctuated by Spanish lavender and strawberry trees. The trail dips to a gully where you may spot the Western spadefoot toad or Iberian parsley frog, depending on the season.
Other wildlife includes the spotted woodpecker, Eurasian jay, and great tit, as well as wild boar, foxes, and rabbits. As the trail circles back, you'll also catch tantalizing glimpses of the Atlantic Ocean and Castelejo Beach in the distance, one of many remarkable spots along the Algarve coastline.
How to get there: From Vila do Bispo, take highway M1265 towards Castelejo Beach. It is approximately 2km (1.2 mi) to Castelejo picnic park where the trail begins.
3. Seven Hanging Valleys Trail
Region: Lagoa, South Coast
Distance: 12km (7.5 mi) round trip
Average duration: 5h
Best for: Striking caves and coastline views
This trail gets its delightful name from the seven watercourses that have shorn seven small valleys into the landscape. It follows the winding coastline, offering views of natural arches, caves, and gorges, as well as several species of birds sheltering on the rocky cliff walls. Eagle-eyed hikers may spot gulls, cormorants, and doves.
In the third of the seven valleys, you'll find Benagil Beach with its striking cave formations, including one with a natural "skylight." The hole in the ceiling of the cave is a prime attraction for photographers, so you may encounter a tripod or two.
Other points of interest include Carvalho Beach, Alfanzina lighthouse, and Centeanes Beach. You'll also pass through a pinewood valley where shelter from sea winds allows the pines to grow tall, offering a shaded spot for resting and refuelling.
How to get there: Follow the EN125 and turn south by the International School, then follow signs for the Marinha Beach.
4. Rocha da Pena Trail
Region: Loulé, Barrocal
Distance: 6.4km (4 mi) circular trail
Average duration: 2h
Best for: Monumental rocky outcrops
Rocha da Pena has been described as the Algarve's Table Mountain. While this may be a slight exaggeration, the monumental rocky outcrop is certainly impressive.
The first (and toughest) phase of the trail involves a steep climb from Rocha da Pena (by the "Gruta" Bar) to the plateau at Talefe. There, you will be rewarded with sweeping views of the Algarve's upland terrain.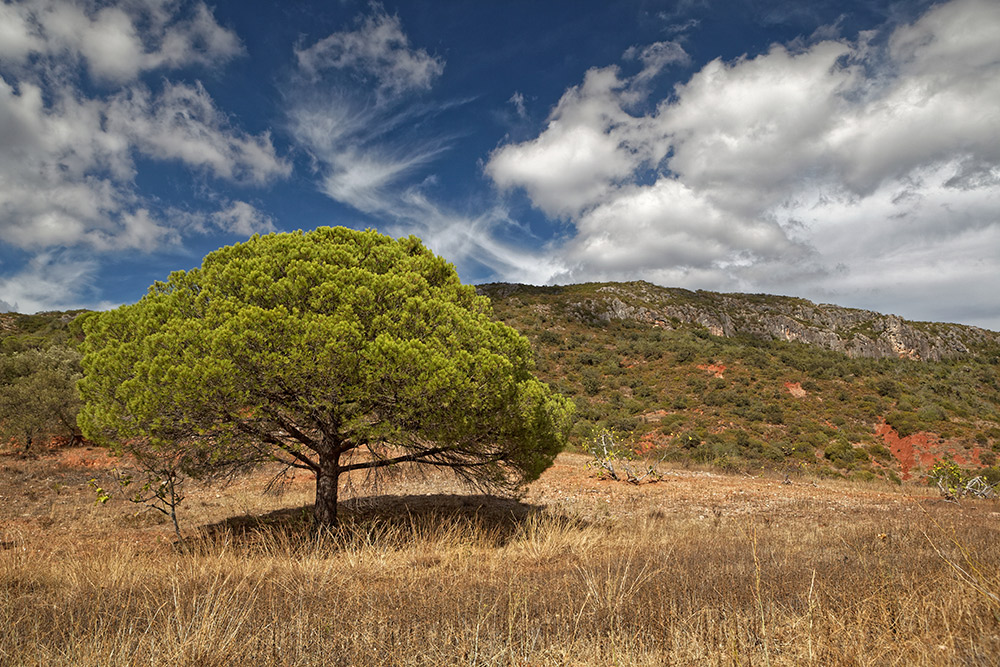 With its position between the Barrocal and the Serra, Rocha da Pena boasts extraordinary biodiversity, including wildflowers, butterflies, and more than 70 species of bird. The Bonelli's eagle once nested here regularly, and several species of cave-dwelling bats still hibernate and breed in the area.
How to get there: From Loulé, follow the road to Salir, then take the EN124 towards Alte. Before you reach Alte village, take the turn to Rocha da Pena.
5. Don Quixote Trail
Region: Cachopo, Serra
Distance: 17km (10.5 mi) circular trail
Average duration: 6h
Best for: Panoramic landscapes
The Don Quixote trail is notable for its changing landscape, from orchards and vineyards, to oak forests, scrubland, and pine plantations. It winds its way up Cerro do Bicudo, and offers views over the Odeleite River, which is also known as the "Blue Dragon River" because of its serpentine curves and deep blue colour.
The trail is not to be confused with the Don Quixote Route, which passes through 148 Spanish towns in honour of the eponymous novel by Miguel de Cervantes. The Algarvian version may not be as grand, but at 17km (10.5 mi), it offers more than enough for a day hike.
How to get there: When you reach Cachopo, take the turn to Tavira. After 1km (0.6 mi), look for a sign on the left to Casas Baixas. The trail starts at the Discovery Centre in this village.
6. Venta Moinhos Wetlands Trail
Region: Castro Marim, Guadiana
Distance: 7km (4 mi) round trip
Average duration: 2hr
Best for: Wetland fauna
This trail in the Castro Marim Nature Reserve follows the Guadiana River, passing saltmarsh, saltpans, arable farmland, and freshwater, brackish, and saltwater lagoons.
Relatively rare species of birds may make an appearance, often in large numbers — among them, spoonbills, avocets, white storks, and black-winged stilts.
Aquatic fauna — fish, crustaceans, and molluscs — are also present in large numbers, making the reserve one of the Algarve's most diverse protected areas.
How to get there: Leave the A22 motorway in the direction of Alcoutim. At the next crossroads at Monte Francisco, turn right to the Interpretation Centre of the Castro Marim and Vila Real de Santo António Wetlands Nature Reserve (RNSCMVRSA). The trail starts at this crossroads.
Header image courtesy Jerome B.
Getting There
G Adventures runs a number of departures in Portugal encompassing a wide range of departure dates and activities to cater to different tastes. We're thrilled at the prospect of showing you this big blue planet of ours — check out our small group trips here.