Spices piled into high triangles. Sands shifting on the Sahara. Piping hot and frothy mint tea. Morocco welcomes all travellers with alluring sensory experiences and warm hospitality at every turn. Whole cities are painted blue, tasty morsels steam bake in earthenware pots, and fluffy camels bleat as they traverse the desert. It's an intoxicating place and we've gathered our favourite flavours, scented tendrils and sensations it has to offer.
Things to see
Cheerful blue Chefchaouen: In a charming hillside town in northern Morocco, you'll find yourself surrounded by calming shades of blue. Turquoise! Indigo! Periwinkle! Name a shade and you'll find it in the labyrinth of narrow alleyways filled with market stalls, cafes and cats. So many cats. It's a place where you'll be hard-pressed to put your camera down as every turn brings another blue-rinsed photo opp. Mind your manners though when it comes to the local people and ask first before taking pictures. Also, don't miss the perfect overlook and sunset spot by taking a 45-minute hike to the Spanish Mosque perched on the hilltop.
Gorgeous Todra Gorge: Imagine standing in a narrow gap where the sheer limestone cliffs on either side of you reach more than 500 feet above your head. Carved by the Todra and Dades rivers, the resulting canyon makes for a spectacular hiking path. Situated in the High Atlas mountains, prepare for dramatic shifts of colour and texture from smooth orange rock to brilliant green palm groves nestled in the valleys. Plus, a river still runs through it from a light trickle in the dry season to a raging torrent in the wet.
Well-preserved Volubilis: Smack dab in the middle of a fertile plain, you'll find what remains of an ancient Roman city. Volubilis is one of Morocco's best-preserved Roman ruins which is impressive considering its long abandonment and much of it toppling in an 18th-century earthquake. Thanks to extensive excavations, you can roam the site to find ancient but sophisticated remnants like olive presses, underfloor heated thermal baths and entertaining mosaics. The latter are preserved in situ and depict everything from Orpheus charming sea creatures with a lute to Bacchus riding a panther-drawn chariot. As for real wildlife, from September to March you can find massive storks nesting atop the Roman columns.
Things to taste
Moroccan mint tea: In a country where few people drink alcohol, mint tea is the social beverage of choice. A piping hot cup is offered to welcome visitors at any time of day and meant to be savoured. The ingredients vary from region and by season and can include additions like a punch of lemon verbena, thyme, lemongrass and even dried flowers. And, of course, there is an art to the pour. While the green tea leaves brew, the liquid is poured from a height between the pot and the glass until foam appears. No foam? The tea's not done. It's all about kicking back and enjoying the company of others so enjoy the wait.
Towers of tagine: For starters, tagine is both the name of the conical cooking vessel and the resulting dish. The bakeware is made of ceramic or unglazed clay, the latter of which adds an earthy flavour to your food. While the ingredients are pretty varied, layering is key. It starts with a bed of onions so that the meat, vegetables, herbs, spices and oil can be layered on top. Just add water and heat, and the magical cone does the rest to serve up a tasty and moist dish to enjoy communally. Making and eating tajine is such a big part of Moroccan life and culture that we highly recommend taking a cooking class as part of your visit. You'll have the time of your life and your taste buds will sing with praise.
Heaps of harissa dip: Speaking of taste sensations, this spicy, smoky, peppery chile paste is one of those flavour combos that you'll crave constantly after trying a particularly good batch. It's a cornerstone of North African cooking and used to kick up everything from chicken to scrambled eggs to yogurt dips. Specific ingredients in the beloved condiment vary widely as does the heat level so try a bit first. If it's on the far end of the spectrum, a little goes a long way!
Things to smell
Good smells: Nothing rocks your olfactory senses (in a good way!) like the colourful pyramids of herbs and spices found in the souks. Wade through heady wafts of cooking spices like cumin, ginger, turmeric, cinnamon and saffron as well as every kind of leaf, bark, petal and oil. At Djema el-Fna in Marrakech, you can also catch whiffs of fresh citrus from the orange juice vendors. Haggling is expected at all markets and what better way to try your hand at it than on some aromatic souvenirs. One note of etiquette: it's considered rude to walk away from a best offer so only haggle if you intend to buy.
Bad smells: Nothing rocks your olfactory senses (in a bad way!) like the colourful but pungent leather tanneries in Fes. At Chouara, the city's largest and oldest tannery, you'll find your nose in want of a mint sprig so that you can take in the traditional process on the terrace above. From this perspective, you'll find a painter's palette of stone pots filled with natural dyes made from poppies, pomegranate, indigo, henna, mint and saffron.
But where does the stink come from? Poop, mostly! The less colourful vats are filled with mixtures of pigeon poop, cow urine, quicklime and water to break down and soften the hides. At the end of the rank process, buttery soft leather appears that gets turned into babouche (Moroccan slippers), poufs, wallets and bags.
Things to hear
Hypnotic Gnaoua music: In a tiny village on the edge of Erg Chebbi sand dunes, a spiritual wonder for your ears and heart awaits. Most travellers stop nearby in Merzouga for sandboarding and thrilling 4x4 runs over the Sahara — and why wouldn't you? But press on another seven kilometres to Khamlia, a town of less than 300 residents, and you can feel moved by traditional Gnaoua rhythms.
Gnaoua (or Gnawa) is at once the name for the ethnic group of people originally taken from sub-Saharan Africa as slaves, a mystic spiritual order of Islam and the low-toned music style. The sound is an entrancing combination of castanets known as krakebs, call-and-response singing, plucked strings and large drums. Once marginalized, Gnaoua people eventually integrated into Moroccan culture and their music is celebrated with annual festivals. A few different groups like Pigeons du Sable and Bambara, live and play in Khamlia and welcome travellers with healing song and dance.
Tree goats: You like trees. You like goats. What if there was a place you could find goats bleating from lofty branches? Believe it or not, that place exists in the Souss Valley of Morocco. While it's true that goats are natural climbers, they're drawn to greater heights each June by ripening Argan fruit. The thorny Argania trees hang heavy with cloven-hooved ornaments that clear the fruit and poop seeds to the ground below. As an added benefit, those seeds can be pressed for highly-prized Argan oil. It's the circle of life!
Quick animal welfare note: give a hard pass to any gathering where the goats are tethered and/or a shepherd waits below to take your picture for a fee. This is likely staged for tourists.
Call to prayer: Starting at dawn and four more times after that, the muezzin (the chosen call leader at each mosque) audibly reminds the Islamic faithful to pray. Called Adhan in Arabic, the chanted prayers amplify from the minaret loudspeakers and start to echo and overlap from all of the mosques in the area. The sound is beautiful and moving especially as you reflect on the day's adventures.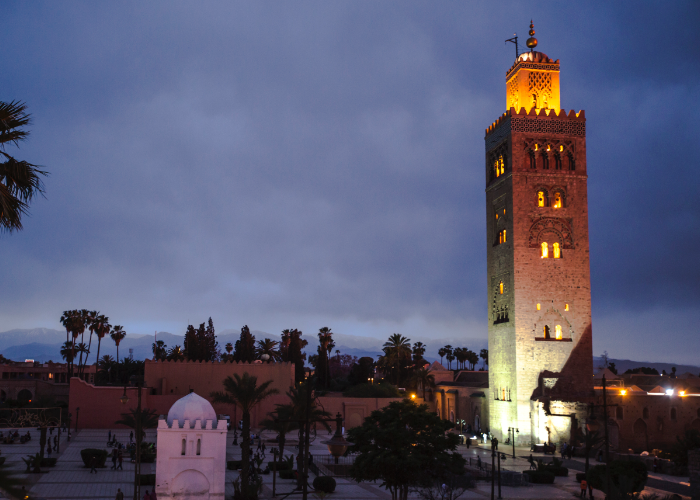 Things to feel
Scrubbed clean: Visiting a traditional hammam, or bathhouse, tops the list for many adventurous travellers to Morocco. After energetic days spent wandering medinas and deserts, the appeal of a pampering steam and spa day looms large. But brace yourself for the optional assisted scrub and prepare to say goodbye to a few layers of skin. Learning the Arabic phrase for "not so hard" (it's bshwiya) comes in handy as the attendant twists you into a pretzel and scrubs you down with black soap and a kessa (scrub mitt). By all accounts the experience is invigorating but can test your flexibility and pain tolerance. Aside from that, the communal bath is a friendly gathering place to chat with local people of the same gender as public hammams are not mixed.
Amazigh hospitality: Warm welcomes are part of Moroccan culture and its diverse range of people. In particular, the indigenous Amazigh people (also known as Berber but that name is tending to fall out of favour) are famous for their generous hospitality. Much like the Moroccan mint tea you'll undoubtedly be served, Amazigh is an ancient culture that's steeped in pride and tradition. About 18 - 20 million Moroccans are Imazighen, including most of the hosts at tented camps in the Sahara or those leading a nomadic farming lifestyle in the High Atlas mountains like their ancestors.
---
Getting There
Ready to feast all five senses with a tour of Morocco? Here are a couple that get to you to a bunch of the experiences mentioned above:
Highlights of Morocco
National Geographic Journeys Morocco Journey