Bangkok is a fascinating, cosmopolitan city with a rich fusion of old and new. It's also a great place to for market shopping. Here are five must-visit stops, each with their own vibe and offerings.
Chatuchak Weekend Market
We'll start with the grandaddy of them all: Chatuchak is the world's largest weekend market, and one of the most famous in Asia. Held every Saturday and Sunday, the massive labyrinth is divided into loosely organized sections for clothing, housewares, pottery and china, artisan crafts, musical instruments, modern art, and antiques. There are covered restaurant stalls and tables, as well as endless drink and snack carts. This is a fantastic place to pick up original works of art at bargain-basement prices, and you'll likely get to meet the artist in the process. chatuchakmarket.org
JJ Green Night Market
If you're a night owl or want to check out the local Thai hipster scene, don't miss the JJ Green Market. It's right next to Chatuchak and open until at least 10 p.m. every night. During the daytime, it seems like any other outdoor market, but after the sun goes down, JJ attracts an eclectic crowd. In addition to stalls selling vintage items, refurbished bicycles, and youthful clothing, there is also live music, plenty of food, and hip bars (check out Stair By Me or Clock Tower). A tip on haggling: To get the best price, make a counter-offer to the quoted price that is about half of what you're willing to pay; your final price will usually end up being somewhere in the middle. facebook.com/jjgreen59
Amphawa Floating Market
There are a number of boat-based markets in and around Bangkok, so finding "the floating market" can be confusing. The most well-known is Damnoen Saduak; however, its popularity means that most of what's sold is designed for tourists. Amphawa is a far more interesting experience. It's also very picturesque, with boats where vendors sell flowers, artisan wares, food (be sure to sample the grilled seafood), and other items set among the cute wooden houses that line the canals. Across the river is a giant tree that covers a fascinating little temple. This market is about 90km (56 mi) outside of Bangkok, so your visit should be planned as a half-day trip (mid-morning visits are best, as this market gets very crowded in the afternoon). The best way to get here is to hire a longtail boat. wikitravel.org/en/Amphawa
Chinatown
Like many Chinatowns, this one is sprawling. It encompasses dozens of square blocks full of food and tiny shops where you can buy everything from Chinese herbs with reputed healing powers to kitschy plastic trinkets. There are also some cool temples and historic buildings tucked into the alleyways. Don't miss Soi Texas, a lively seafood stall that opens in the late afternoon. bangkokforvisitors.com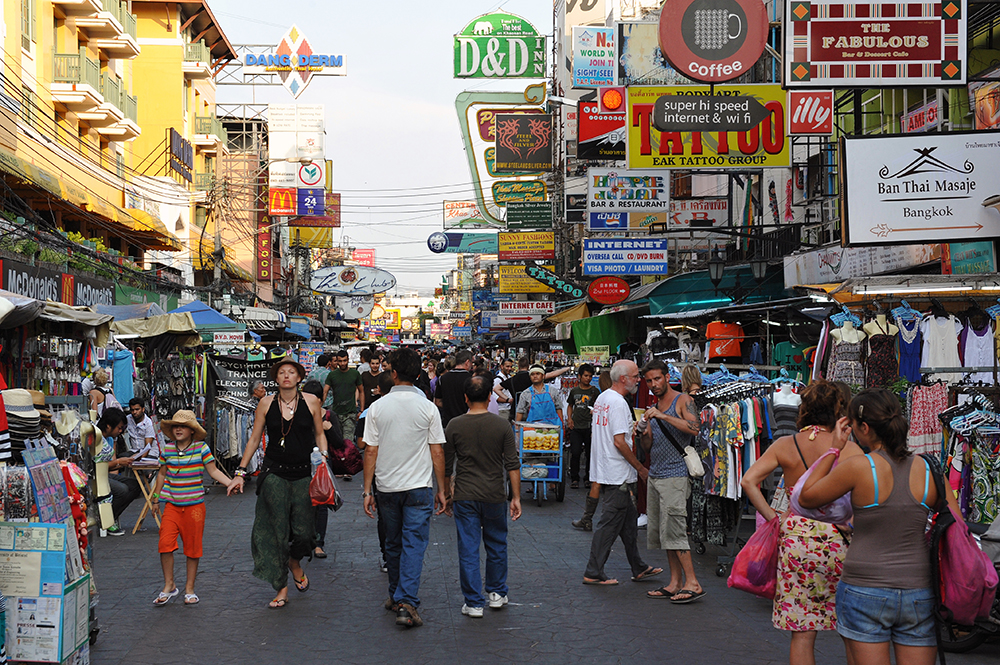 Khao San Road
This was a hippie backpacker haven for Western tourists in the 1960s and '70s; nowadays, it's a bit more tourist-focused, but is worth a visit, nevertheless There are plenty of traveller-friendly services such as Internet cafes, tourist offices, and inexpensive guesthouses in this area, as well as a few nightlife spots for those seeking more of a party scene. That said, this is not the place to go if you want to experience something uniquely Thai, as you are not likely to meet many locals except those working there. wikitravel.org/en/Bangkok/Khao_San_Road
---
Getting there
Ready to visit Bangkok's amazing markets? G Adventures can get you there. We offer a number of trips to Thailand comprising a wide variety of travel styles. Check out our small group tours in Thailand here.