Colombia calling? We've got the answer! Win a trip for two on our Colombia Express tour (round-trip airfare included) courtesy of our friends at PROCOLOMBIA and Avianca. And that's not all! To celebrate, we're offering 15% off all small group tours to Colombia for a limited time! Click here to win your way or book your adventure today!
Colombia boasts a mix of wildlife, geography, and history quite unlike any other in South America. And travellers from around the world are beginning to take notice. It's no wonder. The country is, after all, ripe for discovery, and there's a little of everything here: green valleys, golden beaches, snow-capped mountains, colonial fortresses and of course, Bogotá's frenetic energy.
In honour of Colombia's inexhaustible ability to delight and surprise, here are a few things you likely didn't know about South America's best-kept secret. And with more and more travellers discovering this place year after year, they're not likely to remain unknown for much longer.
1. More life per square inch
With a diversity of climates and biomes that would be hard to find even in countries five times its size, Colombia is considered megadiverse. Stretching from the Pacific Ocean to the Caribbean Sea, the country covers less than 1% of the world's land, yet ranks as the second-most biodiverse, hosting close to 10% of the Earth's plant and animal species. It's home to the most endemic species of butterflies, the most orchid species, the most amphibian species, and more varieties of bird than all of Europe and North America combined.
2. From swimsuits to snow boots
Not many would expect snow-capped mountains to be visible from Colombia's Caribbean Coast, but Colombia's unique topography and position on the equator afford it a diversity of climates, from tropical rainforests, to savannas, steppes, deserts and mountains. These differences contribute to how widely varied Colombian culture can be throughout the country.
3. Life's a beach
Colombia is the only country in South America that shares a coastline with both the Pacific Ocean and the Caribbean Sea. With over 3,200km (2,000 mi) of gorgeous shores, Colombia boasts more than 300 beaches, from tropical-island white-sand retreats, to coastal-city waterfronts buzzing with activity. So many options and it's still one of the less expensive places in the world to scuba dive.
4. Don't worry; be happy
With a higher life expectancy, a generally healthy work-life balance, and a moderate ecological footprint, Colombia took first place in both 2013 and 2014 for the "Global Barometer of Hope and Happiness," and consistently ranks as one of the happiest countries in the world. Why are Colombians so happy? They know how to celebrate, enjoying the second-highest number of national holidays in the world.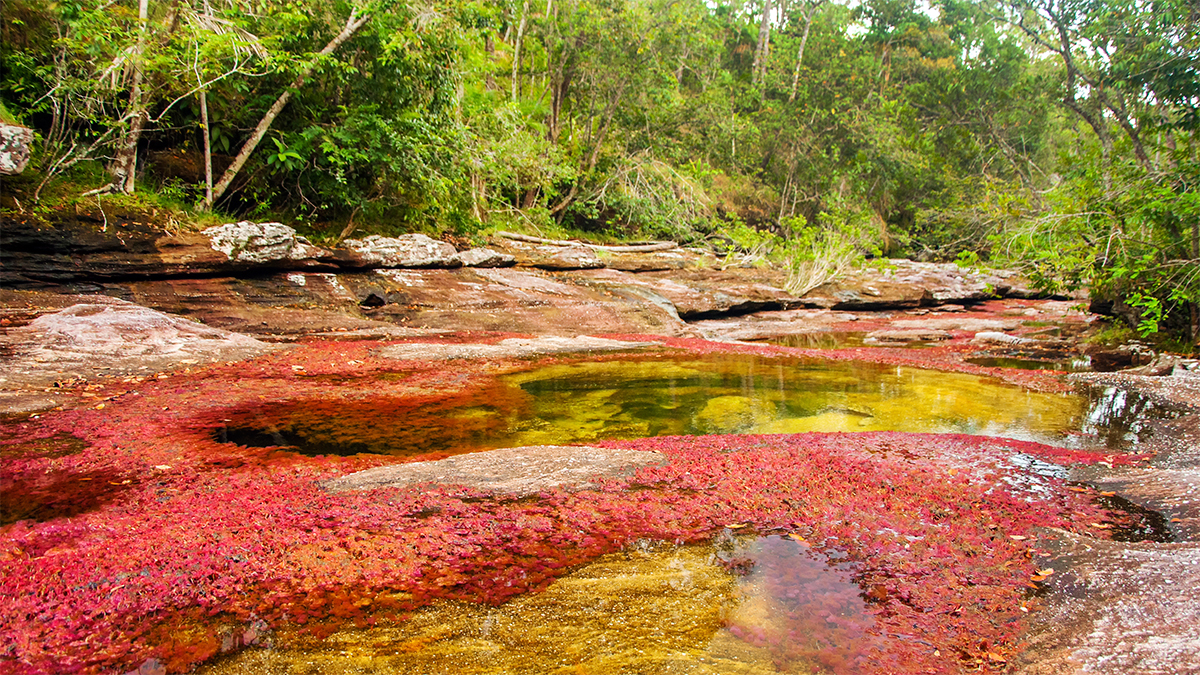 5. Heaven on Earth
For a few weeks from September to November, people flock to Caño Cristales to watch it transform into something magical. During this period, moss, coral, and other aquatic plants turn different colours just under the surface of the river, and a veritable kaleidoscope blooms. One view and you'll realize why people love coming here.
6. A world waiting to be unpeeled
Colombia produces a huge variety of delicious and downright strange-looking fruit. You've probably heard of papaya and mango, but how about maracuyá, granadilla, lulo or chontaduro? Whether sweet, tangy, sour, sticky, or juicy, there's a whole delicious world waiting to be unpeeled in Colombia. Fruit and juice stands are almost everywhere, especially on the Caribbean coast. So have at it!
Getting There
Soaring summits, unspoiled Caribbean coast, enigmatic Amazon jungle, and cobbled colonial communities. After all, Colombia is magical realism and we're thrilled at the prospect of showing you the country that inspired a nobel laureate! Check out our small group trips to Colombia here.