It assails you from the moment you first arrive: a never-ending cacophony of smells and sounds that serve as the constant backdrop for travel through India. The smell changes without warning, from spices and curries to diesel fuel and back again. The sounds blend together, like a soundtrack with hundreds of instruments all playing out of tune, from chai-walla vendors hawking India's famous drink to the bleating of car horns and the ceaseless roar of jet planes passing overhead.
India can be overwhelming, even for experienced travellers. Nothing quite prepares you for the chaos of Kolkata's massive Howrah Station, which was recently introduced into the public consciousness as the place where young Saroo Brierley becomes lost in the autobiographical movie (and book upon which it was based), Lion. Yes, you think, as your gaze pans around the station with hundreds of people, little direction and almost no signage, I'd be lost in here, too.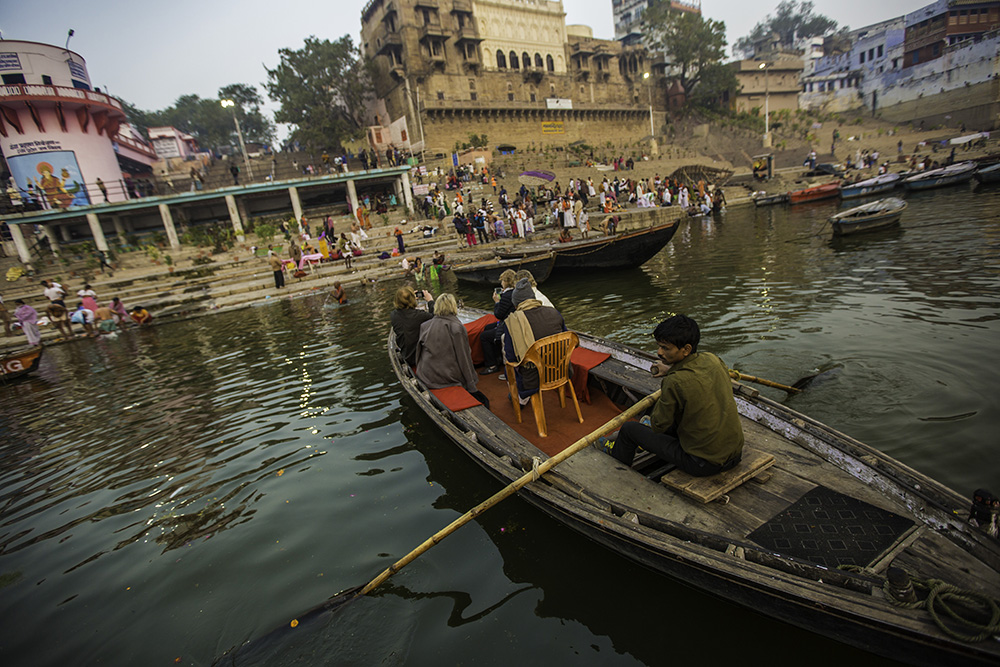 Given that chaos generally reigns supreme in overland travel through India, it might come as a surprise that a river cruise down India's famous Ganges River is the exact opposite. It's calm. It runs at a slower pace. And over the course of a week (or two), you can visit some of India's true hidden gems; sites that would be difficult — if not impossible — to reach independently. Most Ganges river cruises begin in Kolkata, perhaps better known as Calcutta, the name it held up until 2001. Under the British Raj, it was the capital of India until 1911, when that designation was given to New Delhi. Today, it is a bustling metropolis in various stages of progress, from brand-new five-star hotels to slums along the Hooghly River.
Sailing the Ganges and its tributaries, Kolkata is the first — and last — big city that you'll encounter. For the most part, small villages and townships form the bulk of the Ganges river cruise experience, and this is where you'll encounter India at its most charming.
Take, for example, Murshidabad. Home to the traditional Nawabs of Bengal, the city (if it can be called that; it's actually a rather small town) is where you'll find the fantastic Hazarduari Palace, which dates back to 1829 and stands as an excellent example of colonial-era architecture.
Murshidabad is also home to the Katra Mosque. Built in just one year, between 1723 and 1724, it serves as both the mosque and the tomb of Nawab Murshid Quli Khan, the first Nawab of Bengal, who ruled between 1717 and 1727. Ravaged by time, neglect, and a massive earthquake in 1897 that caused many of the mosque's five domes to collapse, this grand, reddish structure is a photographer's dream.
You probably haven't heard of either of those monuments — and that's part of the river cruise's appeal. Many of the townships and sights that are visited on a trip down the Ganges are so small and off-the-beaten path that they seldom appear in guidebooks. If they do, a particular monument might warrant a paragraph, at best.
If you travel solo, you'd have to know someone who has been to many of these places in order to find them. Getting here overland — using the country's legendary rail system — would be time consuming and frustrating. On a river cruise, you merely have to float along, letting the ship (and its crew) take you to the next day's adventures.
India's greatest gem is its people. Nowhere is this more apparent than in the smallest of towns and villages; the ones where women sit stooped on the ground, making cow dung into large, circular patties that are affixed to the sides of their simple dwellings, and kept for later use as fuel for cooking. The towns where men work, barefoot, in brass manufactories that are so choked with heat that you can't help but step out to take a breath in: Five minutes here, watching the clocklike procession of their work, makes you sweat uncontrollably.
And everywhere you'll go, children will run up to you, practicing their English. Teenagers will want to take selfies with you, to show their friends on Facebook — tourists are still rare enough to be novel.
These are moments that cannot be found in the big city. They're the moments you find off the beaten path, on a river cruise down the waterway that everyone affectionately calls Mother Ganges.
---
Getting there
Our India River Cruising tours will get you up close and personal with the Ganges, and all of the beautiful, unique towns and villages that line its banks. We're excited at the prospect of giving you a completely unique perspective — and incredible view — of India. Click here to check out our India River Cruising tours.