Flying through the air in the rainforest, your heart is pumping as you hear the whizzing sound of the zip line cable above your head, and see flashes of the jungle zooming quickly past. As you come in toward the platform and your feet land again on solid ground, you can't keep the grin from spreading across your face.
This thrilling adventure is just one of many adrenaline rushes to be had in the lush and lovely Central American country of Costa Rica. We've put together a round-up of some of the most exciting activities to try during your time there.
1. Zip Lining
There's no better place for this fast and high sport than Costa Rica. Whether through the canopy of one of the abundant rainforests, or the cloud forest of a volcano such as Monteverde or Arenal, zip lining gives you a birds-eye view from as far as 425m (1,400 ft) above the ground.
Some zip-line tours begin with an open-air gondola ride to the top of the forest, offering sweeping views at a slower pace. A series of platforms with cables connecting them whisk zip liners down, and the trails and hanging bridges in between offer more moments to appreciate the natural beauty of Costa Rica. Some adventures, such as the one at Monteverde, also feature other excitements like a free Tarzan swing and a bungee jump option.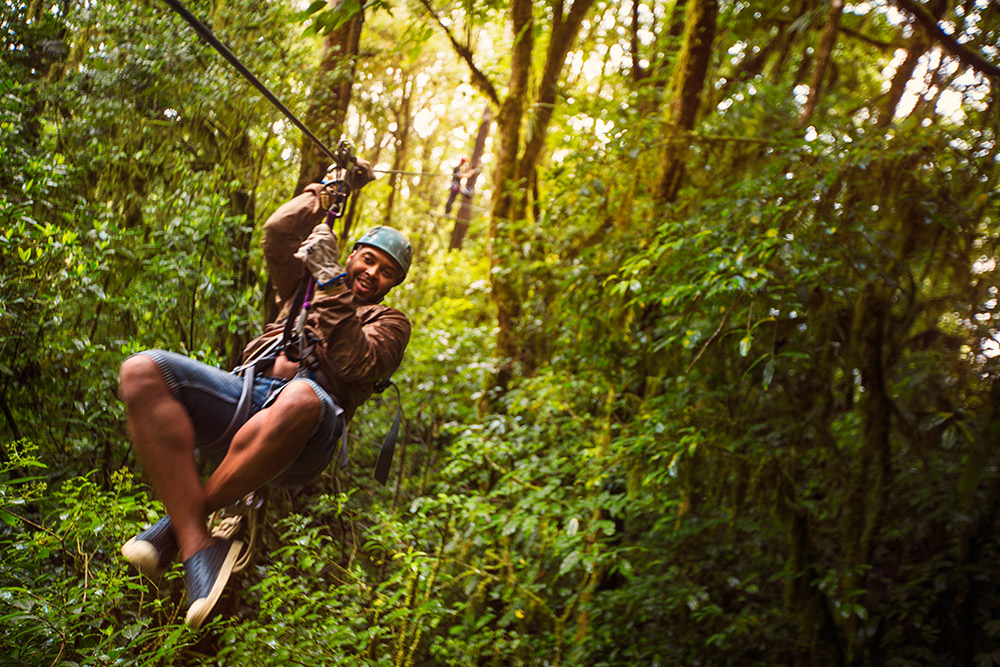 2. Bungee jumping
There's nothing quite like leaping off a tall structure into freefall for getting your adrenaline racing. Bungee jumping is a popular activity in Costa Rica; the country was in fact named one of the 10 best bungee jumping sites in the world. It is home to Latin America's highest jump site — Extremo Park in Monteverde — which has also been called Costa Rica's most terrifying adventure.
Jumpers leap (after being strapped into the gear, of course) from a platform suspended 142m (469 ft) in the air above a river, nearly disappearing in the cloud forest. The platform is reached via an aerial tram that takes adventure seekers up, which is itself a joyride thanks to its see-through floor. Here you can also take the zip-line tour or ride the Tarzan swing — if you survive the bungee jump, that is.
3. Canyoning
Have you ever imagined yourself scaling a steep cliff face? Well, if you go canyoning in Costa Rica, you can make it an attainable goal, with experienced canyoneers and all the best gear. Canyoning is a mixture of abseiling down waterfalls and hiking in jungle-filled slot canyons. Participants rappel along rock walls and rushing waterfalls with a controlled descent; and sometimes there is a zip line or rafting available as well.
It's a wonderful journey of discovery, offering an inside glimpse inside the tropical waterfalls and massive trees in these magical places. This is definitely a wet adventure, so plan to bring a change of clothes. Canyoning is best suited for children over age 12 and people in good physical condition.
4. Diving with sharks
As is the case with most tropical destinations with plenty of coastline, scuba diving is a big draw here. There are many places to dive around the country; but if you want to take it a notch up the adrenaline belt, try spending time underwater with some of the most intimidating and fascinating creatures of the sea.
From Cocos Island to the Catalina Islands, there are several places — and ways — to dive with sharks. In the remote Cocos, where large numbers of the mild-mannered hammerhead shark live, you can participate in this awe-inspiring spectacle in a three-person submersible unit. A walk-on, walk-off acrylic capsule allows each passenger to view the sharks up close, in a fully protected environment.
If you don't want to go as far as the Cocos, the Catalinas are just off the Guanacaste coast, and are one of the most beautiful spots to dive in Costa Rica thanks in part to their breathtaking indigo waters. In addition to sharks, "The Cats" islands are home to the Pacific Giant manta ray.
Getting There
G Adventures runs a number of departures in Costa Rica encompassing a wide range of departure dates and activities to cater to different tastes. We're thrilled at the prospect of showing you this big blue planet of ours — check out our small group trips here.