All photos courtesy of Polkadot Passport.
Crowded beaches, luxury resorts, and wild full-moon parties … Before I had travelled to Thailand, these were the first things that would come to mind when I pictured the Southeast Asian hotspot. When the opportunity finally came to visit, I was determined to see more of Thailand than that. So instead of reclining on the beaches of Phuket or partying it up in Bangkok, I headed to Thailand's north.
My adventure started in Chiang Mai, Thailand's northern capital. My first mission: finding a local street vendor selling Phad Thai. This didn't take long, since Chiang Mai's famous Saturday night street markets were happening on the doorstep of our hotel. After devouring steaming plate of noodles, followed by Thailand's most loved dessert, mango sticky rice, I meandered through the many market stalls, admiring the colourful trinkets and handmade goodies on offer. It wasn't long before the jetlag began to hit, and I figured a good night's sleep was very much in order.
I woke up the next morning at the crack of dawn, chucked on my hiking boots and swung my backpack onto my back. It was time for the real adventure to begin! I was off on a three-day journey through the northern hills, trekking to remote hill tribe villages to experience what life in Thailand is like away from the hustle and bustle of the city.
The trailhead was a four-hour drive from Chiang Mai, and those four hours were filled with twists and turns as we made our way up through the winding mountains. Once we finally arrived at the trailhead, we met, Ramsay, our guide, who would be leading us through the hills over the next few days.
From the moment we began the hike, I sensed that the next few days of trekking were going to come with their challenges. The trail itself wasn't overly difficult, but the conditions were extreme, with temperatures hovering around the 36 degrees Celsius (97 degrees Fahrenheit) mark. After our first two hours of walking through exposed farmland and dry teak forests with the sun beating on our backs, we were all pretty beat.
Luckily, at this point, we reached a clearing. Here, we were greeted with two wonderful sights: in one direction, we overlooked a series of dramatic, tree-covered cliffs; in the other, there was a little bamboo hut where we'd be breaking for lunch. We tucked into a delicious feast of pumpkin curry, omelettes, rice, and fresh papaya that had been picked off nearby trees.
After lunch, we continued through valleys and desolate rice fields for another few hours before we arrived at the village of the Lahu tribe, where we'd be sleeping. We were welcomed into the village by the locals with ice-cold water and more fresh papaya, before being shown to our homestay.
The next morning, we were woken bright and early by a loud and very persistent alarm clock. By bright and early, I mean 4 a.m., and by alarm clock, I mean several roosters. The early wakeup call did mean we were up for a stunning sunrise; then, after a breakfast of potatoes soaked in fresh coconut milk and rice, we set off for our second day of trekking.
Our trek took us into dense forest, and being under a shaded canopy made the walk a lot more bearable than the previous day. During our walk, Ramsay gave us a crash course on survival in the bush: He showed us various plant-based foods and medicines, including the bark of a tree that is said to cure malaria, demonstrated how to make an air gun, and gave us tips on how to start up a fire. To be honest, I think he could give Bear Grylls a good run for his money. We had lunch perched upon a rock overlooking a little waterhole, which we jumped into shortly after our feed. Although it wasn't exactly an idyllic swim spot (I think it consisted of more fish than water), it was a very welcome cool down.
We eventually made it to our second village, the village of the White Karen people. Our visit happened to fall around the Thai New Year, which meant that evening we were invited by our host family to take part in a very special ceremony for which the whole family dressed up in traditional clothing and came together for a feast. Earlier on in the day, the families in the village had each killed a pig (I was glad I wasn't around to witness this), and this was served at dinnertime. Alongside the pork, homebrewed rice whiskey was also handed around and sipped by everyone. After dinner, a small ritual took place, where the elders would tie string around the wrists of the younger members of the family to signify good luck for the new year. We were then invited to take part in the ritual, and the elders of the family also tied string around our wrists. It was a truly moving experience.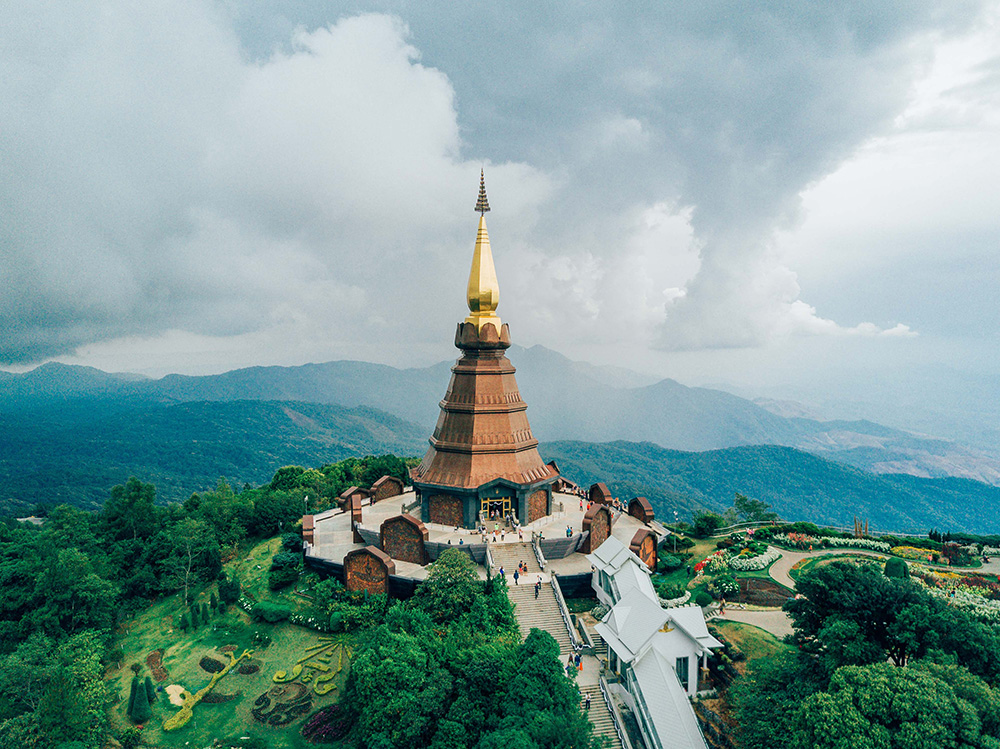 The next morning, we said goodbye to the White Karen village and set off for our final day of hiking. We walked for a couple of hours along a winding river, encountering serval water buffalo along the way. At the end of the trail, we hopped into a waiting van, relieved that we had all survived three days of trekking through the heat.
But the adventure was not yet over — we had one last stop before making our way back to Chiang Mai: Tham Lot Cave, which at 1,666m (5,466 ft) in length, is one of Thailand's most impressive cave systems. A local guide came to meet us and, guided by her gas lantern, we ventured into the pitch blackness of the cave. For the next two hours, we made our way up bamboo steps and ducked around stalactites and stalagmites. The Nam Lang River flowed through the cave's centre; halfway through our journey through the cave, we boarded a bamboo raft and floated down the river.
As I arrived back at my hotel room in Chiang Mai, I was still buzzing from what I had experienced over the past three days. Whether it was the rugged mountains and lush countryside, the mouth-watering cuisine or the relaxed and welcoming locals whom I met along the way, Northern Thailand managed to steal a piece of my heart. In fact, I'm already plotting my return.
---
Getting there
Think you're up for a trek through Thailand? G Adventures can get you there. Our small group tours through Thailand — including our Northern Thailand Hill Tribes trek — comprise a wide variety of travel styles to suit any taste. We're excited at the prospect of showing you more of this big, beautiful planet — check out our small group tours to Thailand here.