Though it's a great reason to go, Johannesburg isn't just the city you fly into before heading off on a wildlife safari. This former mining town, known as the City of Gold, is brimming with experiences that we've highlighted for you in this full (but fun!) one day itinerary. Let's get started with our suggestions for what you could do before, after, or during your South African adventure.
Morning
Johannesburg is a destination that you can visit year-round, but we highly recommend going in the springtime (September to November) so as to not miss the Jacaranda trees in bloom. As a city described as one of the world's largest urban forests, the purple flowers that cover Joburg are pretty spectacular.
Head over to Melrose or Rosebank neighbourhoods to wander through the neon canopies, or make your way to Observatory Ridge in Houghton, which is the highest point in the city that grants you a perfect view of the Jacarandas in bloom.
Next, get yourself to the Maboneng Precinct (which means "Place of Light") and into the Living Room for brunch. Nope, this isn't where you binge the latest Netflix special in your sweatpants while eating leftover cold pizza. This outdoor plant-filled rooftop cafe is a true urban oasis. Their menu is vast and you may have trouble deciding between the Egg a La Living Room and the Herbivore/Omnivore/Carnivore platters, but we say get 'em all! You're on vacation. Enjoy the majestic cityscape while chowing down. FYI: this space hosts plenty of events so check that they're open to the public before you go.
---
Afternoon
It's time to make your way over to Constitution Hill. The site of the former prison and military fort where Nelson Mandela, Mahatma Gandhi, Fatima Meer, and thousands of others were incarcerated. Dating back to 1893, learn all about South Africa's journey from colonialism and apartheid to democracy. With multiple types of guided tours available you can book your ticket in advance online.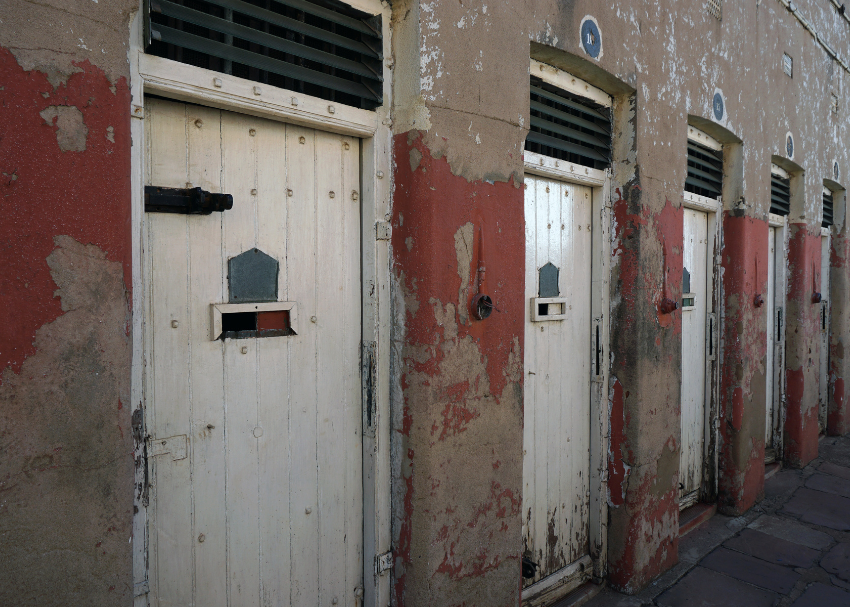 If you're looking to continue immersing yourself in history, take time to visit the Apartheid Museum in Ormonde. With a combination of film, photos, texts, and artifacts, it's an emotional journey from race classification to the new constitution. Get tickets for only R150 per person (approximately $8 USD).
---
Evening
It's time to unwind a bit so head over to 44 Stanley in Milpark, a garden courtyard with independent boutiques and restaurants. Get there a bit early so you have time to wander the art, gift, and clothing shops before they close. While you may not be able to bring home that Zigzag cactus from JFF Plant Shop, there's no real harm in looking.
Good news though, it's time to eat. Grab a table at Peachy, and yes, it's as cute as it sounds. Fill up on vegan and meat sliders, cheesy dip, peachy salad, and halloumi fries. Are you drooling yet? If you fancy a cocktail, just wait until you see their drinks menu: Peach Mojito, Old Money Sours, The Flamingo 2009, just to name a few. There's fruity mocktails plus all the classic brews you could want.
If you're not yet collapsing from exhaustion, cross the courtyard and get yourself to The Bioscope. An independent cinema for the past 12 years, they support locally made films and host stand-up comedy, live music, and special talks. If you're lucky, you might be in town for one of their special signature events like Ugly Cry Night.
What a day! There's still tons more to see and do, so if you have an extra few days consider visiting the Cradle of Humankind where the first hominid fossil was discovered in 1924 or take a day trip to Pretoria, the administrative capital of South Africa and home to lots more jacaranda trees.
If that's not enough, you can explore the Johannesburg Art Gallery, enjoy the Walter Sisulu National Botanical Gardens, or hop on a rollercoaster at Gold Reef City Theme Park.
As for getting around, Uber is widely used in South Africa and can be more reliable than taxis. If you opt for the latter, try booking a dependable service through your hotel. Johannesburg is waiting to welcome you with open arms so now all you have to do is go!
---
Getting there
Ready to fill your eyes with purple blooms and your belly with braai? Here's some of our top tours that start, end, or include a stop in Johannesburg:
Kruger in Depth Explore Southern Africa
Southern Africa Encompassed: Bush Camps & Wildlife Spotting
Nairobi to Joburg Overland: Craters & Camping
Cape Town, Kruger & Zimbabwe