Montreal is the largest city in Quebec. It's partly French-speaking and has always been a popular place for Canadians and global travellers alike to visit. Known for its colourful residents, delicious food, festivals, concerts, microbreweries, charm and more, it is like a small step into modern-day Europe. If you are planning a visit yet only have a small amount of time to see, eat and do everything, here is a list for how to experience Montreal in 48 hours.
The first 24 hours
EAT. Arriving in the city around midday, there is no time to waste. Montreal is known for being the home to several famous foods and it's best to get a start on tackling them before you run out of time. Your first stop should be Schwartz's Deli. Don't be alarmed if there is a line going out the door; it's for good reason. Opened in 1928 Schwartz's is the most famous Montreal smoked-meat deli restaurant in the world. They have also been credited with creating Montreal steak spice. Grab a medium-fat smoked meat sandwich on rye with mustard and a pickle on the side and enjoy.
VISIT: the Montreal Biodome. The Biodome was originally built as a Velodrome to host the track cycling and judo competitions of the 1976 Olympics. By 1992 it was transformed into the Biodome that it is today, allowing visitors to walk around and explore four different examples of ecosystems found in the Americas, full of plants, water systems, animals like penguins, and more.
DO. Get your shopping on. If you are a fan of shopping then Montreal is the place for you. The most popular place to shop in the city is along Sainte-Catherine Street (rue Sainte-Catherine), and it is said to be the busiest shopping street in eastern Canada. This area is also a popular spot for nightlife with many great bars, restaurants and the odd "Adult" venue here and there.
DRINK. Quebec as a whole has a popular craft beer and micro-brewing scene that is only getting bigger and better. Why not visit a place like Dieu de Ciel and sit down to enjoy a flight of beers to sample the offerings this province has on the table. EAT: There is nothing better for dinner than a nice big plate of poutine, especially if you have been out on the town having a few drinks. Poutine itself is said to have originated in Quebec City, however it is just as great in Montreal. One of the most popular places in the city to enjoy a bite of this delicious Canadian dish is at "La Banquise." If it is your first time having poutine, I highly recommend going with the original of fries, cheese curds and gravy. If you are a seasoned poutine eater then their menu might amaze you with all of the flavour combinations available.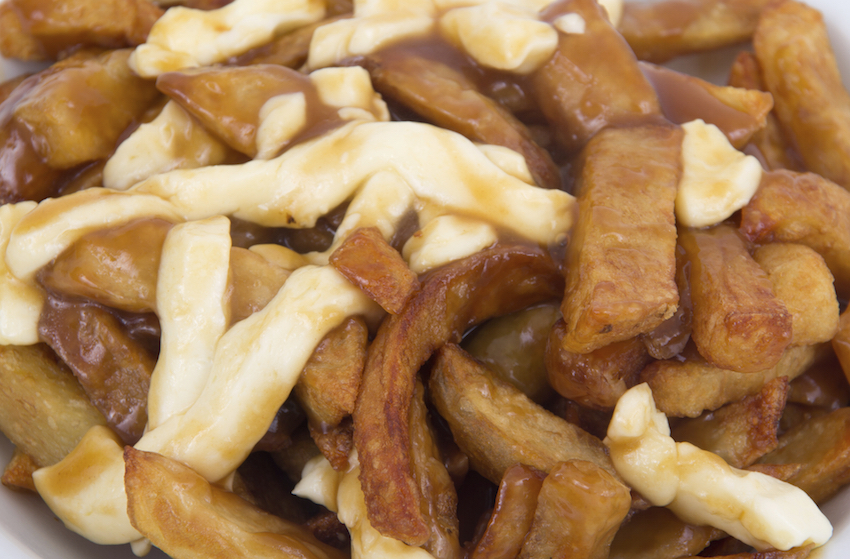 The second 24 Hours
EAT. Another food that Montreal is famous for of course is the "Montreal Bagel." Make your way to one of two rival bagel shops, St. Viateur Bagel or Fairmont Bagel, and buy yourself one or a dozen of the best bagels you will ever have in your life. You might as well visit both shops just to compare the tasty difference if you can. The Montreal bagel is smaller in comparison to say a New York bagel; it is denser, sweeter and cooked in a wood-fired oven, and it's delicious. The classic bagel to go for is the sesame, but all flavours are delicious. And if you don't get a chance to buy them here, you can also buy them at the airport to take home with you.
DO: Tam-Tams in Mount Royal Park. After your bagel-filled breakfast you might want to walk it off a bit. Take a stroll around Mount Royal Park and if it's a Sunday during the warmer months you might just happen upon the Tam-Tams near the George-Étienne Cartier Monument. The Tam-Tams is a free festival of sorts that isn't run or organized by anyone in particular. It is literally a bunch of local musicians who get together each Sunday and have a big jam session banging (tam-tam) on their drums together. They are joined by local artisans selling their wares and tons of people watch and enjoy the crowd and activities that take place, having picnics, dancing and more.
VISIT: Notre Dame Basilica. Montreal's own Notre Dame is one of the most stunning pieces of architecture in the city and its Gothic Revival design is certainly dramatic. The stained-glass windows depict the religious history of Montreal and the 7,000-pipe organ dates back to 1891. It also just happens to be one of the most popular venues for weddings in the city.
EAT: At one of the more popular restaurants in the city**. A favourite recommendation of many locals, is "Les 400 Coups". Described as a place to enjoy Québecois haute cuisine, its one-page menu has so many great offerings that your best bet might actually be to try the tasting menu so you can savour it all. From house-made rabbit tagliatelle to oysters, arctic char, duck leg, tartar and more this will definitely be one of your fancier meals in the city.
DO. Finish your quick 48-hour tour off with a stroll through charming Old Montreal and it s cobblestoned streets. Catch a street performer, grab some souvenirs and enjoy this vibrant, uniquely European city.
Is visiting Montreal on your list? What else would you recommend people see and do while visiting?
Getting There
Charmed by the thought of exploring Montreal? G Adventures' Quebec and Ontario Explorer tour will take you to the heart of this famous city. We're thrilled at the prospect of showing you this big blue planet of ours — check out our small group trips here.