Curious about the history of Russia and the Soviet Union? The Russian capital, Moscow, is the best place to unravel the layers of history that envelop this part of the world. As the founding site, and some say the very heart, of Russia, this city is a treasure trove of monuments, fortresses, churches, and museums built to remember the heroes and battles of its past. You'll need more than a week to see them all, but if you're short on time, here's a guide to a whirlwind trip around Moscow.
The First 24 Hours
VISIT: The Kremlin Let's begin at the historical and spiritual centre of Moscow, the Kremlin. This was once the focal point of the Orthodox Church and also the control centre of Russian political parties. The fortified historical district is enclosed by high walls that are 2km (1.2 mi) long and flanked by the Red Square and St Basil's Cathedral on the east, the Alexander Garden on the west, Moskva River in the south, and Borovitsky Hill in the north. The entrance ticket includes admission to all five church-museums in the Kremlin, as well as the Patriarch's Palace.
VISIT: Red Square Right outside the Kremlin's northeastern wall is this massive cobblestoned square that's also the core of historical Moscow. The 1,036km2 by 388km2 (400 sq mi by 150 sq mi) used to be the former royal citadel and is still the official residence of the President of Russia today. I recommend taking at least a day to visit all the sights on this square, which include the State Historical Museum, St Basil's Cathedral, and Lenin's Mausoleum. It's said that all major streets in Russia lead to the Red Square.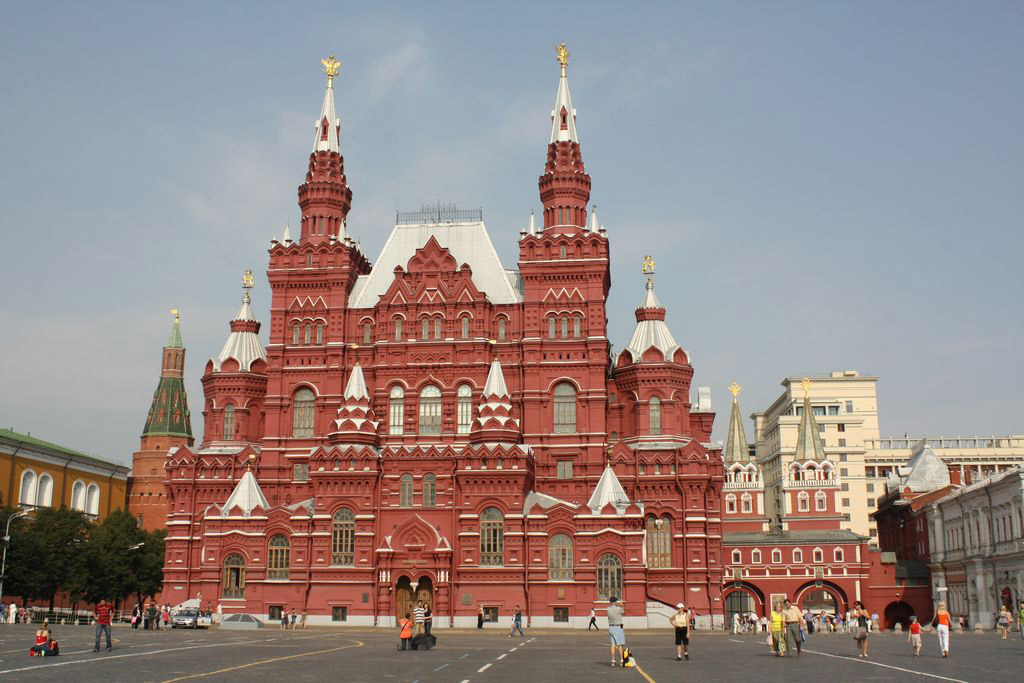 VISIT: St Basil's Cathedral The most prominent building on the Red Square (and also the icon of Moscow) is the whimsical St Basil's Cathedral, also known as the Cathedral of Vasily the Blessed. Built from 1555–1561, this world-famous landmark is now a museum that's open to the public. Take some time to admire its eclectic design — you'll notice its spirals and towers take the form of a flaming bonfire rising into the sky. There's no other building in Russia that comes close to this unique masterpiece.
EAT: Traditional Russian food Time for lunch! For a taste of authentic Russian fare close to the Red Square, I recommend heading to The Old Tower, a classic fixture in Moscow's dining scene and an all-time favourite of both locals and tourists. It's located in one of the ancient towers of the Kremlin's wall, and features windows with oak shutters, ornamental upholstery of chairs, and old photos of Russia. Don't miss the pelemeni (handmade dumplings), pancakes, and borsch.
VISIT: Stroll in Alexander Garden After you've filled your stomach, kick back and wander through the green space right next to the Kutafya tower. This was one of the first urban public parks in Moscow and it sprawls along the length of the western Kremlin wall, stretching 865m (2,837 ft) between Moscow Manege and the Kremlin. It's divided into three separate gardens: the upper garden where you'll find the tomb of a soldier and an obelisk, the middle garden that surrounds the Kutafya tower, and the lower garden that stretches to the Borovitskaya Tower.
VISIT: Lenin's Mausoleum Lenin's Mausoleum is right next to Alexander Garden, so make a beeline to pay respect to the embalmed leader, who has lain here since 1924. Lines can be long so you'll have to be patient. Photography is not allowed and try to stay silent and respectful. Outside of the mausoleum, you'll also find the burial ground of several other communist leaders such as Stalin, Brezhnev, and Dzerzhinsky.
SHOP AND ADMIRE: GUM and TSUM Across the Red Square, you'll find GUM (pronounced "goom"), one of the largest shopping stores in Moscow. If shopping isn't on your agenda, go in for a quick look anyhow just to admire the stunning building that dates back to 1890. The building also sports an impressive facade that features elements of Russian medieval architecture and a steel framework and glass roof. Across the street is TSUM (pronounced "tsoom"), which sports a similar exterior, packed with high-end retail shops.
EAT AND DRINK: Kamchatka To end the day on a different note, knock back some pints of Russian beer at Kamchatka, a cool pub located right in front of TSUM. This two-storey bar is meticulously decorated in Soviet style and its menu complements its interior perfectly. Sway to 1980s Soviet pop songs while trying some old-school Soviet fare and drinking local vodka — this place guarantees the true Russian experience.
The Next 24 Hours
VISIT: Gulag History Museum Hop on the metro system, which is an experience of its town, to get to the Gulag History Museum for a crash course in history. Founded by a well-known historian and former prisoner of Stalin's labour camps, this museum is dedicated to teaching the world about the history of the Soviet repressive policy and labour camp system. It also acts as a memorial to millions who died in concentration camps.
VISIT: Puskin Museum Art lovers will be happy to find this outstanding art museum complex, which has one of the largest foreign art collections in Russia. Pushkin Museum has more than 700,000 works of different eras from ancient Egypt and ancient Greece up to the beginning of the 21st century. The highlight is perhaps the Dutch masterpieces from the 17th century. Even if you're not an art lover, you have to come here to visit the café, which will be your next stop.
EAT: Café Pushkin Nearby is the absolutely charismatic Café Pushkin, a recreation of a 19th-century library and saloon that offers the opportunity to time travel. Its baroque-style halls are decked out in antique globes, teak book shelves, and high ceilings. For travellers who love vintage things, this will be heaven. Its food — fit for royalty — isn't cheap, but you can always just order a drink to experience its ambiance and fantastic views of Tverskoy Boulevard.
VISIT: Gorky Park To escape the busy city vibes, take a stroll in Gorky Park, which is officially named Maxim Gorky's Central Park of Culture & Leisure. The "green lungs" of the city is a popular place for locals to get active and for travellers to experience a bit of local life. Located on the bank of the Moskva River, the park is a great place to go cycling or rollerblading in summer, and ice skating in winter (the ponds freeze and become the city's biggest ice-skating rink). If you're still hungry, you can also grab a bite at one of the eateries or open-air bars in the park.
RELAX: Sanduny Banya Going to a banya (sauna) is an essential experience when in Russia. It's a traditional bathhouse where you strip down, get drenched in extremely cold water, and are then beaten with birch leaves by old ladies (it sounds scarier than it really is!). Sanduny is the oldest banya in Moscow, founded in 1808 and decked out with beautiful, ornate interiors. Today, it's one of the most popular health centres for locals. There are three bath halls for men and two for women, which include pools, Russian steam rooms, and lounge rooms.
EAT AND PARTY: Krasny Oktyabr End your last night in Moscow with a bang at this funky arts district in the historical centre of Moscow. Dubbed "a city within the city," Krasny Oktyabr is a former chocolate factory that has been transformed into a hip and cool area packed with trendy bars, restaurants, art galleries, and nightclubs. Some places worth hitting are the art deco style Strelka Bar and the pumping Gipsy club.
Getting There
G Adventures runs a number of departures in Russia encompassing a wide range of departure dates and activities to cater to different tastes. We're thrilled at the prospect of showing you this big blue planet of ours — check out our small group trips here.