The Galápagos Islands, the ice fields of the Antarctic, and the jungles of Uganda are just some of the destinations that G Adventures travellers are dreaming about ahead of the holiday season. Tempted by 700 trips through 100 countries, more than 15,000 travellers from all over the world topped up their wish lists in October — a feature that lets travellers save and share their favourite G Adventures itineraries.
Santa may know who is naughty and who is nice, but we know what's on travellers' wish lists this holiday season! These 10 adventures were saved more often than any others — and could be destined to become some of next year's hottest destinations. Ready? Let's go!
1. Costa Rica Adventure
Length: 16 days | Places visited: Costa Rica
Blessed with beaches and biodiversity, Costa Rica is a verdant land of misty volcanoes, roaring rivers, and lush jungles that teem with exotic fauna. Throw in the friendly, educated Ticos (as Costa Ricans are known) and you can see why they dub living in Costa Rica pura vida — the "pure life." If you're looking for a taste of Costa Rica's world-class highlights but want to keep things spicy with a sampling of hidden treasures, this action-packed 16-day trip tops the menu. Curiosity piqued? Check out our most wished-for trip here.
2. Cape to Kruger Adventure
Length: 16 days | Places visited: Lesotho, South Africa, Swaziland
An entire continent's worth of greatness concentrated into a single region, Southern Africa practically bowls visitors over with its abundance of natural splendour, exotic wildlife, cosmopolitan flair, and friendly faces. From Cape Town to Johannesburg, you'll experience the mountains of Lesotho, coastal Zululand, and the hiking terrain of Tugela Gorge on this two-week trip, capping it off with wildlife safari drives in Addo and Kruger national parks. Is Southern Africa on your holiday wish list? Check out the Cape to Kruger Adventure here.
3. Complete Australia
Length: 28 days | Places visited: Australia
Want diversity? Get yourself to Australia. The pristine beaches, rugged terrain, and bustling coastal cities in this part of the world are the living embodiment of variety. And, on this trip, you'll spend a month exploring everything it has to offer. Start in Melbourne and move on from there to national parks, wine tastings, the Outback, beach days, sea kayaking, sailing, and loads more. You'll experience everything Australia has to offer on this all-encompassing trip. Who knows? You might even acquire a taste for Vegemite by the end. This holiday season, heading Down Under is top of mind for many travellers. Check it out here.
4. Mayan Adventure
Length: 22 days | Places visited: Belize, Guatemala, Mexico
A skinny belt of countries and islands that connect two much larger continents, Central America might not look like much on the map, but looks have never been more deceiving. Rainforests filled with all manner of wildlife, cloud-shrouded volcanoes, and mysterious Mayan ruins await travellers curious enough to come looking for them. Journey through Belize, Guatemala, and Southern Mexico on this incredible 22-day trip. Explore the amazing ruins of Chichén Itzá, Palenque, and Tikal, and walk the cobblestoned streets of colonial San Cristóbal de las Casas and Antigua — or just get into the reggae pace of life on sunny Caribbean beaches. Check it out here.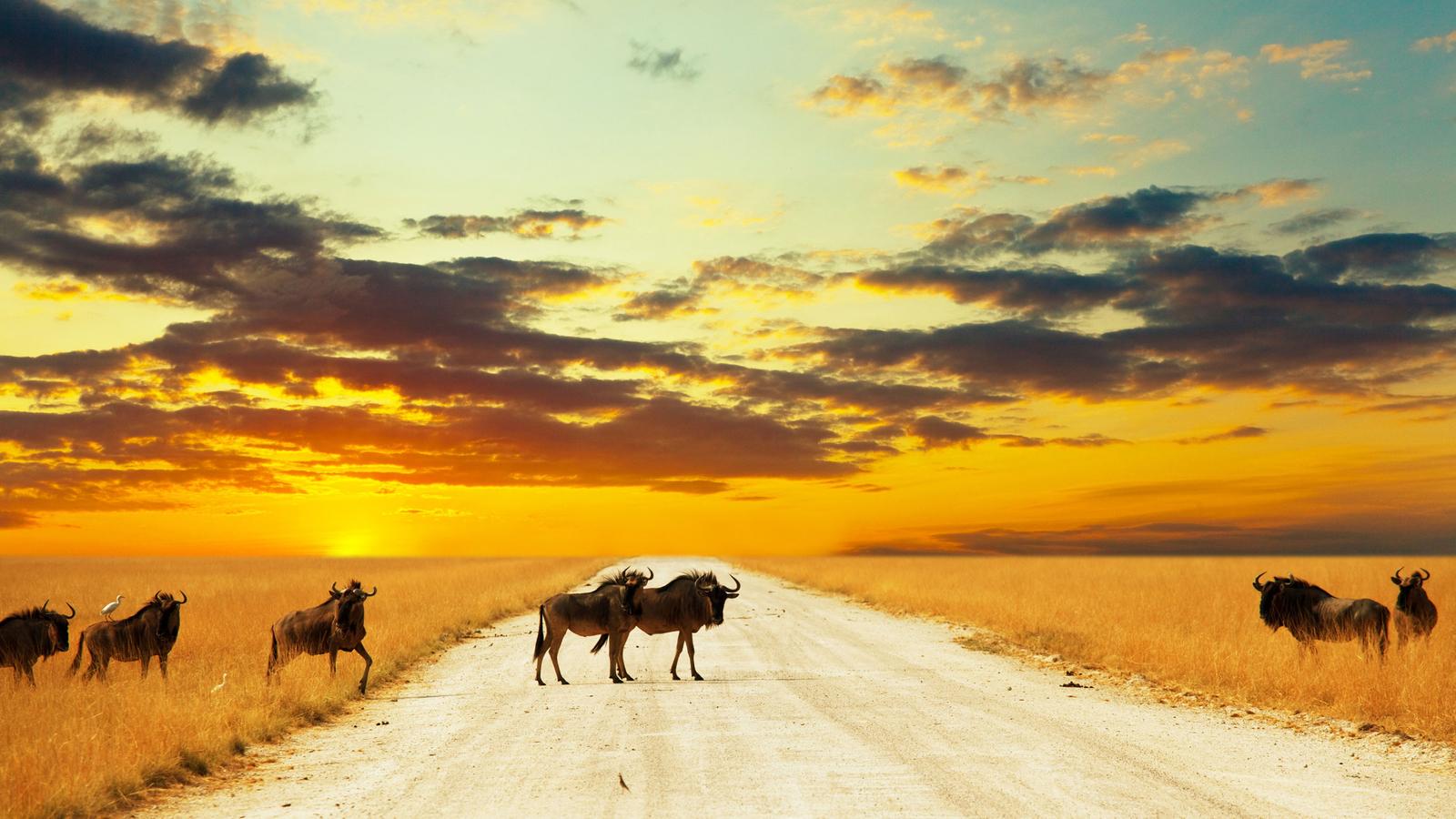 5. Ultimate Africa
Length: 54 days | Places visited: Botswana, Kenya, Malawi, Namibia, South Africa, Tanzania, Uganda, Zambia
Its name means "sunny place" in the Berber language, but "Africa" may as well be a synonym for "vastness." It's a truly massive continent that comprises more than 20 percent of the planet's available land. Spanning eight countries, this journey is full of diverse cultures, abundant wildlife, spectacular landscapes, stunning beaches — and it all leads to adventure. Track the Big Five across open savannah, explore the Okavango Delta in a dug-out "mokoro" canoe, encounter gorillas deep in the Ugandan wilderness — do it all on this ultimate 54-day adventure and get a real feel for how large Africa really is. Dreaming of Africa ahead of the holidays? There's no better way to see it than Ultimate Africa — check it out here.
6. New Zealand Encompassed
Length: 24 days | Places visited: New Zealand
It doesn't look that big on a map, but New Zealand is positively massive once you're there in person. A magical landscape of wild snow-capped mountains, shining lakes, and roaring rivers serves as a giant playground filled with world-class hiking, skiing, and rafting. This comprehensive 24-day trip delivers the most immersive Kiwi experience possible. Get close to the land by exploring volcanoes, national parks, sustainable farms, and meet the water up-close on expert-led kayak excursions and surf lessons. Best of all, you'll get to explore the magnificent Bay of Islands, home to some of the world's top fishing. Learn more here.
7. Backroads of Japan
Length: 12 days | Places visited: Japan
Nowhere on the planet do the modern and the ancient coexist more harmoniously than in Japan. Kimono-clad women chatter on next year's phones while blurring by on bullet trains; thousand-year-old Zen temples are dwarfed by seas of skyscrapers; and neon signs are reflected in flooded rice paddies studded with green. On this trip, you'll thoroughly explore everything in between: Snow monkeys, geishas, the overflowing pedestrian scrambles of Tokyo's Shibuya district, and the impossibly friendly staff of your traditional ryokan. Check it out here.
8. Complete Iceland
Length: 10 days | Places visited: Iceland
Small on the map and enormous in person, Iceland barely feels like Earth at all. Isolated in the frigid North Atlantic and forged through centuries of volcanic upheaval and tectonic shifting, Iceland is staggering to look at and otherworldly to explore. This trip blends deep exploration of the quirky Icelandic capital of Reykjavík with the very best of the country's fascinating natural sights — whale watching in Akureyri, the lava formations of Dimmuborgir, the stunning fjords and glaciers near Höfn, and the hot springs and waterfalls of the Golden Circle, just to name a few. You'll be stunned at just how much amazingness you'll be able to pack into such a short stretch of time. Iceland might be a small package, but it's likely to land under a lot of travellers' trees this holiday season. Learn more about it here.
9. Antarctica Classic
Length: 11 days | Places visited: Antarctica, Argentina
Colder, drier, and windier than anywhere else on the planet, Antarctica's otherworldliness appeals to the adventurous souls who come here. This is an adventure of immense scale and visual splendour. Passing huge icebergs in the flat calm of a polar morning will reshape the way you look at your world. Encounter huge whales, enormous rookeries of penguins, and stunning landscapes few have ever witnessed. Have you been dreaming of a trip to the end of the world? Check out the 11-day Antarctica Classic here.
10. Galápagos: West, Central & East Islands
Length: 10 days | Places visited: Ecuador
Situated 965km (600 mi) off the coast of Ecuador, this isolated haven of biodiversity remains nature's greatest science laboratory, home to a dazzling array of birds, reptiles, fish, and mammals that you won't find anywhere else. Snorkel with sea lions, discover the unusual endemic marine life in secluded bays, and hike Sierra Negra, the largest balsatic caldera in the region on this 10-day adventure. You'll head home with a new perspective on nature, your planet, and maybe even yourself. While there's no bad time to visit, the holiday season marks the start of the mating seasons for many animals in Galapágos, making it a great time for wildlife encounters. Learn more about cruising the archipelago here.
Which trips top your wish list? Why? We'd love to hear about the destinations you've been dreaming about this holiday season in the comments below!
---
Getting there
Stop dreaming and start travelling! G Adventures runs a number of departures encompassing a wide range of departure dates and activities to cater to different tastes. We're thrilled at the prospect of showing you this big blue planet of ours — check out our small group trips.