Did you know that Finns drink a world-leading 12 kilograms of coffee a year? Surely not by coincidence, Finland was also named the world's happiest country in 2018 and 2019. If you value both quantity and quality when it comes to coffee consumption, you're sure to find a coffee shop that makes you smile in Helsinki, the Finnish capital. (Full disclosure: my mother is from Turku, Finland's oldest city, which legally obliges me to drink six kilograms a year.)
For one-stop coffee shopping, check out the Helsinki Coffee Festival. Founded in 2015 and staged each April at the Cable Factory cultural centre, it's the largest coffee festival in the Nordic countries. With seminars on coffee-making, cutting-edge coffee machines for sale, DJ performances, and dozens of brands to sample, it's a java junkie's dream.
Year-round, here are six must-visit coffee shops in Helsinki:
1. Kaffa Roastery
Named Finland's best coffee shop at the 2018 Helsinki Coffee Festival, Kaffa Roastery is a welcoming enclave for connoisseurs. Outside, you can catch the rich, heavenly scent of artisan coffee when you disembark from a nearby tram in the hip Punavuori neighbourhood.
Handcrafted coffees — like my dark roast Ethiopian espresso — delight Kaffee Roastery regulars. You can watch the roasting process through floor-to-ceiling windows, five days a week from 7 a.m. to mid-day. Barista Kaisa Kokkonen represented Finland in the 2019 World Barista Championship in Boston.
It's a very civilized environment. Novels by Sofi Oksanen and Milan Kundera sit on the windowsill. Leashed bulldogs and German shepherds relax at their owners' feet. Conversations in English and Finnish bubble among tech entrepreneurs, artists, musicians, and other creative types.
2. Moomin Cafe
Featuring the cute, hippo-like creatures invented by Finnish children's author Tove Jansson, the Moomin Cafe is a perfect place for coffee lovers with kids. It's also fashionable among hockey fans, as Finland won the 2019 IIHF World Championship with 6-foot-8 captain Marko Anttila, who's nicknamed "Mörkö" for resembling that ominously looming character in the books.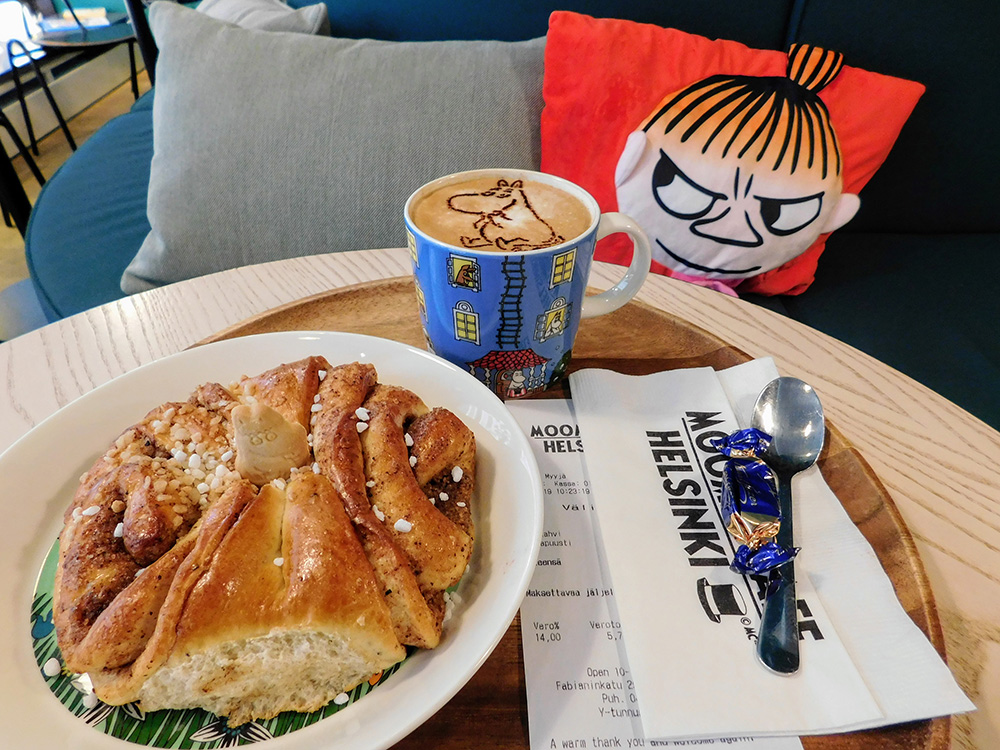 I got a latte with a Moomin picture on top, served in a mug depicting an apartment building full of other classic characters like Moominpapa, Snufkin and the Snork Maiden. I enjoyed my drink with one of the cafe's famous cinnamon buns.
This cozy space on Fabianinkatu is decorated with huge black-and-white drawings by Jansson, whose whimsical sense of fantasy recalls Edward Lear and Roald Dahl. There's a play area for little ones with big green pillows, a swing, and puzzles. Plush toys, miniatures, and Moomin books are also for sale. You can buy bags of coffee beans with flavours like blueberry and mint-chocolate.
3. Paulig Kulma Cafe
The Paulig Kulma Cafe is an ultra-contemporary showcase for an 1876-founded Finnish coffee company, which includes an on-site coffee roastery and barista institute. It occupies a two-storey, street-facing location in the Kluuvi Shopping Centre, and patrons can sit in white wicker swings or cubicles that resemble Finnish summer cottages.
Knowledgeable servers help you analyze the flavour profiles of numerous coffees, imported from as far afield as Uganda, Kenya, Honduras, and Guatemala. I ordered an innovative light roast coffee with strawberry notes.
The cafe also has an extensive menu. Through the floor-to-ceiling windows, I watched green-and-yellow Helsinki street cars going by on Aleksanterinkatu as I devoured open-faced salmon and avocado sandwiches and blueberry cheesecake with my coffee. Yes, it's a rough life at Paulig Kulma.
4. Roasberg
At Roasberg, the location is as much of a draw as the excellent cappuccinos, lattes, and double espressos. This independently owned, cosmopolitan cafe sits within eyeshot of the Ateneum, Helsinki's classic Finnish art museum, and the Eliel Saarinen-designed central railway station.
Whether you're devouring Roasberg's Sunday buffet or just downing a slice of chocolate cake topped with lingonberries and blueberries, it's a satisfying experience in a friendly environment.
The cafe, which features surreal glass light fixtures, is named after a fictional globe-trotting character. A private downstairs room, which accommodates up to 100 guests, mingles art-deco elegance with the ambience of Captain Nemo's submarine.
5. El Fant
White walls and piped-in jazz music give El Fant a cool contemporary feel. It's a popular brunch hangout and wine bar. However, I relaxed with a cup of Dalecho coffee from Ethiopia, produced by Turku's Frukt Coffee Roasters. Its floral and fruity notes complemented my hearty slice of carrot cake. The wifi password was "Never2late4acoffee," and it was hard to disagree with that slogan.
El Fant is steps from both the Helsinki harbour and right next door to the Helsinki Museum — in fact, you can see the museum gift shop through an adjoining window. You may feel a little more contemplative and adult than usual as you sip your coffee here.
6. Andante
Marking its 30th anniversary in 2020, Andante is popular among young professionals and students in Helsinki's Design District. I soaked up the homey ambience, including a big window full of vintage china and a green shag rug.
Andante is a musical term that means "played at a moderately slow tempo," and this certainly isn't a grab-and-go environment. It's all about savouring. A card at the front counter reads: "No Milk. No Sugar. Enjoy!" There are detailed tasting notes on each coffee, and coffee diplomas adorn the walls.
As I recharged with my lovingly prepared Americano, I felt my coffee IQ going up.
---
Getting there