The Amazon has been a river of many uses from the time the first humans explored through its deep, rich watershed eons ago. It's a source of life for those on its banks, providing food, water and transportation. Recently, in the last 40 years, as access to and from the river has become easier for travellers of different stripes, the river has taken on a new role: place of recreation.
While river cruises along the likes of the Nile in Egypt, or the Danube spanning Germany, Austria and Hungary have been running for a very long time cruising the Amazon is an experience unlike any other.For one thing, the boats are often smaller than their counterparts in other locations. Built tall and thin, but not especially long, most cruise ships on the Amazon waterways are made for navigating the sometimes narrow channels, but also for being a launch pad for excursions much closer to nature. With the ability to launch small skiffs, powered by modern outboard motors, a cruise ship on the Amazon is a perfect base of operations for those who want to experience the river on an intimate level.
The flora and fauna are also unlike any found on cruises worldwide, with maybe the exception of a few river trips in Southeast Asia. The vast array of bird, mammals, fish and plants is enough to boggle the mind. When the Spanish conquistador Gonzolo Pizarro mounted his first expedition to explore the Amazon River Basin (then known as Rio Grande) in the 1540s, he was in search of both the mythical city of El Dorado, as well as the river's cinnamon trees. It's this profusion of vegetation, the impenetrable nature of the jungle, that brings local lore to life with fantastical characters and stories that beckon you to spend more time with them.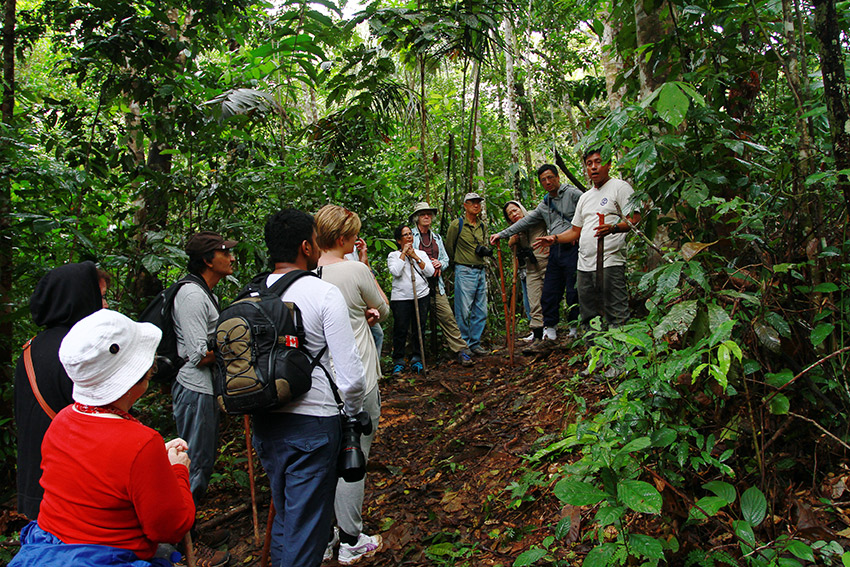 The abundance of life is constant on the river. Quiet never befalls a trip on the waters as even at night a symphony of insects, reptiles and nocturnal mammals fills the air from shore to shore. And nighttime is the best time to see some of the creatures who call the jungle home. From the spine-tingling pink toed tarantula to hundreds of species of wetland frogs to the amazingly slow motion of sloths in the canopy overhead, an experienced guide is worth her weight in gold in helping locate (and often avoid!) nighttime creatures.
Not only can you find wildlife on shore, but also all around your boat. From river dolphins to piranha (anyone want to go fishing?) to manatees and turtles, you can experience a whole world of exotic species while staying onboard a river cruise ship. A special area of interest is the Papaya Samiria National Reserve with hundreds of species of fish, including paiche, which can grow to more than 3m (9 ft) in length.
Shore excursions also offer a chance to meet local people. Many of these families will move to higher ground during the high-water season, when snow and rains in the Andes Mountains, hundreds of kilometres away, can raise the river level by more than 6m (20 ft). When the river is low enough to settle into their homes at the water's edge, these hosts welcome river explorers into their villages for cultural exchanges; showing how people of the river use the resources around them to build what they need and grow food on their land.
A river cruise on the Amazon is like no other guided water-borne adventure. Where else might you catch a glimpse of an ocelot or puma while admiring more than 1000 species of birds amongst the more than 30,000 plant species? Where else can you board your motorboat and glide over hundreds of different species of fish and amphibians?
Where else can you have the life-changing experience that the Amazon promises all who dare to slow their pace, open their hearts and let the ancient waters speak to them as no other river on Earth can?
Getting There
Amaze yourself on the Amazon with a G Adventures river cruise. We're thrilled at the prospect of showing you this big blue planet of ours — check out our small group trips here.