All photos courtesy of Uncornered Market.
Living in yurts, trance-like storytelling of epic poems, hunting with golden eagles, and archery on horseback. These may all sound like elements of a Game of Thrones episode or echoes of a bygone era. Instead, they represent the living Kyrgyz nomadic culture that you'll find when you visit Kyrgyzstan today.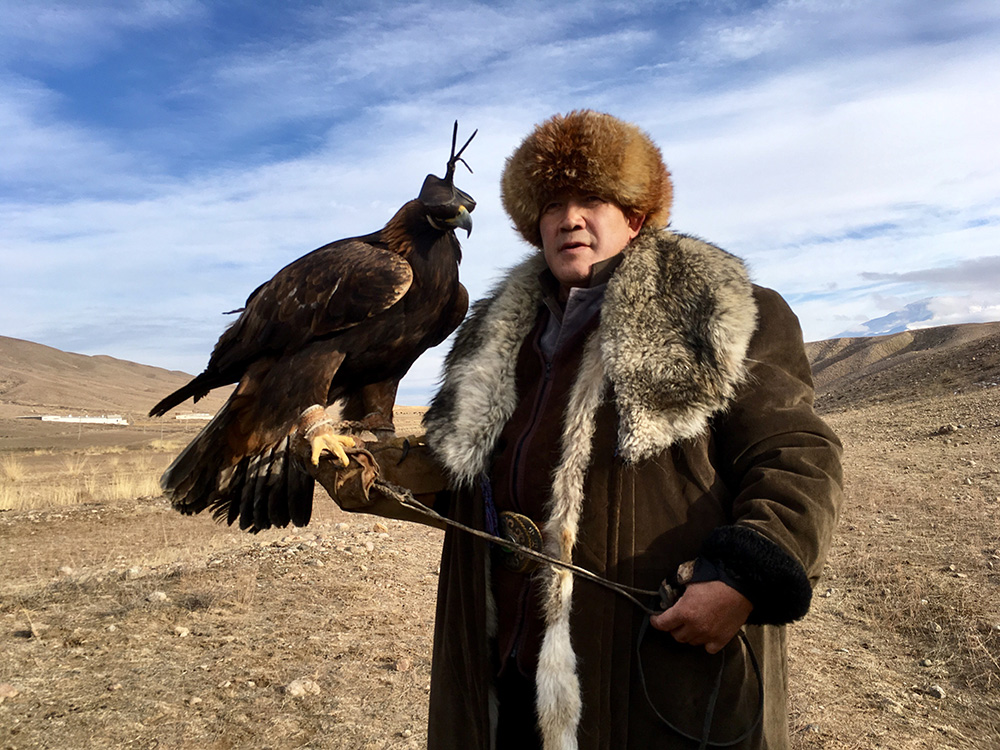 The story of the Kyrgyz people, an ethnic Turkic group, is that of 40 nomadic tribes who once roamed the plains and mountains of what is modern-day Central Asia and western China. Under the warrior Manas, they united to fight the Chinese and Mongol armies and to defend their land. The flag of Kyrgyzstan, with its 40-ray sun, represents these tribes. Centuries later, many Kyrgyz can still tell you from which tribe their family is descended.
Traditionally, these nomadic people lived off their livestock, survived by hunting, and moved with the seasons: up to the jailoo (high pastures) in the summer and down to the kyshtoo (low pastures) in the winter. Nature, especially the mountains, guided their movements and was considered sacred. Land was not something one owned, but rather something one inhabited and shared.
Despite being actively discouraged or forbidden during Soviet times, these traditions live on in Kyrgyzstan today. Kyrgyzstan's independence over the last 25 years has cultivated a resurgence in ethnic pride and interest in learning about and expressing traditional Kyrgyz nomadic culture.
Here are four elements of that living history you'll find in Kyrgyzstan today.
1. Yurts
Yurts, known in Kyrgyz as boz uy or "grey felt" because of the colour of their felt cover exterior, play a crucial role in Kyrgyz life. This portable circular home, made from hundreds of pieces of treated wood bound and secured without the use of nails, serves as a strong yet easily disassembled living structure.
At the yurt's apex is the tunduk, a circle with two sets of three to four beams running perpendicular to one another. This central point not only holds the entire yurt together, but serves as a skylight for sunshine and moonlight. The tunduk remains the guiding symbol of Kyrgyz culture, representing home and family unity, and garnering the lead role on the flag of independent Kyrgyzstan.
Although yurts are not unique to Kyrgyzstan (in fact, one might associate them more with Mongolia, Kyrgyz yurts are seen more often in mountains rather than on the plains or steppe. Yurts are traditionally lived in by shepherds, sometimes with their entire family, as they herd their animals up on the jailoo during the summer months. Traditionally, one camel could carry all the material for one complete yurt to the jailoo. Today, jeeps and trucks are commonly used instead.
Because of this tradition, if you trek or hike in Kyrgyzstan, you'll not only be engulfed in stunning mountain landscape (the country is more than 90 percent mountainous), but you'll likely encounter shepherds and local families in their yurts along your path. In some areas, community based tourism initiatives have been set up so that travellers can arrange to spend the night or two in a yurt with a local family.
If you have the opportunity to take a meal in a yurt or sleep in one, don't pass it up. It's an unforgettable experience. (Note: sleeping in a yurt is part of all G trips to Kyrgyzstan)
Still not convinced? You might nevertheless be impressed by the fact that the world record to build a yurt, including interior decorations, is eight minutes. The usual time to set one up with around four to six people is about 45–60 minutes.
2. Shyrdaks
Although yurt exteriors are often grey and monotone, the interiors are usually flush with colour and warmth. Shyrdaks, which are hand-stitched felt carpets, typically cover the floor and side walls of a yurt. Their heavy wool provides insulation, and their natural-dyed colours and designs are rich with symbolism and meaning.
The designs and colours used in shyrdaks differ based on the local landscape and natural features. For example, a ram's horns represent prosperity and abundance, while spirals indicate a water spring or new beginning. Another classic symbol is the heart shape that represents hospitality; it depicts a bowl of kymyz, a traditional drink of fermented mare's milk, which is offered to guests when they arrive in a yurt.
Janil Baishova, founder of the NGO Golden Thimble (Altyn Oimok) in Bokonbaevo — which is on the south shore of Kyrgyzstan's Issyk-Kul Lake — told us that the colours of blue, green, and white represent the water of the lake, snow-covered mountains, and green pastures (jailoo), respectively. Baishova was one of the few women in her community who continued to stitch traditional Kyrgyz nomadic crafts during Soviet times. Now she serves as a cultural bridge, teaching younger generations of Kyrgyz people the techniques she's learned.
G Adventures departures include a felt-making workshop in Kochkor so it's possible to see how local wool is processed into felt, and how that felt is then transformed into a shyrdak. Learn more about the departures here.
3. Salbuurun
Traditional Kyrgyz hunting culture, known as Salbuurun, is the only practice in the world that combines the use of golden eagles, taigan (an ancient and beautiful Kyrgyz hunting dog breed), and hunters on horseback. For travellers, Salbuurun exhibitions "hunt" a stuffed animal in place of a live animal.
Traditionally, nomadic men would set out for weeks on group hunting expeditions with their golden eagles and taigan dogs in search of food to bring back to their families. Knowledge of how to train a wild golden eagle to hunt in tandem with a dog had been passed on from generation to generation.
Although this wisdom almost died out during Soviet times, it has been rekindled by the Salbuurun Federation. Its founder, Almaz Akunov, has spent the last 10 years researching and learning the traditional methods of archery (including how to make arrows), hunting with eagles and dogs, nomadic dress, and the call of drumbeats. Now he and others share this knowledge during festivals and demonstrations.
4. Nomadic Games
Almost all nomadic games were created to teach or reinforce survival in harsh conditions. The ultimate goal: to develop good horsemen, shepherds, hunters, and warriors who can serve, protect, and grow the community.
The most famous and popular of these nomadic games still played today in Kyrgyzstan is kok boru (goat carcass polo). It is believed that this game originated when village men — emerging from a hunt with the fresh carcass of a wolf they'd killed because it had been feeding on their herds — would attempt to take the carcass away from one another on the return to their village. Upon arrival in the village, the man in possession of the wolf carcass would throw it at the door of the elder's yurt — the equivalent of chucking the carcass in the kazan (goal) today. Today, the game is played on horseback with — yes — a real goat carcass. The winning team takes the goat as its prize to serve at its celebratory feast, so the animal does not go to waste.
On the opposite side of the spectrum, the Kyrgyz game of ordo is used to teach battle tactics and strategic thinking. While the game is light on physical requirements, it's heavy on intellectual ones. Nomads apparently know that you need both brains and brawn in order to survive.
While it's possible to catch Kyrgyz nomadic games throughout the year on national holidays or during festivals, you can see all of them in one place during the World Nomad Games, an Olympics-like event that takes place every two years in Cholpon-Ata, Kyrgyzstan. Think of this as the Olympics of nomadic sports, showcasing Kyrgyz-specific games and nomadic events from across the world. The next World Nomad Games is expected to be held in September 2018.
When you visit Kyrgyzstan, it will become clear how the past and present are connected. So, too, will the link between your visit and local pride become clear. As local interest in Kyrgyz nomadic culture grows, tourism, outside interest, and the fire of your curiosity can help support it.
---
Getting there
Interested in visiting Kyrgystan? G Adventures can get you there. Check out our small group tours to Kyrgystan here.