The island of Zanzibar has got some history. The first known reference was made in the 1st century AD, in the publication, Periplus of the Erythraean Sea, written by a Greek merchant as a guide for traders and sailors. In the last 2000 years, the island has been governed or occupied by Persians, Portuguese, the British, Omani Arabs, and again by the British.
The sultans of Oman had a strong impact on the island and many customs from their rule still remain today –– especially in Stone Town, the old part of its main city, Zanzibar City. Zanzibar has a 95 percent Muslim population with an incredible architecture that is highly influenced by ancient Arabic and Indian styles. Most of the buildings feature ornate doors made of heavy wood and brandished with giant brass spikes. Supposedly, the spikes are there to protect against an elephant crashing through your front door. Likely? No. But they do look really cool.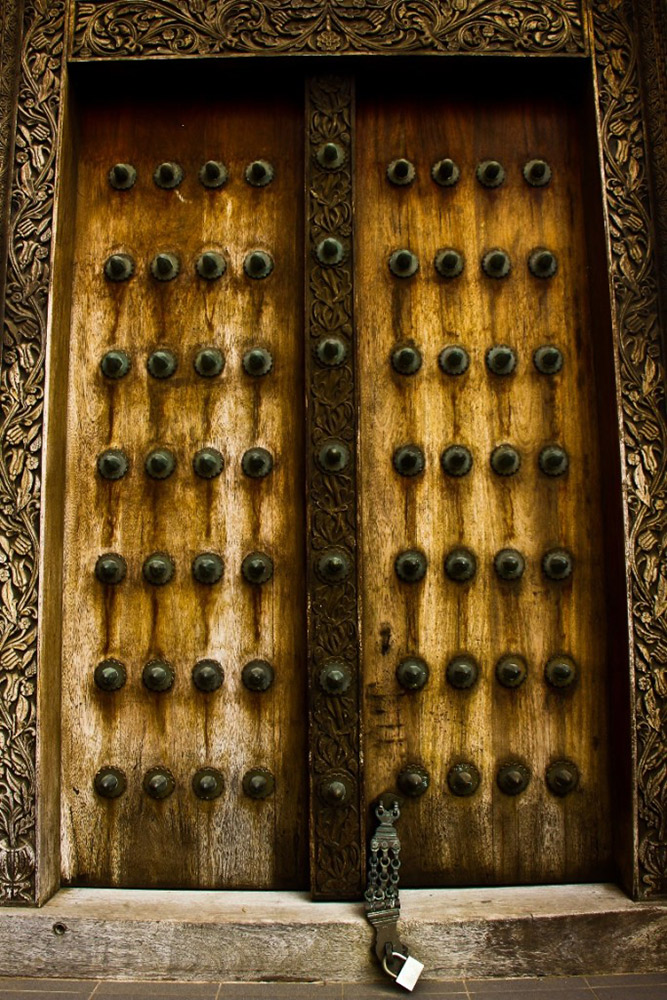 It's important to understand Zanzibar's unique history as you're winding your way through Stone Town. The buildings here mix between mosques, schools (with children chanting verses from the Qur'an), palaces, impressive houses, and hotels. There are quaint restaurants and cafés dotting the streets between mansions that were once international consulates, and old slave markets with their individual holding blocks still intact.
Zanzibar was the centre of the East African slave trade for more than 100 years while sultan Majid bin Said from Oman controlled the island with an iron fist. So much so, that in the 1840s he moved his court to Zanzibar from the Persian Gulf. Trade flourished and the Omani hand reached as far inland as present day Zambia, Kenya, and Mozambique. Eventually, the slave trade was abolished worldwide and the the Omani began to lose their stronghold over the island to the British.
You could spend hours navigating the maze of Stone Town's old city. All of the so called "streets" are really just miniature paved lanes lined by three- to five-storey buildings. There's no general outline of any sort, though the lanes seemingly twist around one another, leading in a somewhat navigable direction. Be open to this confusion; it actually makes for quite an entertaining walk. You'll find small shops and stalls selling everything from fruit to Arabic clothing and English books. Add mopeds, bikes, insistent shop owners, and children chasing footballs to the mix, and it's quite the sight. You never quite know what's around the next corner.
Stone Town is a lovely combination of sights and smells with an intense and vivid history to match. It is the main port of Zanzibar and greets every arrival, saying goodbye with every farewell. A gem of East African history and culture, and a destination small enough to easily enjoy over a day or two of exploring.
It is not to be missed on your next African adventure.
Getting There
G Adventures runs a number of departures to Zanzibar encompassing a wide range of departure dates and activities to cater to different tastes. We're thrilled at the prospect of showing you this big blue planet of ours — check out our small group trips here.