Dubbed the "Kingdom in the Clouds," Bhutan is a land of holy monasteries, massive fortresses and some of the highest mountains in the world. These mountains — perched on the eastern edge of the Himalayas — make excellent terrain for trekking enthusiasts. There is no shortage of treks in Bhutan, ranging from the relatively easy and scenic Druk Path, to one of the world's hardest treks, the Snowman Trek.
The Land of the Thunder Dragon is one of the most beautiful yet remote and inaccessible countries in the world. So whether you're going on a short hike in the lowlands or challenging yourself to an epic high-altitude trek, you need to prepare yourself for the raw wilderness and harsh conditions that any traveller to Bhutan faces.
What to expect
Before the trip, be sure to evaluate your fitness level and check with your doctor whether the trek suits your health conditions. If you're attempting a high-altitude trek (anything above 2,440m (8,000 ft), it's a good idea to go for a mountaineering consultation at an altitude centre if there is one near you. These centres often conduct hypoxic training sessions where you will have the opportunity to exercise in oxygen-reduced air.
It is advisable to bring your own technical gear for trekking to ensure it meets your particular needs. It is simply not worth skimping on quality boots or using makeshift walking sticks. If you have made the effort to travel halfway around the world, don't allow your ambitions to be destroyed by the wrong gear.
Due to the altitude, it can be cold in the Bhutanese mountains even in the summer; make sure you have equipped yourself with quality clothing. Like they say, "There's no such thing as bad weather, only bad clothing."
Physical and mental training
Start by comparing the fitness level required for the trek with your own level, and finding out what you need to do to reach your goal. Ask yourself these questions: How often do you exercise? Have you done anything similar to this trip? Are you a beginner or an amateur in the sport?
How to prepare for a trek:
• Hit the gym at least three times a week. Focus on cardiovascular training for your long trek.
• Walk long distances on consecutive days. Long periods of activity will help your body gain endurance.
• Eat a healthy, balanced diet; avoid fast food, and carbohydrate-based foods such as rice and bread.
• Spend your weekends hiking or camping in the countryside — you'll be camping during your trek in Bhutan, so make sure to get yourself prepared to "rough it."
• Test out your gear at home to make sure it works and that you know how to use it all.
• Do as much research about the trek as you can to visualize what's ahead. Read about other people's experiences online and ask questions.
Altitude sickness
If you are planning on trekking in the high-mountain region, you need to consider the risk of acute mountain sickness (AMS). Most people can travel to 2,400m (8,000 ft) with minimal effects. However, everyone reacts to altitude differently and altitude sickness can affect some people irrespective of fitness and age.
Symptoms of mild altitude sickness include headache, nausea, loss of appetite, shortness of breath, difficulty in sleeping and lack of energy. These are quite common when you first arrive at high altitude. The golden rule is to never continue to ascend if you have any symptoms of AMS. If the symptoms persist or worsen, you must descend. Get more information on AMS from a travel clinic or your doctor.
What to pack for a trek in Bhutan
As you will be on the move most of the time, pack as lightly as possible. The less you carry, the farther you'll travel and the happier you'll be. The secret is to give up a few creature comforts in order to reduce the weight of your pack, without sacrificing anything you need or compromising your safety.
On the Druk Path trek, G Adventures will provide one porter for every two travellers, and the maximum the porters are allowed to carry is 7.5kg (16.5 lbs) per passenger.
Here are some tips to help you pack as lightly as possible:
• Choose lightweight, quick-dry clothing instead of such heavy material as denim.
• Pack layers of clothing when travelling in a cold climate, as it is the best way to protect yourself from the cold and it allows you to pack lightly.
• Remember that it can be cold in the mountains even in summer. Thermal underclothes, being small and light, can be very useful.
• Bhutan is very conservative and you should dress accordingly. As a general guideline, shoulders and legs should be covered at all times.
• The wearing of shorts is not allowed (except while hiking) as it will restrict your entry into buildings of a religious nature and family homes.
• Use trekking sticks as tent poles, and a "spork" (combination of spoon and fork), when camping.
• To save space, either carry just one book or an e-book reader.
• Store documents such as boarding passes in your smartphone or other electronic device instead of carrying papers.
• Bring toiletries in small containers; you can always replenish them on the road.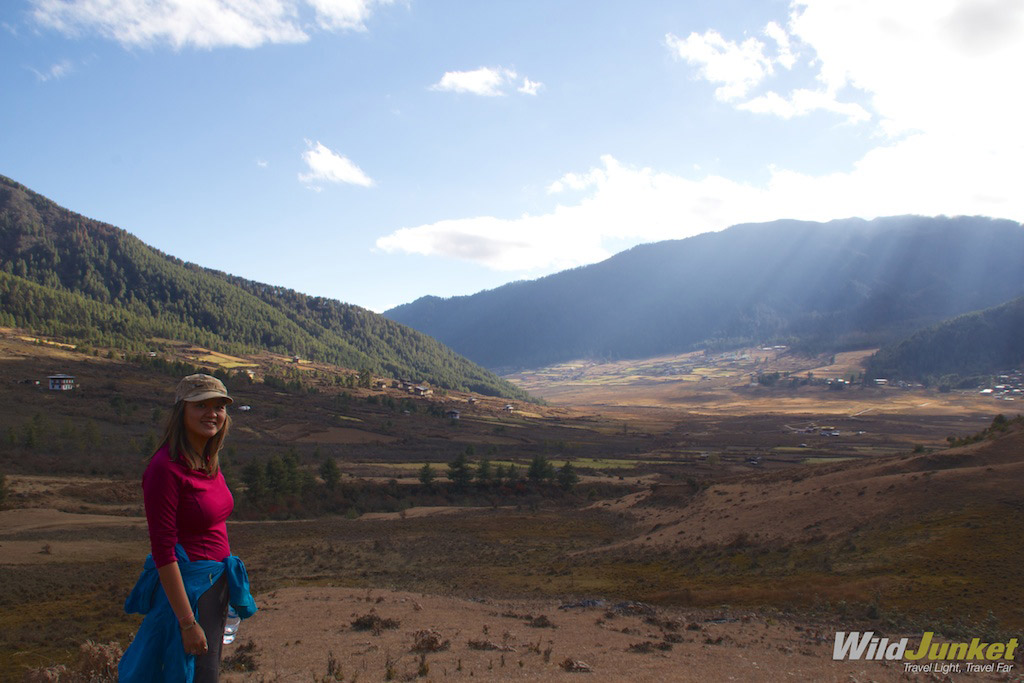 Recommended packing list for a trek in Bhutan:
Trekking gear:
• Trekking poles
• Safety whistle
• Small daypack
• A pair of sturdy hiking boots
• Protein bars, dried fruits and snacks (only things that you might not find in Bhutan)
• Refillable 1L water bottle
• Sleeping bag and sleep sheet — Four-season bag/zero degrees is recommended
Medication in a first-aid kit:
• Ibuprofen/Paracetamol
• Diarrhea pills
• Motion-sickness pills
• Antiseptic
• Antihistamine for allergies
• Insect repellent
• Oral rehydration pills
• Sanitary napkins and tampons
• Lip balm
Clothing:
• Technical parka for cold weather
• Light waterproof jacket
• Long quick-dry pants
• Fleece
• Shorts and T-shirts (if trekking in summer)
• Long-sleeved shirt
• Bra and underwear
• Wide-rimmed hat
• Quick-dry travel towel
• Socks
• Sandals or slippers for evenings
Miscellaneous items:
• Universal adapter
• Packing cubes to compartmentalize items
• Padlock to lock up backpack
• Headlamp
• Toiletries
• Sunscreen
• Sunglasses
Getting There
G Adventures runs a number of departures in Bhutan encompassing a wide range of departure dates and activities to cater to different tastes. We're thrilled at the prospect of showing you this big blue planet of ours — check out our small group trips here.