Some of the best reasons to hit the road for a classic summer road trip through the United States are the only-in-America roadside attractions: Not historic battlefields or national parks or scenic routes, but the shiny deep-fried fast food joints that decorate those big blue signs along the interstate. America is a patchwork of regional drive-through, sit-down, and grab-a-tray chains that connect Point A and Point B, and become road trip bucket list items in their own right.
20. Cracker Barrel
This sit-down restaurant and "old country store" is probably the only place in the world to buy both a breakfast of gravy-smothered country-fried steak and a rocking chair. If you try to order something relatively healthy, don't be surprised to receive some (friendly) side-eye from the server.
Where to find them: Near most highway exits in the eastern United States
---
19. Quaker Steak & Lube
Yeah, it's a weird name — slightly less so for Pennsylvanians familiar with the Quaker State motor oil brand. But it's still weird, especially because "the Lube," as it's also known, is most famous not for steak or lubricants, but for its tasty chicken wings and wing sauces, which are ranked in Scoville Heat Units from "Original" (90 SHU) to "Atomic" (150,000 SHU).
Where to find them: Pennsylvania, with a smattering of outposts in the Midwest and South.
---
18. Hardee's
Why more fast food restaurants don't offer curly fries remains a mystery, but Hardee's puts them front and centre. The spicy potato tangles are a big draw, alongside a line of beefy charbroiled burgers and a line of "thickburgers" topped with boneless baby back ribs.
Where to find them: Mostly in the South and Midwest.
---
17. Biscuitville
The made-fresh-every-20-minutes biscuits, unsurprisingly, are the southern staple here, and they support a robust selection of breakfast sandwiches, including a classic pork chop biscuit, and a fried-bologna-hash-brown-and-cheese biscuit that practically demands a side of thick home-style gravy.
Where to find them: North Carolina and Virginia.
---
16. Jack in the Box
The best time to visit this West Coast mainstay is in the wee hours, where, under cover of darkness, the late-night menu satisfies even the headiest fast-food fantasies. Behold, a cheeseburger topped with a grilled-cheese sandwich! And that's not all: it's served with two tacos and "halfsie" fries — that's half regular, half curly, a brilliant innovation at any hour.
Where to find them: Mostly in California and Texas, but a few locations have popped up in the Midwest and South.
---
15. Del Taco
Taco Bell remains king of the fast-food taco game, but for those who wish the Bell's food were a bit more ... crafted ... and offered things like proper carnitas, carne asada fries, burrito platters and, just for the heck of it, bacon cheeseburgers, then Del Taco is your taco joint.
Where to find them: Mostly the western United States, plus Michigan and Georgia.
---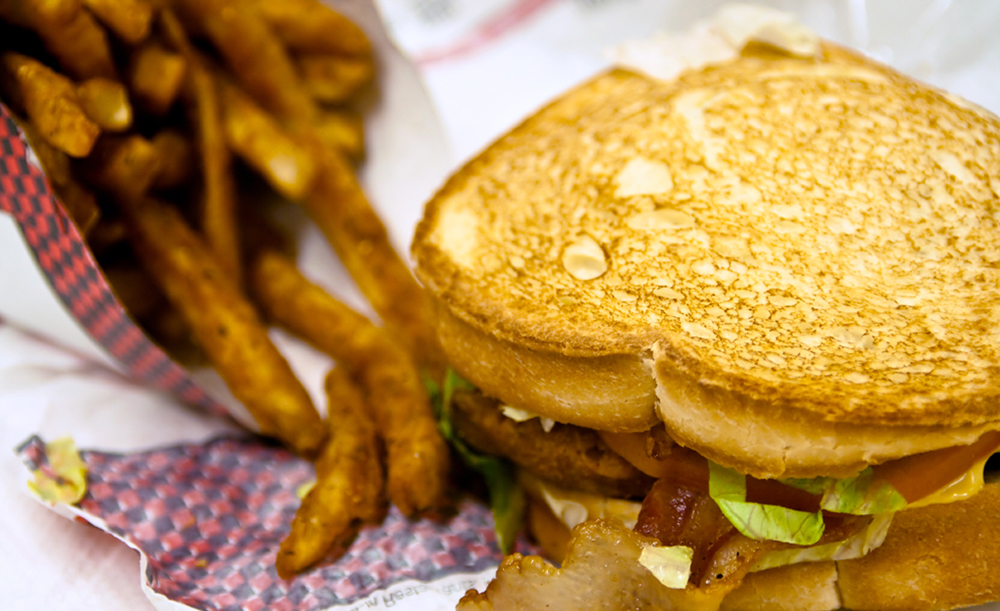 14. Checkers and Rally's
They go by different names, but the car-loving Checkers (as in the flag that starts a race) and Rally's (as in the motorsport) offer the same lineup of burgers and seasoned fries at twin-lane, drive-through-only kiosks. The Big Buford double cheeseburger and the Baconzilla!, a double-patty, triple-cheese, quadruple-bacon behemoth, are the go-tos.
Where to find them: The eastern half of the United States, California, Nevada, and Arizona.
---
13. Friendly's
There's no judgment for starting with dessert at Friendly's, which is just like a Denny's or IHOP, but with the sweet tooth of a hyperactive six-year-old. Friendly's even sells its own ice cream in grocery stores, but if you want something to pair with a triple-scoop Jim Dandy sundae or Royal Banana Split while on the road, there are breakfasts, burgers, and sandwiches, too.
Where to find them: All along the Eastern Seaboard.
---
12. Sheetz and Wawa
There are two kinds of people in Pennsylvania: Wawa people (from the eastern part of the state) and Sheetz people (from the west). If 7-11 had a sandwich counter that made highly customizable hot hoagies and all sorts of paninis, quesadillas, and burritos at the push of a button (pretty much everything is ordered via touchscreen here) it would be Wawa. Sheetz is similar, but with more emphasis on fried stuff, including "Walking Tacos," which are bags of Doritos loaded with sauce, cheese, and meat. #America.
Where to find them: Pennsylvania and throughout the Mid-Atlantic.
---
11. Cookout
Barbecue is a bucket-list meal for visitors to the South, and Cookout makes it possible to enjoy North Carolina-style chopped pork without getting out of the car. Order it here with all the must-have southern trimmings: slaw, hush puppies, sweet tea, and Cheerwine, a made-in-Carolina soda that tastes extremely red.
Where to find them: The Carolinas and other states in the southeast quadrant of the U.S.
---
10. Chick-fil-A
Despite a nationwide expansion, the Atlanta-based Chick-fil-A remains a bastion of the American South. The ascetic chicken sandwiches, waffle fries, and sweet tea are the stuff of devotion for flocks of fans, and one bite of the classic Chick-fil-A Chicken Sandwich — just a bun, lightly coated fried chicken breast, and pickles —is surprisingly revelatory.
Where to find them: All over, but mostly in the southern United States.
---
9. Primanti Bros.
Pittsburgh's most significant contribution to the American cookbook is the Primanti-style sandwich, because it's got French fries in it. First-timers will be drawn to the Pitts-Burger, which comes on thick Italian bread with very tangy vinegar-based coleslaw, tomatoes, and a clutch of soft fries that add saltiness and almost double as an extra layer of bread.
Where to find them: Throughout western Pennsylvania.
---
8. White Castle
Before it became the unwitting subject of a mid-2000s stoner comedy, White Castle was a fast-food favourite for wholesome Americans since its first location opened way back in 1921. All these years later, the two-inch-by-two-inch square sliders, topped with pickles and a scattering of onions, are just as worthy of munchies as ever.
Where to find them: Throughout the Midwest, with outposts in Nevada and New York.
---
7. Roy Rogers
Named for the country and western singer, this cowboy-themed fast-food chain was once a big player on the east coast. Its footprint is smaller, but today, it's a cult favourite making a comeback with the same lineup of foil-wrapped burgers, roast beef, and chicken sandwiches, plus fried chicken and biscuits that remain the stuff of greasy-fingered dreams.
Where to find them: The Mid-Atlantic, from Maryland and West Virginia to New York.
---
6. Culver's
Dairy-loving Wisconsin roots give this Midwestern burger chain a creamy edge. The signature ButterBurgers are served on buns that have been topped with local butter. And forget French fries: Culver's sells fried cheese curds, not to mention extra thick custard used in sundaes, shakes, and thick-spun concretes.
Where to find them: Mostly in Wisconsin and throughout the Midwest.
---
5. Waffle House
What Tim Hortons is to Canada, Waffle House is to the American South: a ubiquitous bastion of comfort food that is a welcome sight on a lonely highway. The scattered, smothered, and covered (that means extra-crispy, with cheese and onions) hash browns and diner-style coffee taste the same from Fort Lauderdale to Toledo.
Where to find them: Mostly in the eastern half of the United States, heavily concentrated in Georgia, Tennessee, Kentucky, and Virginia.
---
4. Bojangles
Big boxes of Cajun-spiced fried chicken and biscuits are the best reasons to book it for Bojangles. Two pieces of chicken per biscuit is the rule of thumb, but that's conservative, so order accordingly. And leave room for Cheddar Bo, a buttermilk biscuit loaded with melted cheese that forms a golden curtain around the doughy edges.
Where to find them: Along the east coast from Florida to Pennsylvania, plus Alabama, Tennessee, and Kentucky.
---
3. Whataburger
While Californians lord their native In-N-Out Burger over the rest of the country, Texans are equally proud of their homegrown burger chain. Three things set Whataburger apart: A wild number of burger customizations; signature condiments, like house-made ketchup, Picante sauce and salsa verde; and, most importantly, a patty melt served (of course) on Texas toast.
Where to find them: Throughout Texas and the southern half of the United States.
---
2. Steak & Shake
It's hard to decide what's more of a draw here: The dizzying menu of thin, crispy "steakburgers" — hi there, Jalapeño Crunch Burger — and patty melts served with skinny shoestring fries, or the list of freshly spun milkshakes that puts even the most hardcore ice cream parlours to shame. On second thought, why pick sides?
Where to find them: Mostly in the Midwest, South, and Mid-Atlantic, but it's expanding big time.
---
1. In-N-Out Burger
Along with the sunny weather and laid-back outlook on life, In-N-Out Burger remains one of the West Coast's best draws. This is the spot that popularized the concept of a "secret menu," so order a Double Double (relax Canadians, that's a double cheeseburger here) and fries "Animal Style" and find out exactly why people go ape for this place.
Where to find them: Mostly California and Texas, with other locations in Arizona, Nevada, Utah, and Oregon.
---
Getting there
Getting hungry? G Adventures can get you to the United States to try everything above (and more). Check out our small group tours to the U.S. here.