Tortuguero National Park, La Fortuna, Monteverde. Costa Rica sure has its share of popular spots. But for those who think they've been there and done that in this Central American country, there's so much more than the well-worn path in the north. Let's go south to find some of the lesser known intrigues, all of which start directly off the beaten path.
1. Stay at a San Isidro homestay
Ever lived where the closest building is more than a two hour hike away? Welcome to the homestay experience near San Isidro, Costa Rica.
Many rural communities are located in the jungle and only accessible by foot. We stayed at several different farms and were welcomed as part of the family allowing us some insight into how the local people live each day.
Who knew? Living two hours away from the closest source of packaged foods leads you to be pretty self sufficient. While at the homestay, we made chocolate, cheese, sugar cane candy, bread and tortillas. There's no need for an ingredient list here, and the social aspect of cooking with a group can't be overstated. Bring your Spanish phrasebook so you can test out your language skills.
These homestays are a vital source of income for the families who run them, and the experience you'll get is as autentico as it comes! Not another traveller in sight.
2. Saunter to a traditional sauna at Piedras Blancas
The concept is simple. Start a fire in a small mud-based structure and wait until it's at temperature. Enter for ten minutes, and sit in complete silence. Exit and jump in the river. Repeat three times.
Spending half an hour in complete quiet with ten other people is definitely not something I'm used to doing. Is it the copious amounts of sweat running off your body? The ants threatening to nibble at your toes? Or maybe the extremes of hot and cold? But clearing your head in this manner is something that everyone should try to do regularly. Trust me.
3. Spend a night in a cave at the Diamante Waterfall
Okay, not all Costa Ricans live like this, but those who do are uniquely blessed.
Near the village of Las Tumas is the Diamante Waterfall. Twin 26m (85 ft) shoots of water overhang an incredible hollowed-out cave. With the right preparation, local guides can take you into the area to rappel down the rocks for an overnight camp in the cave.
Concerned? Don't be. This is no ordinary cave. Sporting a kitchen, proper bathrooms and elevated platforms for sleeping, you'll be a lot more comfortable here than in the hostel down the street. There's nothing quite like waking up to the sound of rushing water and realizing you're hearing one of Costa Rica's best kept secrets.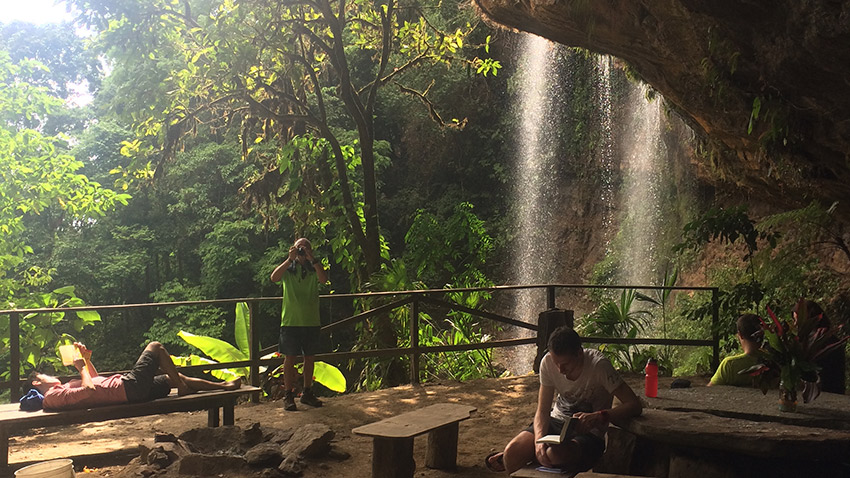 4. Surf in Uvita
The secret's out in Costa Rica when it comes to surfing, but some places have retained their small-town charm while catering to the increased demand. Uvita is definitely one of those spots.
With a population of only a touch over a thousand, you'll find the surfing mecca of your dreams just south of Dominical. Surfing, turtle and whale watching, ATV riding, it's got it all, set in an unspoiled paradise. Bypass the northern beaches and take a trip down the Pacific coast to Uvita. You might never leave.
There's a lot of value, both personally and for the local community, to seeking out unique experiences. If you ever get a chance, take it; your travels will be much more rewarding as a result.
Share some rice and beans, drink an Imperial beer and dive headfirst into adventure.
---
Getting There
G Adventures runs a number of departures in Costa Rica including our Trek Hidden Costa Rica adventure tour as featured above.