Italians have a beautiful word for a beautiful activity: passeggiata. A leisurely afternoon stroll is the inspiration for our Northern Sicily: Islands & Volcanoes 7-day tour that includes plenty of ways to kick it up a notch. You'll go on boat trips around erupting volcanoes, visit tiny fishing villages and spend a few days on the Aeolian Islands; which is where Sicilians themselves go to get away.
Before you slip on your comfiest walking shoes, let's take a journey through a few of the highlights. By foot, van and ferry, you'll experience the local way of life in seaside towns like Cefalù, laid-back islands like Lipari and spots popular with good reason like Taormina and Mount Etna.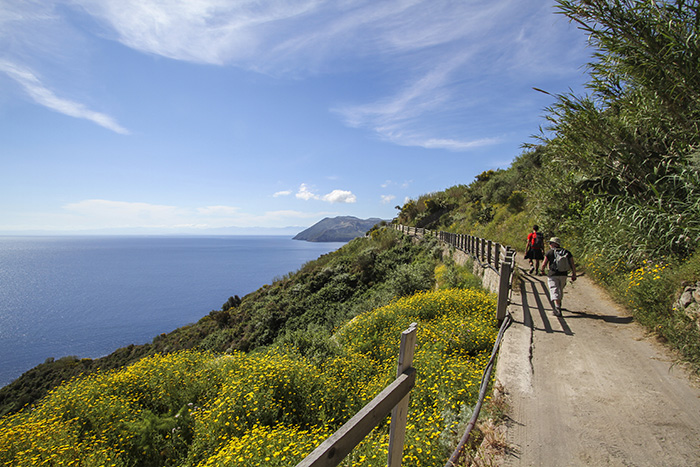 Get your bearings by foot
Starting with Palermo's historic city centre, several stops include orientation walks led by your CEO (Chief Experience Officer). It's a more personal way to get immersed in the local history, sights and culture from someone who lives and breathes Sicily.
In Cefalù (pronounced chef-a-loo), one of Italy's most beautiful townships, you'll stroll cobbled streets and come to understand why director Giuseppe Tornatore chose parts of it for his acclaimed film, Cinema Paradiso. In the hilltops of Taormina, you can soak up insight before opting to stroll the ancient Teatro Greco and its views of Mount Etna. With so much to see, you and your feet will be glad for personalized nods in the right direction.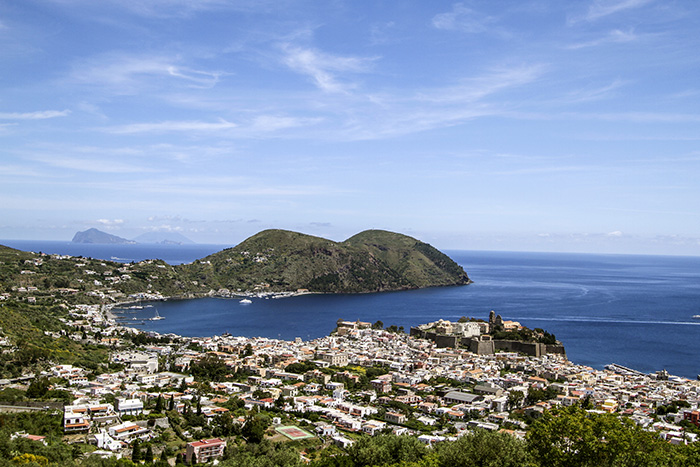 Explore volcanic islands by boat
Known as the "pearls of Italy", the Aeolian Islands are a small archipelago of volcanic formations. They're named after Aeolus, the god of the winds, and you'll enjoy a few days breezing about the largest of them like a local. After getting there by ferry, Lipari is your laid-back hub for incredible beach and active adventures.
Too relaxed? Opt to ferry over to nearby Vulcano Island for an hour-long crater hike. That'll make three volcanoes in one week! On Day 4, you'll set sail from Lipari to explore the islands of Panarea and Stromboli including swims at Cala Junco and strolls through whitewashed villages. Plus, the boat's last stop will blow your mind.
See Stromboli eruptions at sea
As sunset approaches, you cruise back past the dramatic islet of Strombolicchio just as it gets dark. Even though the views are volcanic, you're going to want a sweater as it cools down at night. In front of Sciara del Fuoco, considered the best spot for eruption watching, you'll float peacefully as smoke and ash spews from Mount Stromboli into the air every 10 - 20 minutes. It's a sight you won't soon forget especially from this unique vantage point on the water.
Opt to hike Mount Etna and sip wine
With a full free day in Catania on Day 6, there's no shortage of things you could do with your time. Catch a whiff of a theatrical fish market? Tour the lava and limestone of Piazza del Duomo? Walk the Via Etnea to chill in Giardino Bellini? You should do all of those things but the optional Mount Etna Excursion & Wine Tasting Tour hits the palate in a very pleasing way.
Led by a local naturalist and equipped with helmets and torches, you'll walk through ancient woods, on old craters and unique lava formations. The trek route showcases the summit crater from different viewpoints and includes a volcanic cave, weather permitting. Sounds like thirsty work which is why the tour includes lunch and tasting at a local vineyard. Gobble cheeses, salami, olives, a first course and fresh bread along with three Etna DOC wines. Yum!
Know before you go
As this tour is a 2 out of 5, it's physical in parts but not too challenging. Still, you'll want to pack well-worn walking shoes and some warmer layers for the night cruise. You'll also want a swimsuit for beach stops and, if you're prone, motion sickness tablets for ferries and sailing excursions. Northern Sicily is best visited in the shoulder seasons of May to June or September to October so try booking for when the crowds and temperatures are down. Plus, keep an eye out in early January for a Southern Sicily trip that's meant to pair nicely with this one.
Getting There
Ready to balance island relaxation with active excursions? G Adventures gets you there on our Northern Sicily: Islands & Volcanoes tour and other far-from-ordinary active adventures in classic European destinations.