There's something inherently familiar about the southern US. Maybe it's the way everyone says "hello" as you stroll the streets, or the scenery that has played backdrop in films from Forrest Gump to Midnight in the Garden of Good and Evil. Whatever it is, it's a unique landscape filled with food, music, history and locals excited to share their culture. These ingredients mean that a tour through the Deep South makes it on to many a bucket list. And so, tour we did. Here's what we experienced over nine days with G Adventures and our Chief Experience Officer (CEO) Gussy.
1. Savannah
Savannah and its iconic grid of garden squares came to notoriety through the respective antics of two gentlemen who are linked by an undeniably ostentatious mansion. Johnny Mercer and Jim Williams were both known for their fame and infamy. Mercer, writer of such songs as, "Baby it's cold outside" and "Hooray for Hollywood," founded Capitol Records and was the great-grandson of the house's first owner. Williams found himself in the centre of a Savannah-based scandal when his shooting of a man in the very same house coincided with his introduction to a New York journalist who went on to chronicle the incident in Midnight in the Garden of Good and Evil. History was made in both cases, only adding to Savannah's intrigue.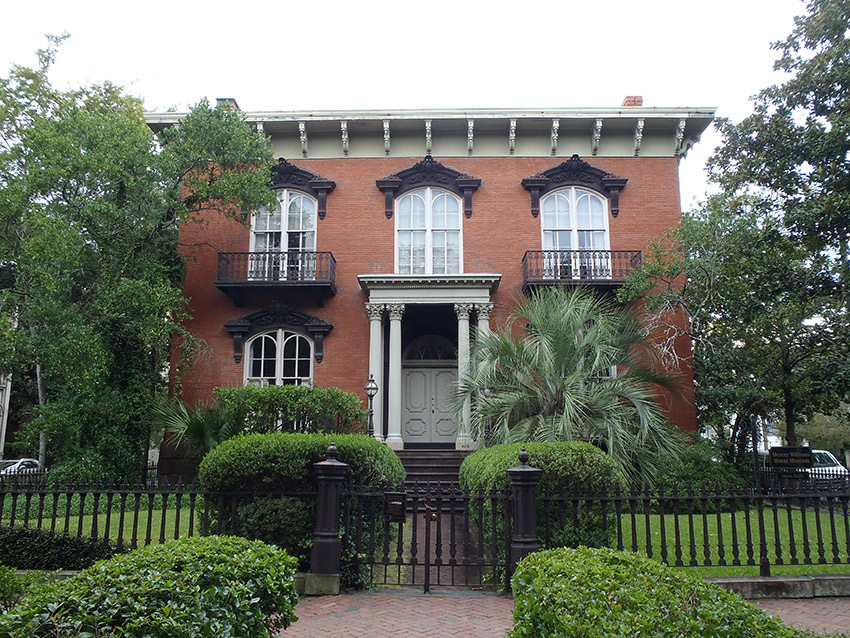 The surrounding streets are interlaced with ironclad homes reminding us of this once remote microcosm of southern quaintness. The nearby Boneventure Cemetery is the eternal resting place of some of Savannah's greatest characters, who lie beneath lumbering willows and haunting Spanish moss. It's an eerie atmosphere that photographs well.
Savannah tip from our CEO: "Take a ride on the free Dot bus and then 'Connect the Dot' to catch the ferry across the river where the city views are impressive."
2. Charleston
Charleston offers a great introduction to "southern life," and a great introduction to Charleston is the Gateway Walk. Meandering through tree-draped lanes, untamed graveyards and cobblestoned streets, we scarcely saw another soul (even on the weekend). We did see historic townhouses, horse-drawn carriages and gas-fuelled street lamps, which all salute this city's heritage. While touches of modernity creep in through swish restaurant exteriors and bustling cafés.
The manor houses are faithful to the Antebellum era and tours through preserved or restored estates tell tales of extravagant parties, wasted inheritances and civil war tragedies. Their rural counterparts, the plantation houses, can be found just a short drive from the downtown area. However, few retain their original form as retreating Confederate soldiers burned them to the ground.
Charleston tip from our CEO: "The first Friday of every month is a good time to be in Charleston for art lovers because the galleries stay open late and serve free wine."
3. Atlanta
In stark contrast to the small-town vibe Savannah exudes, Atlanta — a metropolis centre — thrusts us forward into the 21st century. Atlanta is also home to the Martin Luther King, Jr. National Historic Site and the National Center for Civil and Human Rights. A stark statement of mankind's best and worst; oppression and peaceful triumph over inequality are etched thoughtfully here.
Atlanta tip from our CEO: "There's plenty to do in the downtown area. It's pedestrianised to make life easy and you can finish with some people watching in the park."
4. Nashville
Nashville is neon-lit and amplified, and beset on all sides by tall, modern buildings. Broadway Road flies the flag for everything "country" in this ever-changing downtown area. Surrounded by musical hotspots like the Grand Ole Opry and the Johnny Cash Museum, you'll not have to wander far to bump into the live music scene. Cowboy boots, line dancing and twangy vocals thrive here, so joining them rather than beating them is advisable.
Nashville tip from our CEO: "After checking out Broadway, head to Printer's Alley for a local vibe. If you have time, you should also try and fit in a visit to Merchants restaurant, where the duck sweet potatoes are delicious."
5. Memphis
Memphis is a little town that punches well above its weight, packing in both iconic music sites and a sobering memorial to America's civil rights battle.
Graceland, the former home of Elvis, has to be seen to be believed. Its opulence is truly impressive and the property heaves with patrons making their pilgrimages to the King. Queuing is inevitable, but it's worth it to venture into the life of one of the world's most famous musicians.
Sun Studio, responsible for launching the careers of Elvis, Johnny Cash and Jerry Lee Lewis, is a mecca for music aficionados and comes alive with knowledgeable guides who share stories of the past. Starting with the history of the label, the tour's pinnacle is a visit to the studio itself, which has hardly changed since its glory days. Standing in the acoustically preferred spot for vocalists, you'll see what soon-to-be-great artists saw when they were singing songs like "I Walk the Line" and, "That's All Right."
Similarly, the front of the Lorraine Motel looks precisely how it did when Martin Luther King, Jr. was shot on its balcony. The National Civil Rights Museum continues the string of excellent museums between here and Atlanta dedicated to the fight for equality.
Memphis tip from our CEO: "I love the The Stax Museum of American Soul Music. Chronicling soul music, it was the only place in Memphis where black and white musicians could perform together during the civil rights era."
6. New Orleans
Louis Armstrong left an indelible mark on jazz and, consequently, New Orleans. Parks, streets and an airport all bear his name and his influence resonates throughout the French Quarter and beyond. It's no surprise that Bourbon Street, and its inexhaustible energy, proves irresistible. Decked in 18th-century architecture, music pulsates from every establishment, which all pour out cocktails and tunes in equal measure. Not to be confined by walls, jazz also manifests street side, where jaunty looking fellows strike up tune after tune for your incidental enjoyment.
If you're partial to the supernatural, cemetery tours and voodoo museums are as numerous as they are unusual. If you'd like something a little more based in reality, however, there's the Hurricane Katrina exhibition at the Presbytère, countless alluring cafés and art markets to peruse.
New Orleans was an apt ending to our nine-day exploration of this full-bodied, twang-filled, unapologetically loud part of the world. The only struggle was trying not to use the word "y'all" on the flight home.
New Orleans tip from our CEO: "Take a St. Charles streetcar out to the Garden District where you can check out what were once plantation owners' city homes."
Getting There
Nick travelled on our Highlights of the Deep South trip. We're thrilled at the prospect of showing you this big blue planet of ours — check out our small group trips here.